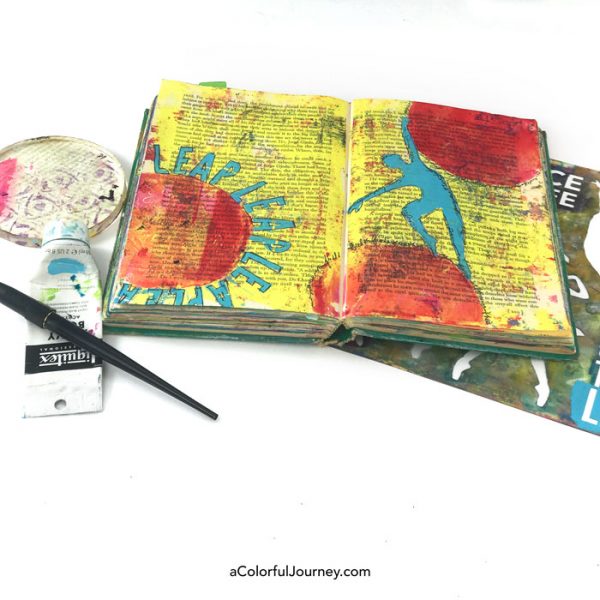 I took a leap or two in my altered book journal. Not a flying leap but another kind of leap.  An art journaling adventure from the red I almost never use to attempting surgical stenciling precision to the careful lettering.  I am guessing it won't surprise you that there was an O.O.P.S. in there!
Watch Altered book journal with a stencil and mask on YouTube.
Want more play?  Want specific ways to play? Then check out my free workshop, Permission to Play.
How did red get on this altered book page?  I blame my husband.  No really, it was him.
He is actually the one who made this gel plate wonderfully "dirty" with flecks of red which led to the red 4″ circle prints.  He's been making prints in some of the Facebook Live videos in my workshop, Gel Printing FUNdamentals.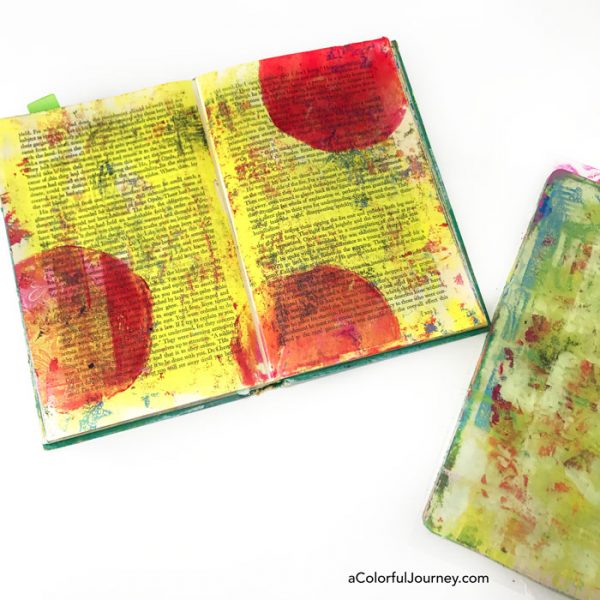 This is where the pressure was on, and I needed to be precise.  The silhouette's hand and feet would just touch each circle if positioned just so. But with all my careful planning, there was still an O.O.P.S., an Outstanding Opportunity Presenting Suddenly.
You can see the sneaky way I used the mask to line up the Dance of this Life stencil to be sure it was in the right place in the video.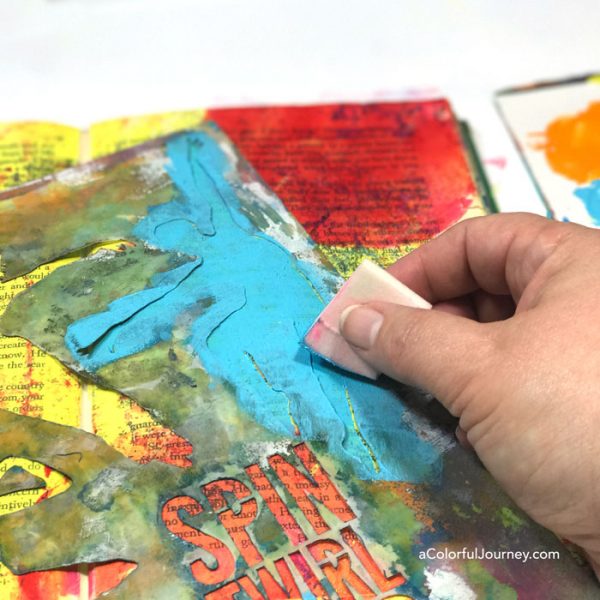 To get the word to curve around the red circle, each letter was stenciled individually. At first, I used Post It notes to mask it off to be sure that only the letters were stenciled.  For the second stenciling of LEAP, there was no masking.
Why?  It's  like my first child.  Everything was sanitized and I worried and overthought everything.  Then with my second child, it was more like oh, you're playing with electrical cords. Glad you found a toy. Can't imagine what it would have been like if I'd had a third.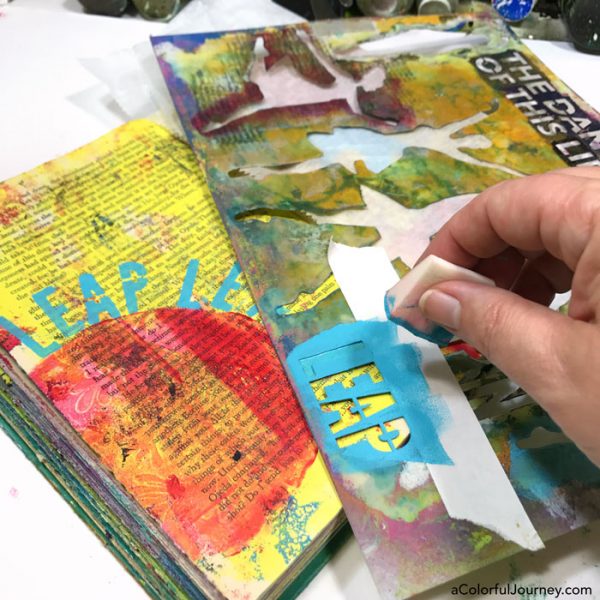 Warning, there is a pen in grave danger here as I outlined the stenciling.  Pens and damp paint don't mix well, and it often destroys the pen, especially felt tips and ball point pens.  So that's why I chose to use fountain pen, it can take a bit more abuse. But it does have it's limits.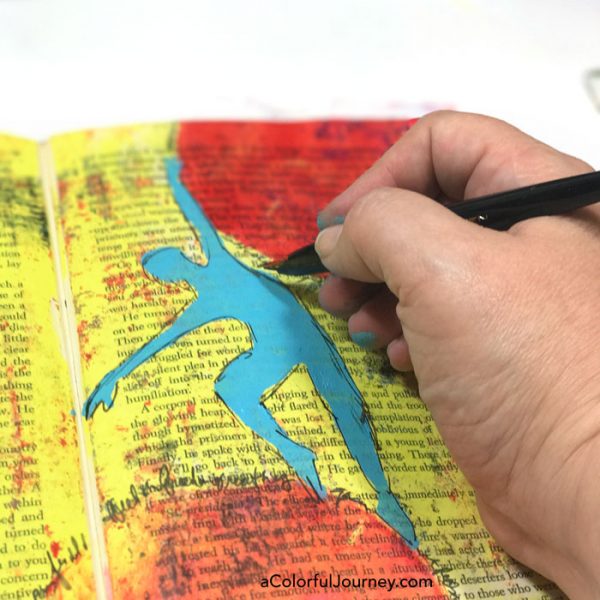 So why did I put the word LEAP on there more than once? Because sometimes when I want to leap, I need to be encouraged more than once.  The head might know it is the thing to do, but the heart needs time to catch up.
If you'd like more encouragement to play, join the fun in my free workshop, Permission to Play. 5 video lessons, all downloadable, filled with specific strategies for how I rediscovered how to let myself play.
Here are the supplies I used. Some of these links are affiliate links which means I get a small percentage. It doesn't cost you anything extra and it helps keep the free tutorials coming!