Why or how do I use a gel plate to put brushstrokes on this art journal page? What do I do when I make a stenciling O.O.P.S.? And why did I start the page with dark for me colors? All that and more is in the video for you as I try something a little different!
I'm playing in a handmade journal I bought recently from PattyReider.com. I love the variety of pages, from the painted and gel printed ones to the vintage ledger paper. Oh that beautiful handwriting in there!
One of the perks of a journal like this, where someone else has put something on the pages, is you get to try something different. I usually start with a white or light background so my something different today is starting on a darker background.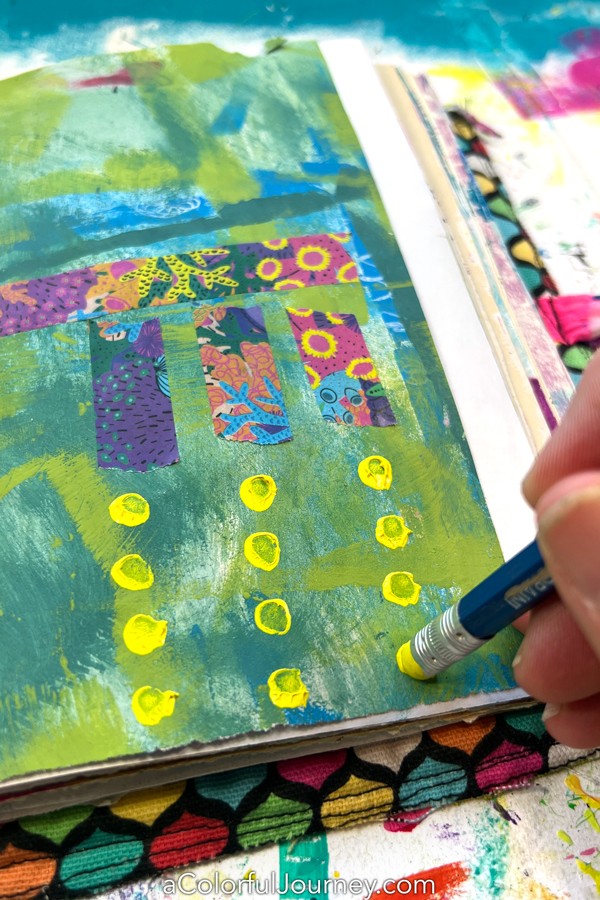 Writing on a wet art journal page can be rough on pens. That's why I like to use something like a fine tip applicator. The one I used in the video comes empty and then you fill it with anything you like. As long as it will come out the tip, you can use it! I find fluid paints work best for how I use them. The exactly supplies that I used are all linked at the end of the blog post for you.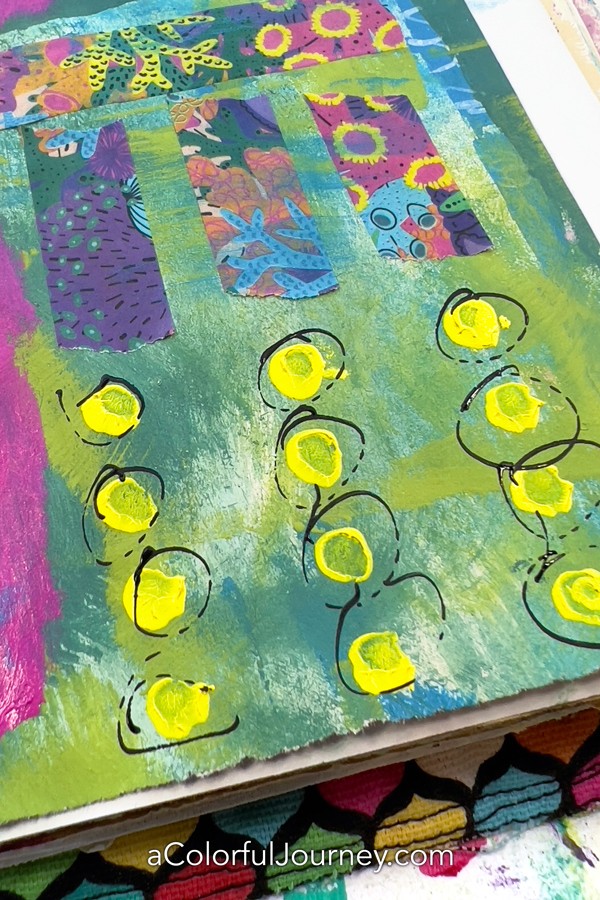 The plan was to put the arch on the top of the washi tape, but I miscalculated. O.O.P.S.! But that was an Outstanding Opportunity Presenting Suddenly to show you how flexible stencils can be. All I did was position the stencil back on top of the black arch and slid it down to where I wanted it to be. Then all I did was add some paint to the bottom and suddenly, the arch was the exact length I needed. You can make any arch as tall or short as you want this way!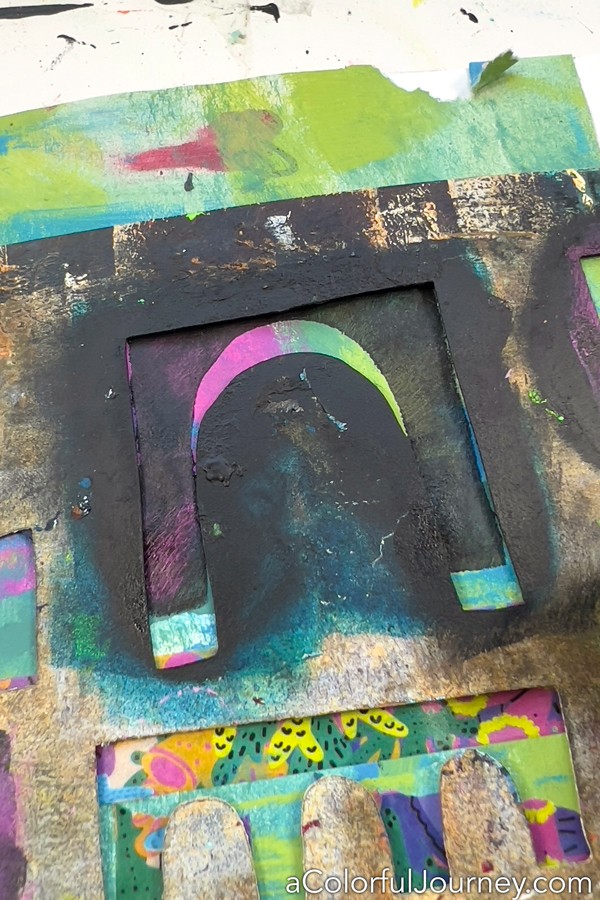 As I looked for words in a random book to add to the tops of the arches, I saw the phrase, "It's that woman again". In that moment, the meaning of the page became crystal clear. I've been watching Domina, which feels like a historical Melrose Place meets Dynasty, set in Rome just after Caesar was stabbed by the Senate.
The meaning in my art journal pages isn't always deep, significant or spiritual, sometimes it's just a playful reminder of a tv show I'm enjoying.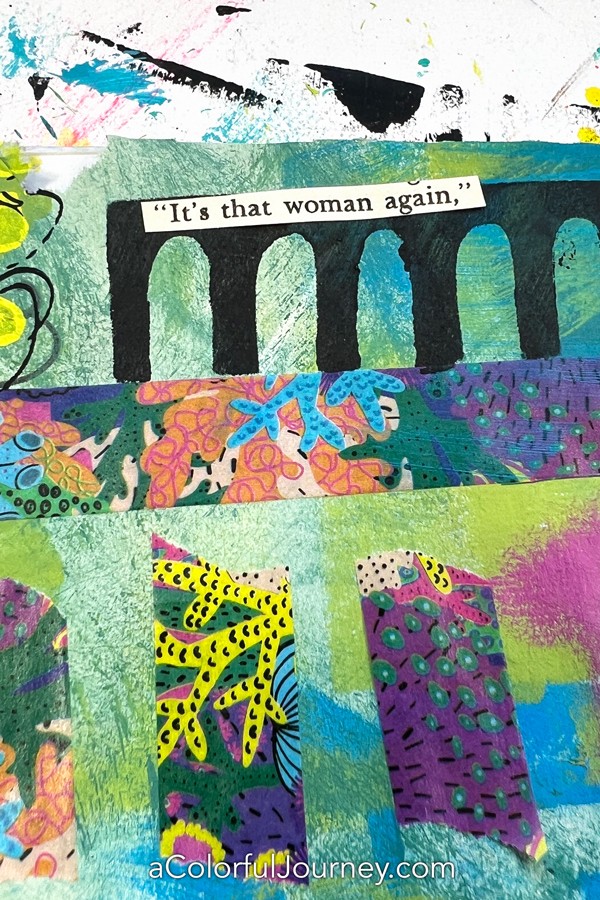 Here's the finished page, or I should say finished for now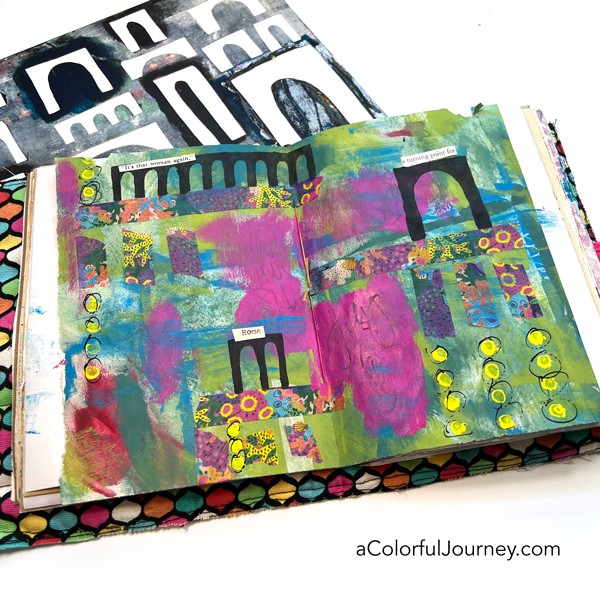 Here are the supplies used. Some of these links may be affiliate links which means I may get a small percentage and it doesn't cost you anything extra! And you get a really good feeling knowing that you are helping keep the free tutorials coming!
The washi tape was from Pipsticks.com but I can't find that exact tape on their site to link for you- they've got a lot of washi tape!