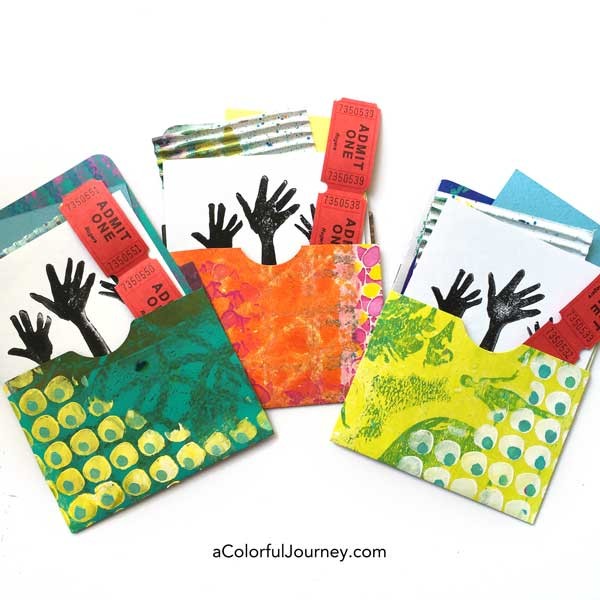 "What can do you do with all the prints you make with a Gelli Plate®?" is something I get asked often.  Anything that I use paper for I can use Gelli prints®.  That is just what I did as I created some fun library pocket holders with a new Sizzix die.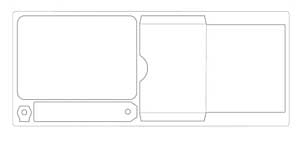 I grabbed a whole bunch of prints that I had made and ran them through my Sizzix machine.  When they came out they had the score lines already in them so it was easy and quick to fold and glue.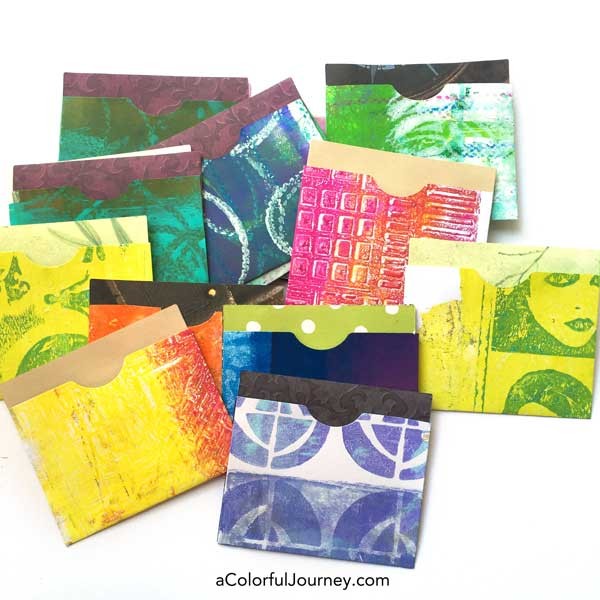 These had lots of color…but I wanted more color!  So out came the stencils.  Using the Layer Me stencils makes it easy to get a multi colored pattern quickly. You can see how to use these stencils in detail here.  The women you see…those are all from Kari McKnight Holbrook's stamps.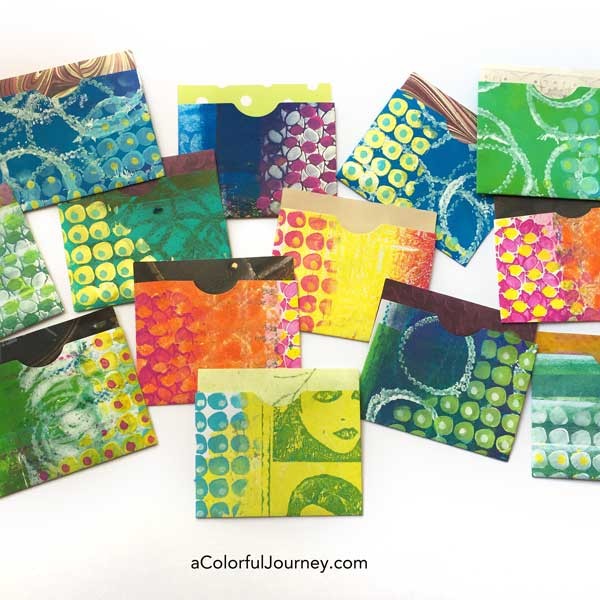 As if this wasn't enough color, I mixed and matched the inserts, also cut with the die.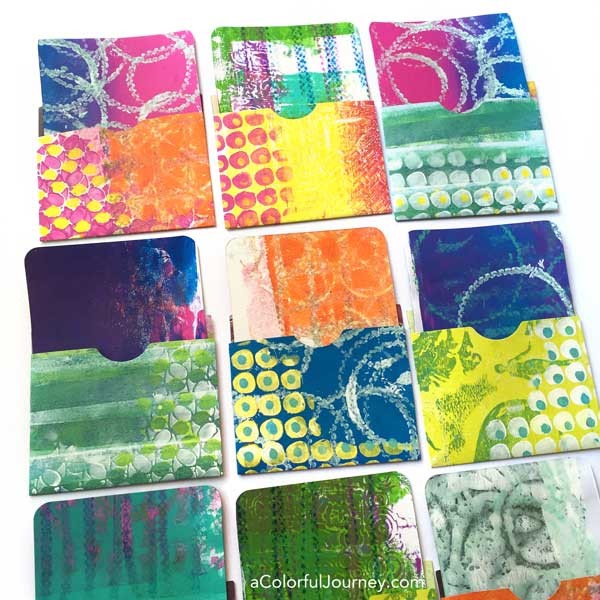 Stuffed with even more goodies, now they were ready for everyone at my workshops at Simply Said Stamps in Cincinnati.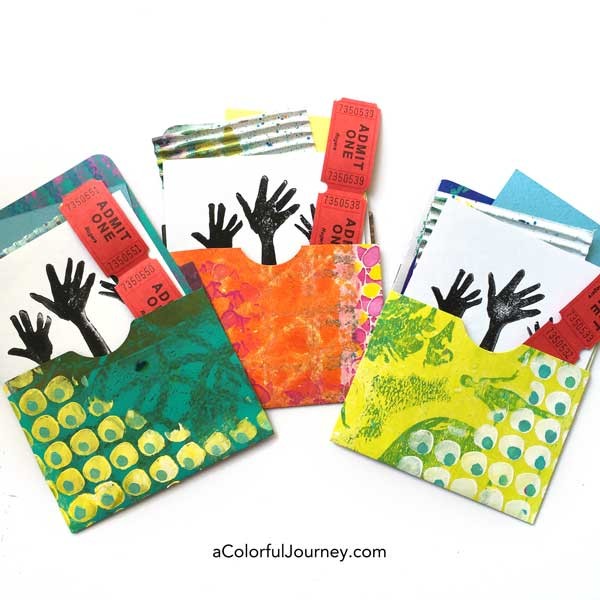 Here are the supplies I used. Some of these links are affiliate links which means I get a small percentage. It doesn't cost you anything extra and you are helping me keep this blog and my videos ad free! Thank you- I don't like ads any more than you do!
These were all made to share with students in my two workshops at Simply Said Stamps- one on stenciling and one all about Gelli Printing®!  These photos are just some of our play!
Here's Allison adding layer after layer of stencils and paint!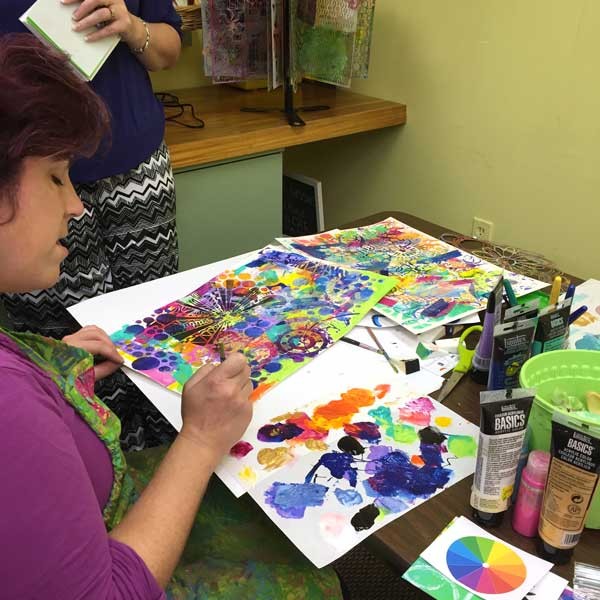 Carla created colorful circles with the Greek Medallion stencil.  Her joy while printing was the best kind of contagious!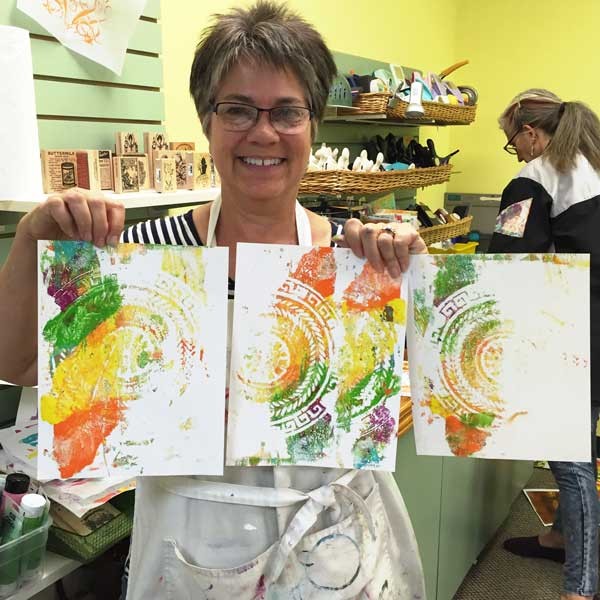 Both classes were filled with such interesting and fun people…and that is not just because they were willing to laugh when I smeared paint on my face unintentionally…it's because they all dove in and stepped out of their comfort zones to play!  Thank you Christi for making sure I didn't walk around with paint all over my face!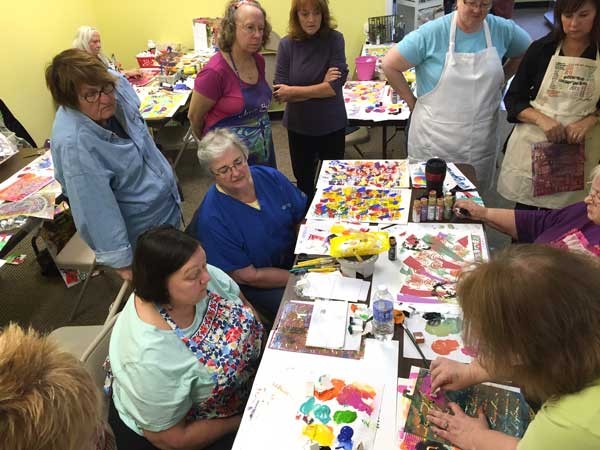 If you leave me near the paint….I usually end up with a little on my hands…good thing I had an apron…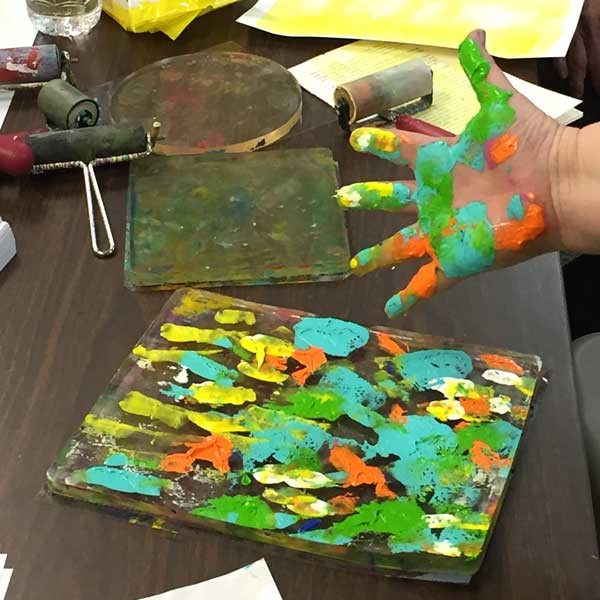 Kelly couldn't stop smiling as she layered the Square Dance stencil with multiple colors to make WOW prints!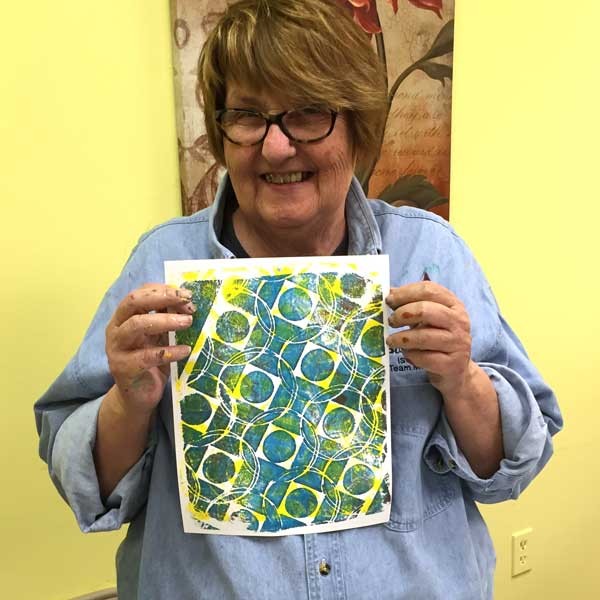 Theresa let the round plate inspire her in circular play as she swirled colors all around! She was making her brayer do all sorts of colorful fun!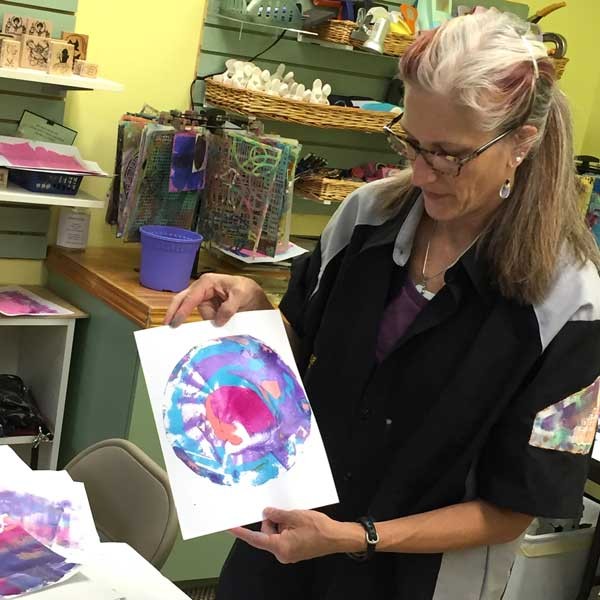 Kate created the wonderfully fun print with the happiest Halloween colors! And she did all of this in one pull!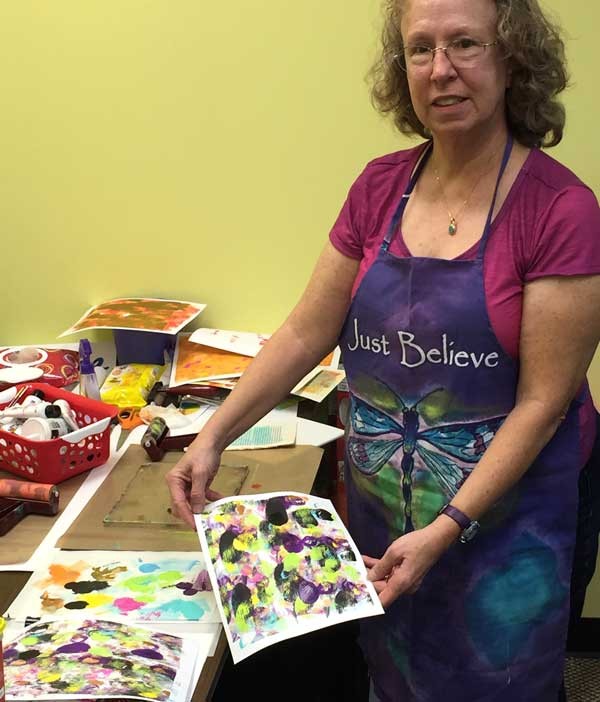 Michael mastered the brayer and created layers of fall colors that led to so many amazing prints!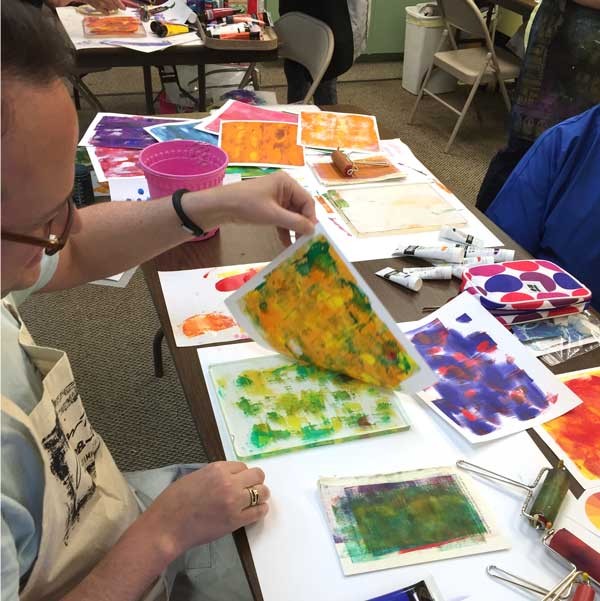 Everyone's breath was taken away when Virginia revealed this print using the Words to Live By stencil during her play!  It looks 3D but it is just paint!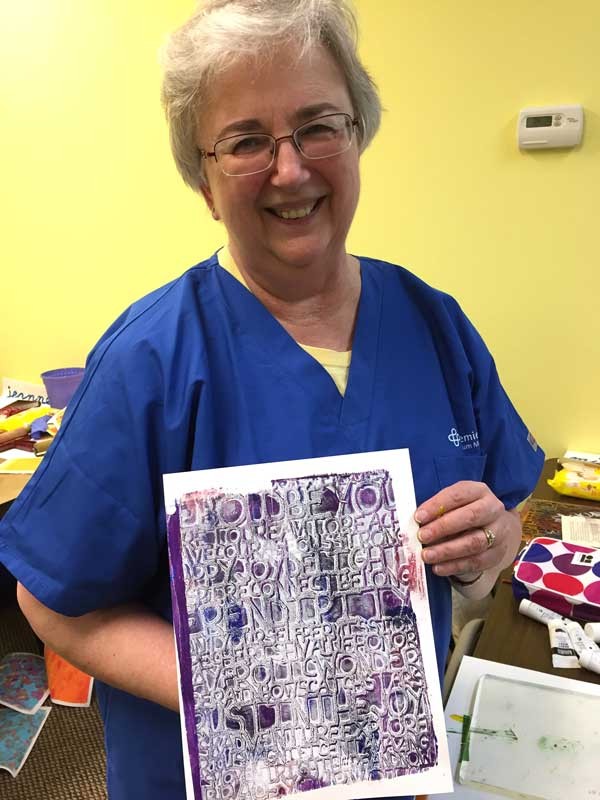 Cheryl let herself play with fall colors as she explored and built up the layers testing out new techniques!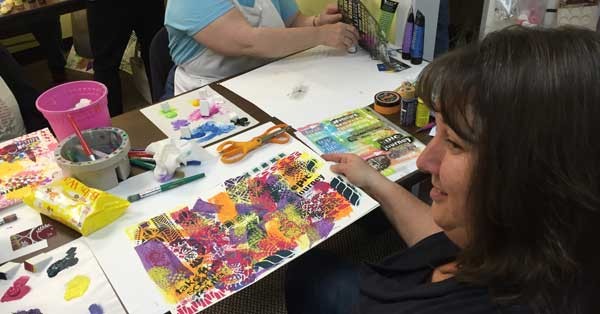 Jane's Eddy Rose layer built so much movement into her print setting a great stage for the women, Talaya and Peacock with a touch of words!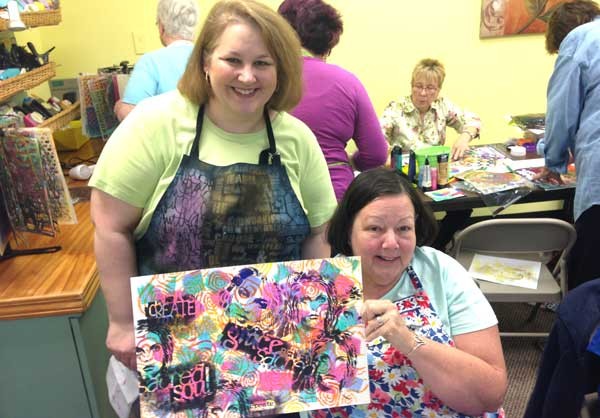 Thank you to each and every one of you who joined me for a day of art play and silliness!  If you're ever in the Greater Cincinnati area, check out Simply Said Stamps- Joan has so many fun goodies to temp you in there!