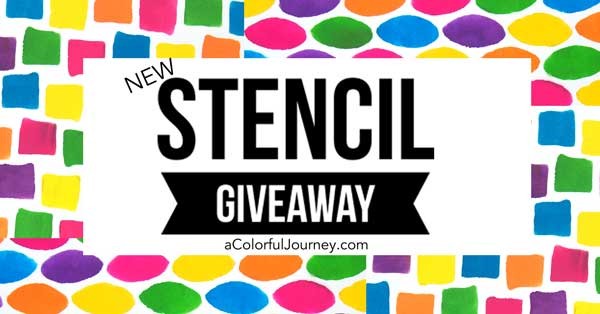 So excited to share what I've been up to in my secret lab.  Okay, I don't have a secret lab…I have an art studio.  But I do have 5 new stencils at StencilGirl! I have been experimenting away on designs, creating more layering patterns and a few others that just escaped from my head like Solar System and Ladders.

In the video, I'm sharing how I the patterns layer to create multi color patterns…and I share about why I use heavy body paint plus how to work with a more fluid paint like Dylusions paint when stenciling.
Watch Pattern making and layering stencils on YouTube.
Want to win all 5 of my newest stencils?  I'm giving one set away to random commenter here on the blog!  Want a chance to win?  Leave a comment to be entered.  Want more chances to win?  How about 5 more chances?  For each of these that you do, you'll get another entry!  Each time you do one of these, come back and leave a comment tell me you did it and you've got more chances to win.  
Congrats to Melanie Graffius who won!
Giveaway closes on Wednesday, August 19th, midnight EST.  Be sure to stop back on the 20th to see if you've won!  And yes, I will ship these to where ever you live so everyone is eligible!  And if you've already ordered any of these – you can pick any of my other stencils!
Pin it!
Share this post on Facebook
Tweet it.
Share on Google+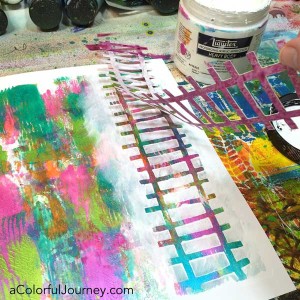 My Ladders stencil is actually 3 in 1 because it arrives with 3 different ladders in the mylar frame.  With a quick snip of the scissors they are all free to be used individually.  The photo is a sneak peek at an upcoming video and blog post using one of the ladders.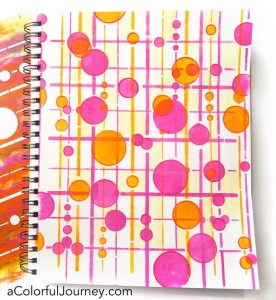 My Solar System stencil makes me happy just stenciling the pattern one time.  When I stencil that pattern even more- I get a whole new style of pattern!  You bet there are videos coming with this one!
Layer Me stencils have 2 patterns that were designed to give me flexibility when making geometric patterns.  Naturally, you can use each pattern alone or layer them on top of each other.  But there's more you can do with them!  Keep reading to see just some of the pattern making options!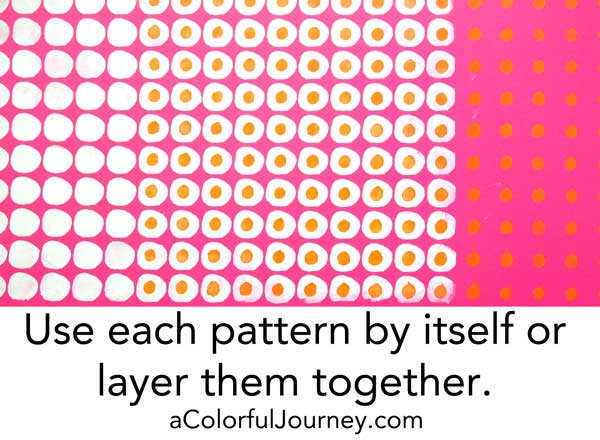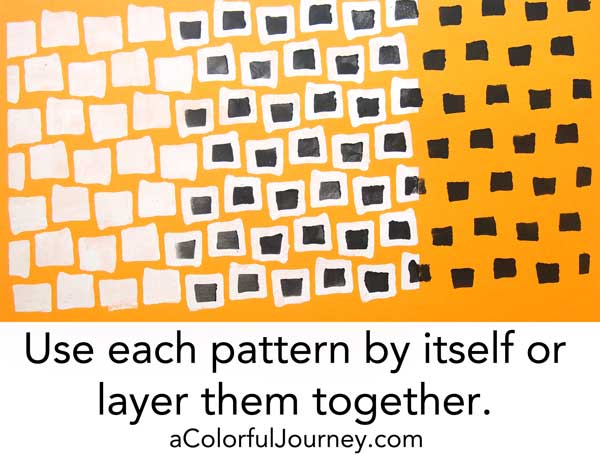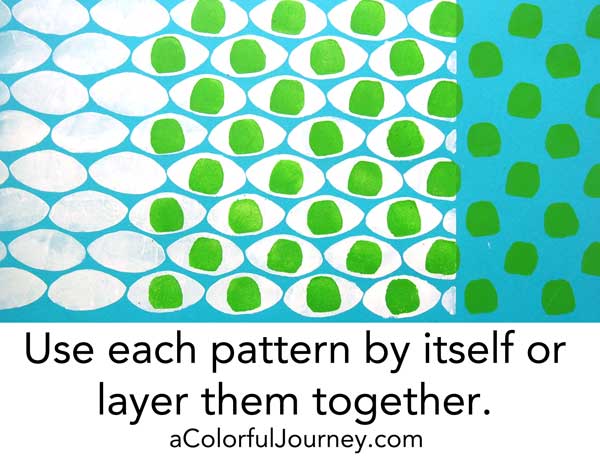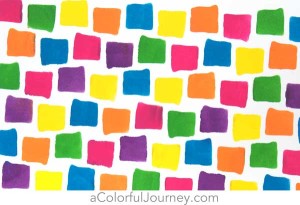 Use multiple colors to create a variety of patterns. Here I played around with Dylusions paints to create a bright pattern using just one part of Squares Layer Me.
The secret to doing this rainbow explosion is cosmetic sponges.  I didn't mask a thing when playing with Field of Eyes Layer Me…you know how impatient I am!
But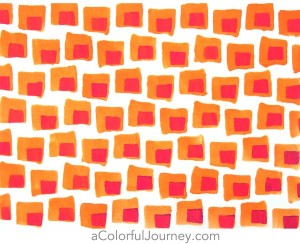 wait, there's more that you can do with these stencils!  Position the smaller squares up, down, on the side, or right in the center to create a variety of patterns.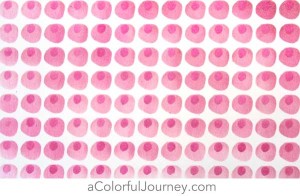 Here I've lined the second layer at the top using Circles Layer Me.
Here are the supplies I used. Some of these links are affiliate links which means I get a small percentage. It doesn't cost you anything extra and you are helping me keep this blog and my videos ad free! Thank you- I don't like ads any more than you do!