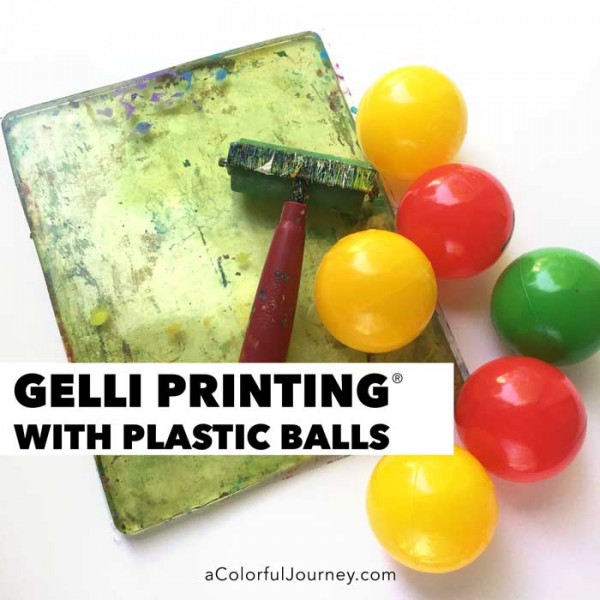 Cheap plastic balls are becoming pattern making tools for Gelli printing® in this week's Let's Play video!  These balls are meant for kiddie ball pits but just because they aren't supposed to be an art supply doesn't mean they can't be one!
Be sure to get entered into the Let's Play $50 gift certificate giveaway by leaving a comment- details at the end of this post.
Start by getting some paint on the Gelli plate®…you can put as few or as many colors on as you want.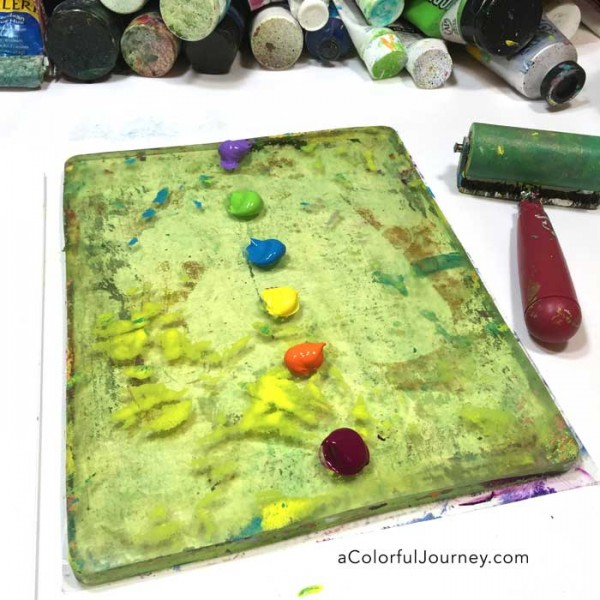 Then use the plastic balls to create the patterns.  In the video below, you can see how I smush them to create these loose patterns.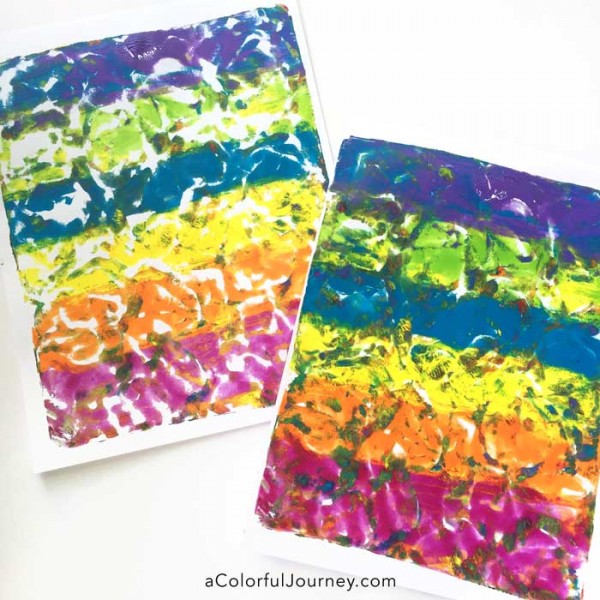 Watch How to make colorful patterns with a gelli plate® on YouTube.
Want to know more about Gelli printing®?  I've got free resources for you to get started and a tutorials for keeping the play going!
You an use one or more than one ball at a time, after all, there aren't a lot of rules to this!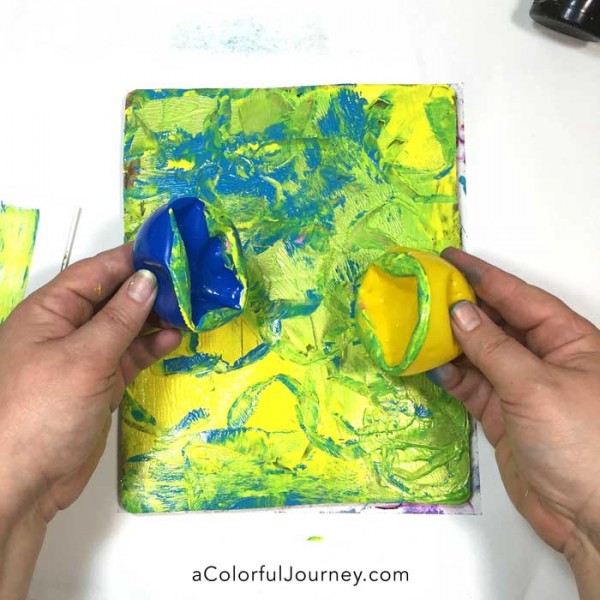 See those bits of pink in the print on the right?  That's all because I don't clean off my plate completely between pulls.  That allows for serendipitous color play!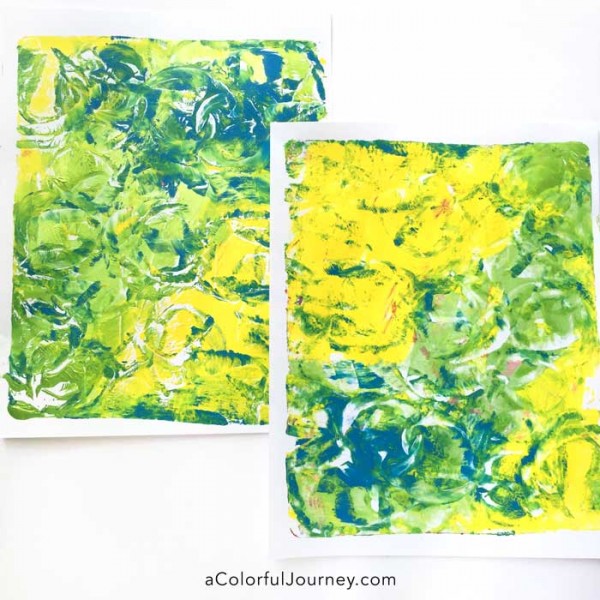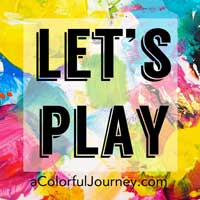 How does this help me play? There is no wrong way to do this so the pressure is off! After all there is no "right" way to use flattened plastic balls on a Gelli Plate®!
What is Let's Play?  It's a series of videos all about rediscovering the ability to play. Each month I share a specific strategy that helped me ditch the stress and rediscover how to play. You can see all the previous ones here.  Each month has a theme, and this month's theme is turning non art supplies into art supplies.
Giveaway! This month's giveaway is a $50 gift certificate to Dick Blick! Leave a comment to be entered -details at the end of this post.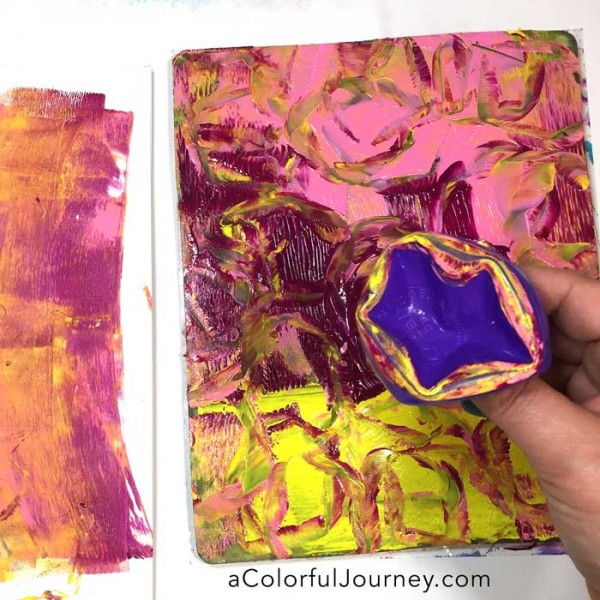 The randomness is addicting and all these colorful papers will end up in my art journals, in collages, and even a few gifts I am making.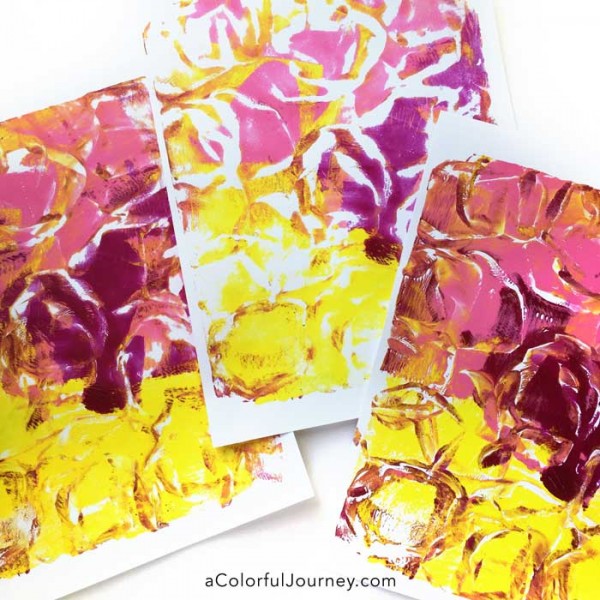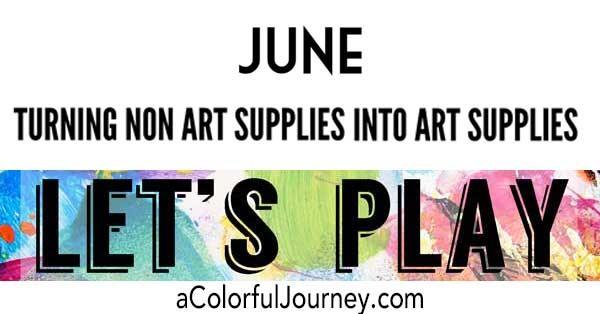 Want to see more Let's Play videos? You can find all the weekly posts here.
Sharing your play:   I, and a whole bunch of others, would love to see what you're creating!  We're sharing it in the Facebook group called A Colorful Place to Play. Why Facebook?  I've listened to your feedback about how and where you'd like to share your play instead of the link parties.
Monthly giveaways:  Leave comment on any (and all for more chances) of the weekly Let's Play blog posts to be entered and one winner each month will be chosen by random.org.  Want more chances to win a $50 gift certificate to DickBlick.com?  Pin any of the images from the page or share about it on Facebook- then come back and leave a comment telling me what you did and you can have more chances to win! Giveaway closes the Sunday, July 3rd at 11 pm EST and the winner will announced on the blog the following Monday.
Here are the supplies I used. Some of these links are affiliate links which means I get a small percentage. It doesn't cost you anything extra and you are helping me keep this blog and my videos ad free! Thank you- I don't like ads any more than you do!