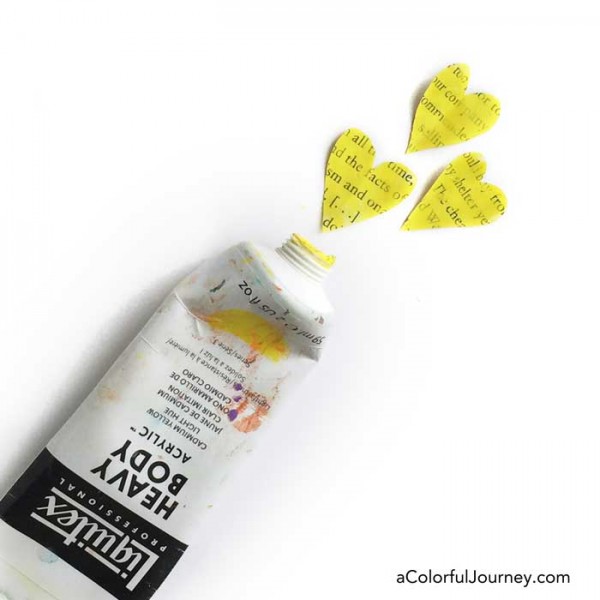 My art journal cover started as play.  No goal. No plan.  I was just along for the ride.  I thought I was just playing until an O.O.P.S. struck and then the muse opened the floodgates on me.  I didn't see it coming but it was just what I needed.
*An O.O.P.S. is an outstanding opportunity presenting suddenly.
Using a messy splattered paper that had been protecting my counter from over sprays, I stenciled the trio of ladies using my Finding Your Tribe stencil.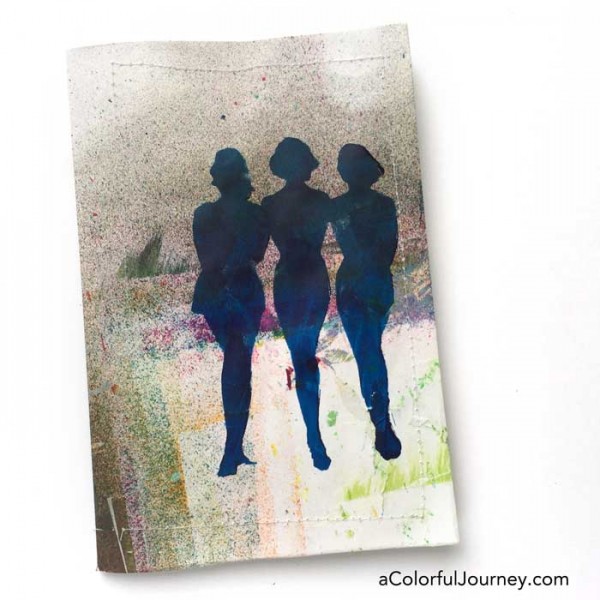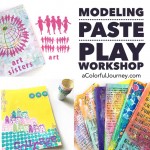 Not cleaning my counters has its benefits.  That pink and white- it's leftover scraps of modeling paste paper created with spray inks in one of the lessons in Modeling Paste Play. All the texture of modeling paste with out having to wait for it to dry- a real plus for me since I am rather impatient!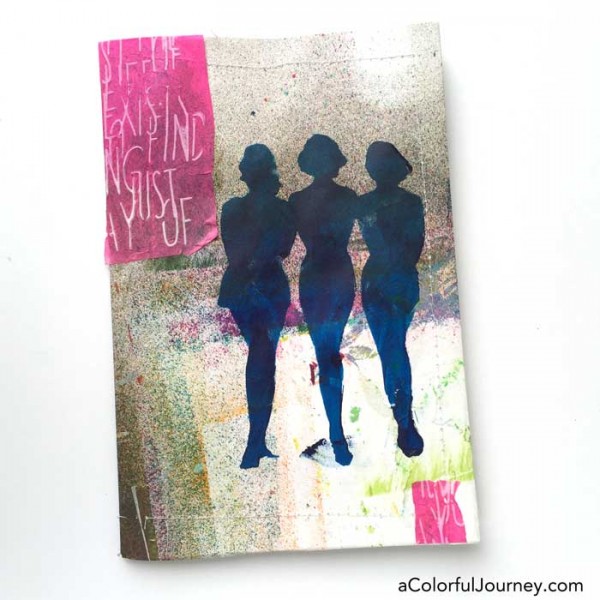 Yellow roses mean friendship, so I figured a yellow heart must mean friendship too.  Little did I know how much friendship would be coming  up later for me in my play.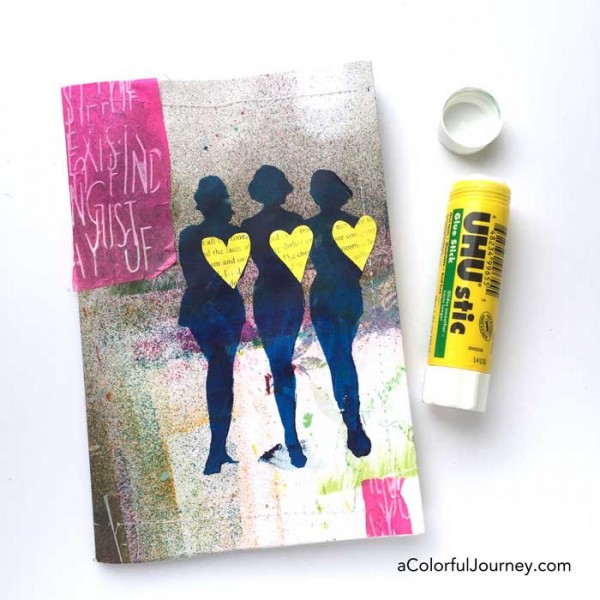 There was no where near enough color on here for me so out came the oil pastels to add a bit of green and yellow and orange.  Scribbly and fun!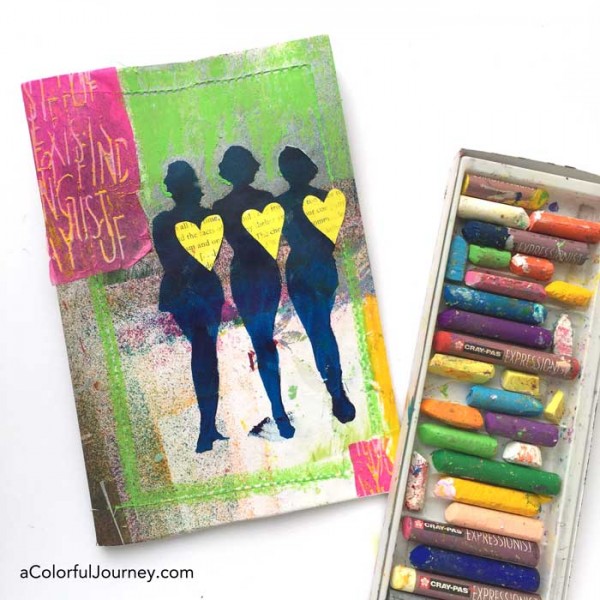 One benefit to having a stencil and a mask set it that it can make pattern application a breeze.  I put the mask of the 3 women (that comes with the stencil)  on top of the stenciled ones to protect the dark blue and keep it just as it was.  Then I placed the Compass stencil on top and used a Cats Eye ink pad to stencil.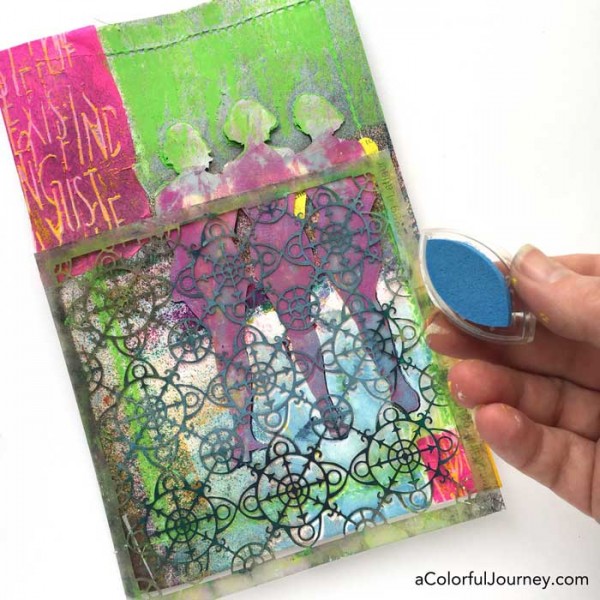 Here you can see the blue ladies are still pristine and the pattern looks like it is behind them.  Almost looks as if I planned this but you know the truth- I got the idea for the pattern last not first!  The play was just rolling along until the next step.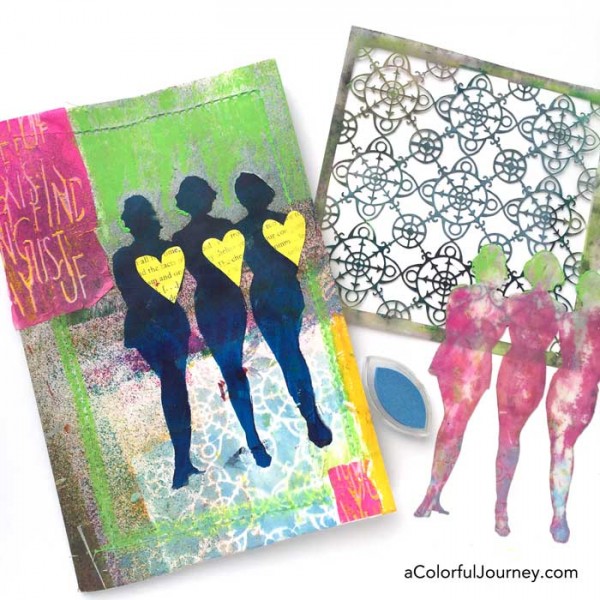 An Oops (Outstanding Opportunity Presenting Suddenly) happened when I used a blue ink pen on the ladies.  I couldn't see anything I had written, as if I had used invisible ink.
That opened the door for me to write some very emotional journaling that just needed out but never needed to be read again.  I didn't even realize it needed out, but apparently my muse did.  My journal was like a dear friend who prompted me to get it all out then listened to everything I needed to say.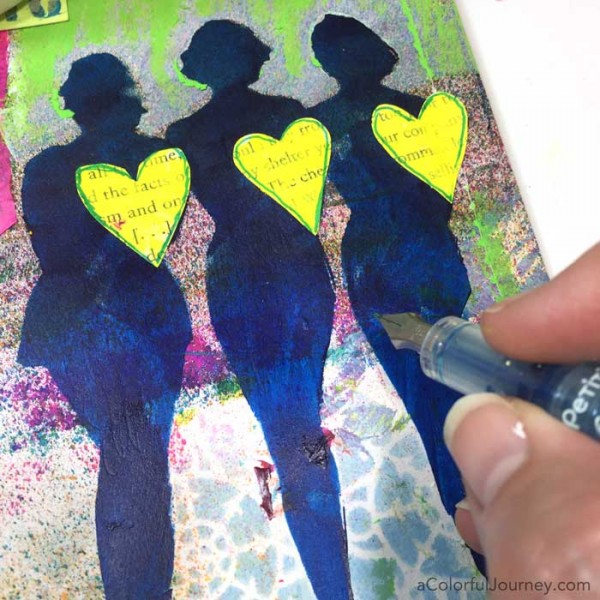 The title word just fell into my lap…well really onto the floor.  Again, I didn't clean up from previous projects.  It is another scrap left over from my Modeling Paste Play workshop and it fit just what I was trying to say.  I even used legible handwriting to get the other words in the title, which is quite rare for me.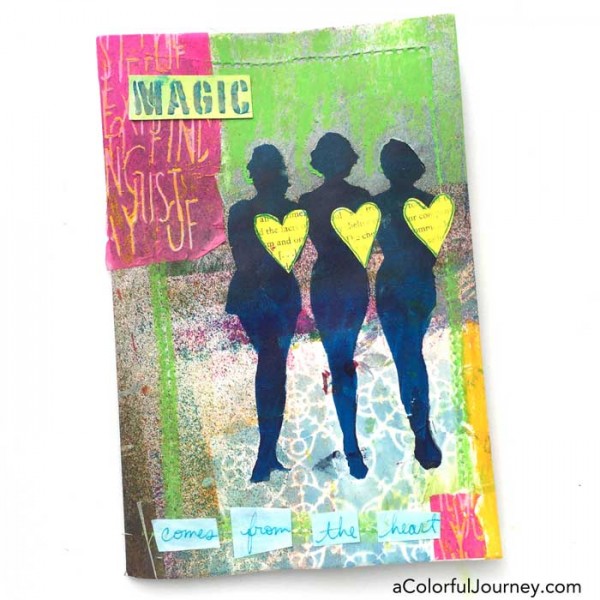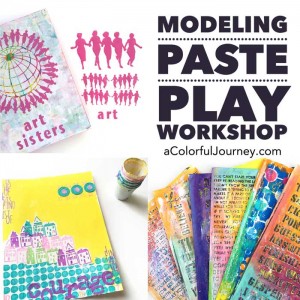 Thank you Muse for all the surprises and unexpected twists and turns and friendship this play brought!
If you're curious about modeling paste and how to get colorful texture in your mixed media play- check out the Modeling Paste Play workshop– and there is even a free bonus lesson waiting for you that uses all the techniques in the first 3 mini workshops!
Here are the supplies I used. Some of these links are affiliate links which means I get a small percentage. It doesn't cost you anything extra and you are helping me keep this blog and my videos ad free! Thank you- I don't like ads any more than you do!