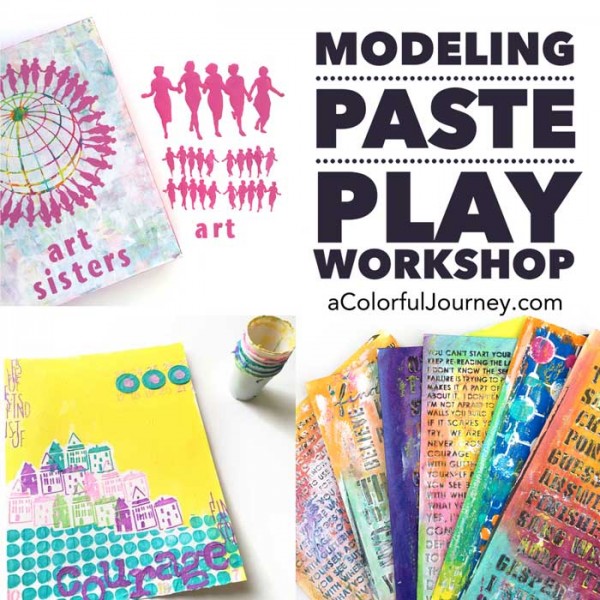 I'm impatient and that can be a very good thing! I love the look of modeling paste but hate to wait for it to dry. That got me thinking about different ways to use modeling paste so that I could have the awesomeness of it without waiting.
And that is how the Modeling Paste Play a la carte workshop series came to be. 3 lessons for you to choose, each with 40+ minutes of video ready right now for you! These videos go into the hows and whys so you can play with confidence. This is content you won't see explained on my YouTube channel.
I've figured out the details so you can focus on the fun. In these videos, you'll see everything from start to finish. You get it all so you can jump right in and start playing. And of course, you'll have access to me to answer any questions you might have in the classroom.
Watch A new online workshop – Modeling Paste Play! on YouTube
If you're like me and have slow internet (I live out in the corn fields) you have the ability to download and watch off line. If you're blessed with lightning fast internet speeds you can stream them online. No deadlines. No limits. Lifetime access! And there's a 30 day money back guarantee!
This series has 3 a la carte workshops. Each is different from the other and I couldn't stop there! I have a bonus workshop that expands on the techniques of the first 3 workshops. That I am giving it for free to everyone who joins all 3 workshops.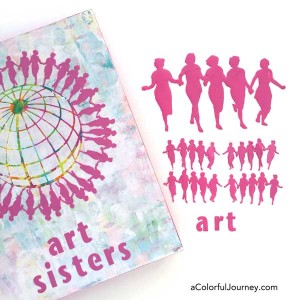 Modeling Paste Play: Dimensional Decals
What if you could make decals (3D stickers) from a stencil design and not have to cut a thing out? This a la carte workshop shares the easiest ways from start to finish I have found to do this.
It's all the awesomeness of modeling paste with depth and detail but by making them ahead of time you can rapidly add them side by side (or even on top of each other) without risking smearing or smudging wet modeling paste.
Along with how to make the dimensional decals, we're using them to create a piece of colorful art too!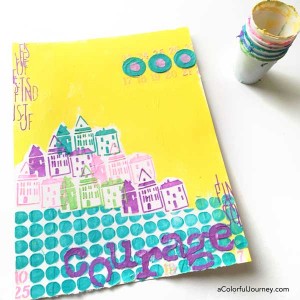 Modeling Paste Play: Spray Inks and Tissue Paper
I love the texture of modeling paste, especially when I can layer images and shapes.  But modeling paste takes a while to dry and I don't like to wait. That led me to experiment and find a way to get all the benefits of modeling paste without the waiting!
In this a la carte workshop, we're creating an art journal page (or call it a collage if you don't put it in a journal) from start to finish.  We'll create the stenciled modeling paste patterns then you'll see how I use them to build the art journal page and all the wonderful benefits of tissue paper- like being able to see exactly what it will look like before you attach anything! These glorious colors you see here- they're all from Dylusions spray inks.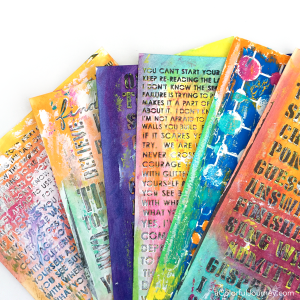 Modeling Paste Play:Colorful Patterned Papers
I adore the look of little bits of layered color all around the page but I am not willing to spend hours carefully placing each little drop of color.
My solution to that? Let the textures created with modeling paste and stencils do the heavy lifting for me.  This a la carte workshop uses modeling paste with acrylic paints and oil pastels as we explore different color combinations plus ways to alter a stenciled design.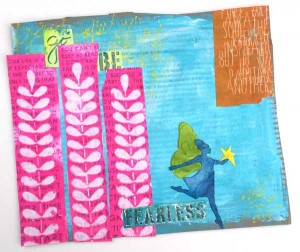 Modeling Paste Play: Bonus Workshop
I just couldn't stop playing with the colorful textures I created in the 3 a la carte workshops.   So I made a bonus video that uses techniques from all 3 workshops: Dimensional Decals, Colorful Patterned Papers, and Spray Inks and Tissue Paper.  The bonus workshop also includes even more techniques!
How can you get this bonus?  By ordering all 3 a la carte workshops at the same time!  It will be automatically included for you!
What are students in the workshop saying?
I want to thank you so much for your easy, breezy style of teaching. It has taken the fear out of trying new things!! -Kathy Hawkes
I watched 1 video last nite….you got my head spinning!  I can't wait to watch parts 2 and 3 and then start.  You have set me free and I really love you for that.  No more stress art!!! – Gerrie Johnnic
Carolyn's Colorful Journey into playing with modeling paste to create 3-D decals is crazy-fun! An adventure in adult art-play, resulting in a happy and joyful creation led by a first-class teacher of art-play! -Lisa Slagle
Think you know how to use a product? Well not the Carolyn Dube way!  This class made me think outside of the box and take time to play! I watched the class and dove right in using supplies I had on hand and before I knew it I was in the play mode! – Maria McGuire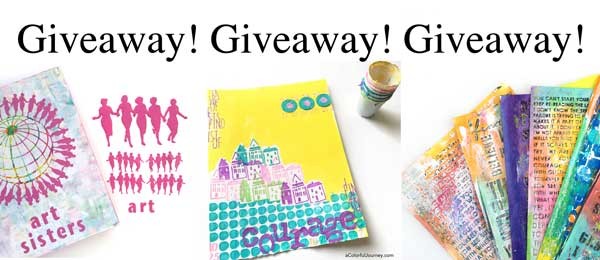 Would you like to win all of these a la carte workshop plus the bonus workshop?
Leave a comment and you are entered to win!  Want more than 1 chance to win?  How about 4 more chances!  For each of these that you do, you'll get another entry!  Each time you do one of these, come back and leave a comment tell me you did it and you've got more chances to win!
But what if you don't want to wait to start play? But you don't know if you've won yet?  I totally understand that so my attitude is if you win and you've already bought it, I'll refund your purchase price!
Share this blog post on Facebook
Pin anything from this post on Pinterest
Repost any of my workshop posts on Instagram (I'm carolyn_dube )
Share on G+
Be sure to be entered by 5pm EST on Sunday, April 10th when random.org will pick one random commenter and it will be announced here on the blog on the evening of the 10th!  Congrats to Kathy Stitzman the winner chosen by random.org!
The giveaway is closed…BUT I am sure there will be giveaways in the future so get signed up for my newsletter that way you'll know when there is a new one and you'll get downloadable goodies right now too!  Join here.