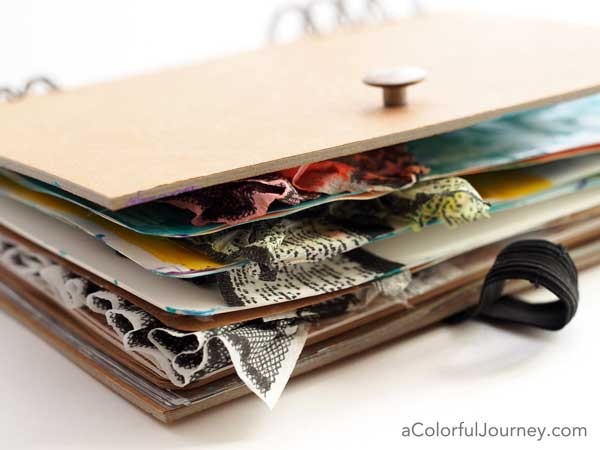 Are they treasured supplies or am I hoarding?  No matter what the name of it is, it fills up my studio with stuff.  Spring time in the US means spring cleaning for the studio.  But how can I get myself to use these precious things I have been saving so long?  By freaking out the inner collector (okay hoarder) in me!  That's what I'm sharing each week this month for Let's Play.
Before we dive into this play…I've got the winner of the $50 gift certificate for March's Let's Play!  Drumroll please….it's Linda Kilsdonk!  Congrats Linda!  Want to win this month's $50 gift certificate to Blue Moon Scrapbooking?  Be sure to leave a comment or share what you're creating (and that gets you a bonus entry!)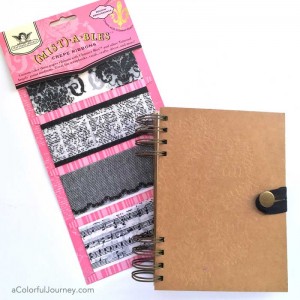 These mistables by Heidi Swapp and Tattered Angels are from 2009 (and I doubt available any longer).  I've had them that long waiting for the "right" project for them.  After all, I don't want to waste them.  That's what the voice in my head has said and guess what, they haven't been used.  The journal is from Prima from who knows when.  I've put a little in it, but then it was largely ignored.  But no longer!
What if I just used it now?  That makes the collector in me panic- which doesn't lead to carefree play.  So I add an extra twist to force myself to use it. One little sentence that gets the collector to quiet down and lets me play.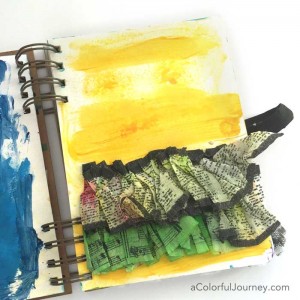 Here's the guideline for anti-hoarder play: Use it or lose it.  If I don't use it up, I have to throw it away or donate it.  Once I start using something like this, it's pretty hard to donate a half used something so that means most likely the trash for any that goes unused.
Throw it away- the collector/hoarder in me panics at that thought.  Which makes using it a far better option.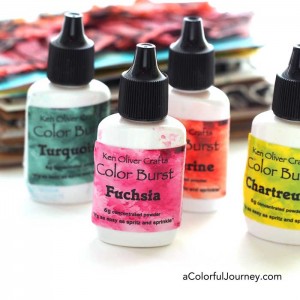 I started by coloring the crepe paper with Color Bursts in the new Caribbean colors. But there is a lot of paper in that pack so I had to figure out how to use it all.  Ruffles to the rescue!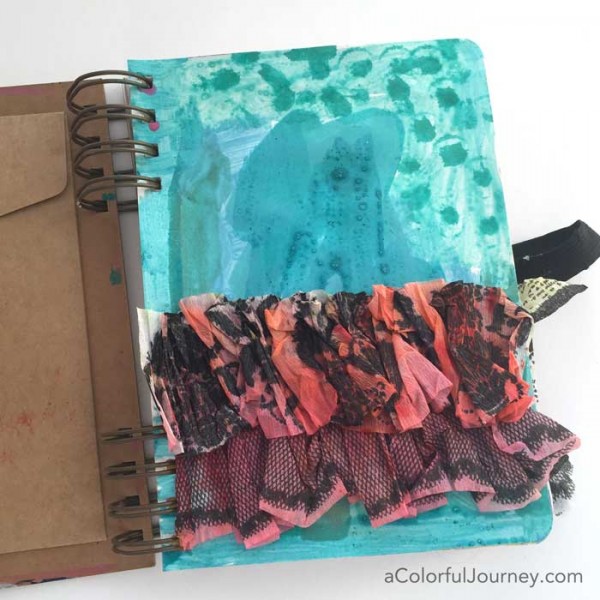 Lots and lots of ruffles…while I was waiting for the colorful ones to dry, I ruffled up more pages with the black and white patterned crepe papers.  And why did I feel the need to use it all?  Because what I didn't use, I was going to lose.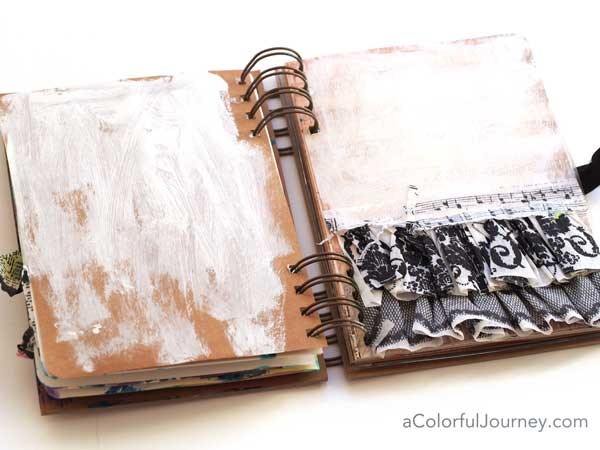 Watch How to get over hoarding art supplies in an art journal on YouTube.
Want to see more Let's Play videos? You can find all the weekly posts here.
Now you've seen my play, let's see yours in the link party below!  For this party, it can be any play on the theme or not (since play really doesn't have a lot of rules)!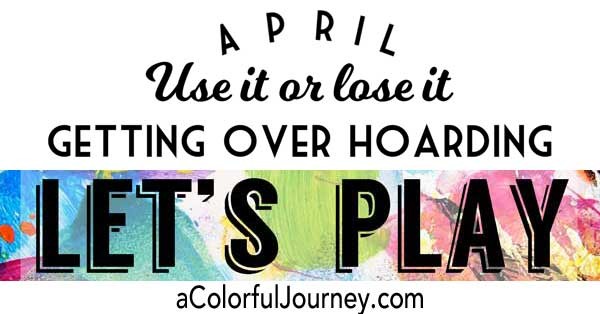 This month's giveaway is a $50 gift certificate to Bluemoon Scrapbooking!  Link up what you're creating (and you get a bonus entry into the giveaway for sharing your play) or leave a comment telling something that you liked about one of the photos shared. One comment per person but you can link up to 3 images of your play each week!  Giveaway closes Sunday, May 1st at 8am EST.
New to Let's Play?  You can find out all about it, what and how you can share (and it is almost anything- it doesn't have to follow the monthly theme and you do not need a blog!), how to grab the blog button, plus other info here in the Let's Play FAQs.
[inlinkz_linkup id=617128 mode=1]
Want to put the button your blog? Just copy all of the the code from under the button.