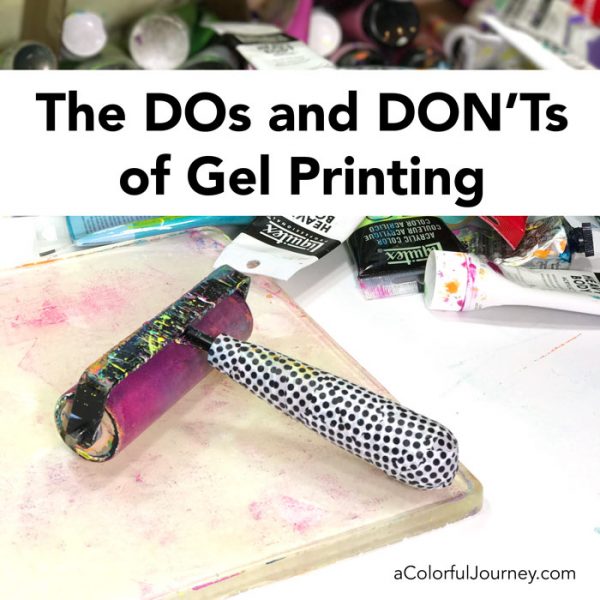 What are the dos and don'ts for gel printing?  The most important is Do have fun and Don't worry about doing it the "right" way because there is no right way…just the way you enjoy!   Do use a gel plate with the squish factor, like the Gel Press plates.   Don't use a hard plate, they don't release the paint nearly as well.
Watch The Dos and Don'ts of Gel Printing on Youtube.
Do use any acrylic paint.  Don't worry if the paint is the correct type for gel printing. All acrylic paints work on it!
Do get your favorite colors, even if they are different brands of paint.  Don't worry, paint doesn't have cooties and the different brands can all play nicely together.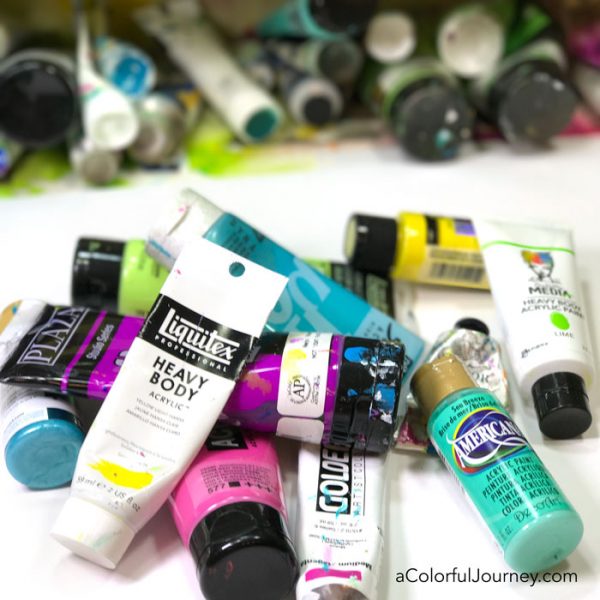 Do grab whatever papers you have around.  Junk mail, white paper, cardstock, geometry homework, old scrapbook paper, book pages, the phone book, whatever you have!
Don't use heavily coated papers (like print at home glossy photo paper) since the coating might leave a residue on the plate and fragile extra vintage crumbling papers because well…they just crumble fall apart when you print with them.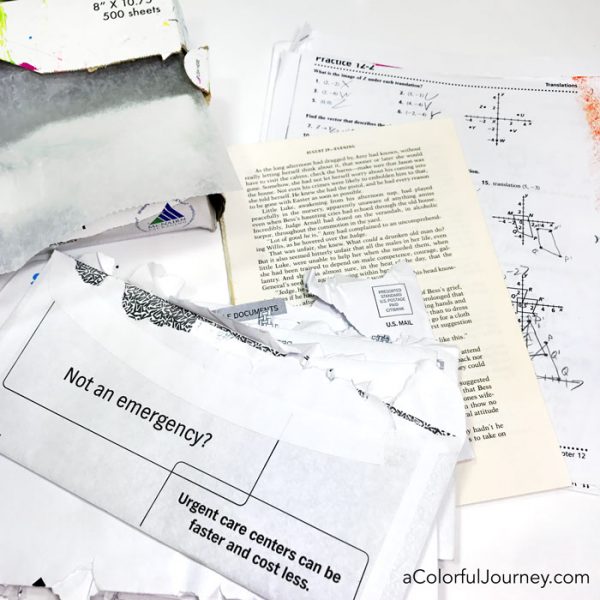 Do look through your house and your stash of supplies to find things to add texture and pattern. Shelf liner, caps, bottles, cardboard from a finished roll of masking tape, stencils, rubber stamps- anything can become texture or pattern!
Don't overlook anything.  You might be surprised what fun textures you can create with everyday items…like pasta. Yes, I used dried pasta and of course, there's a video of it.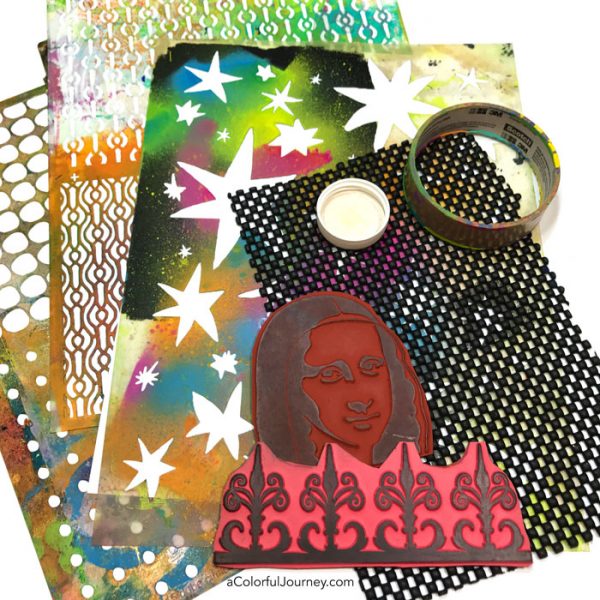 Do make some ghost prints.  Don't be afraid, ghost prints are not the paranormal, they are they 2nd or so 3rd pulls that have less paint on them and a softer look (hence the ghost name) than the very first pull.
Do have fun and go a little wild and crazy with that paint! Don't be afraid to take a risk…after all it's just paint and paper.  It's not like we are walking a tightrope 50 feet in the air without a net.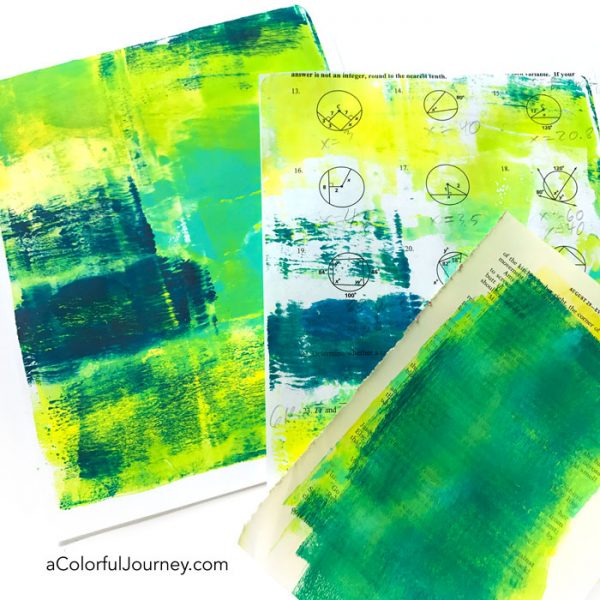 Do put the amount of paint on the plate that you like.   Don't worry if it is the right amount.  Let yourself experiment and find the amounts that feel best to you. Some people like thin precise layers of paint on the plate.  I prefer to put a river of color on the plate.  No wrong amount, it just gives you different looks.
Do make sure you have good contact between the paper and the paint when using a stencil especially if using cardstock.  The thicker the paper the more you need make sure you have that paper paint contact.   Don't forget to take a pull of the paint from under the stencil. There is magic under there.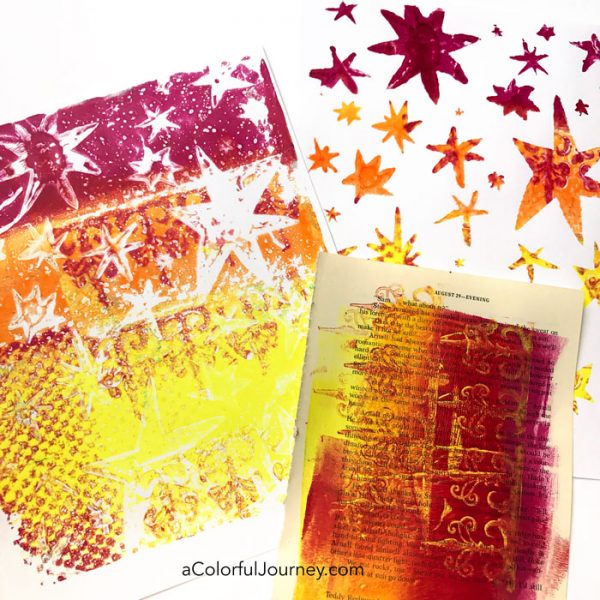 Do let the layers build up.  Don't worry if you don't like one layer – just add another layer on top of it.
Do make lots of prints that way you will have lots of opportunities to create prints you love.  Don't worry if every print isn't magical on the first pull.  You can always print right on top of those prints.  So often the print I thought was yuck in the beginning becomes my favorite after a few more layers.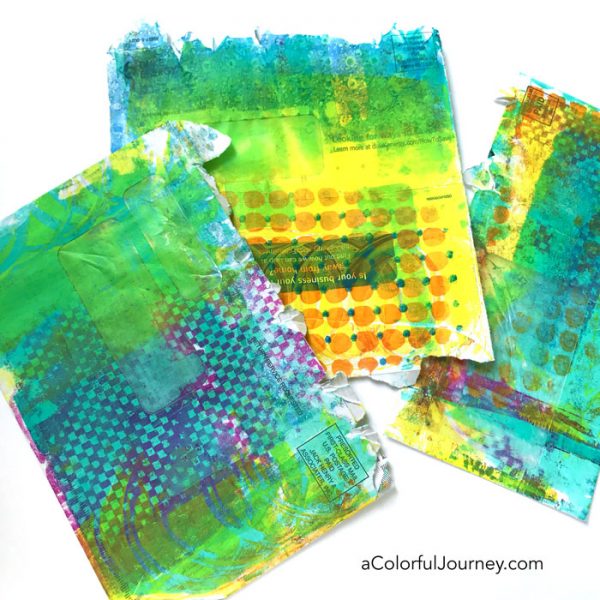 Do clean it if it brings you joy to clean it.  My plates frequently have dried paint on them because cleaning does not bring me joy.
Don't clean it if it does not bring you joy to clean it.  I rarely ever clean my plates.  They don't look factory perfect, but they don't have to look that way to make magical prints.
Gel Printing Resources
Gel printing videos on YouTube
Getting Started Gel Printing Guide (There's a downloadable getting started guide available here)
Gel Printing Workshops I offer both in person and online workshops.  The most up to date list and workshops can be found here.
Gel Printing Supplies 
Some of my favorite gel printing play