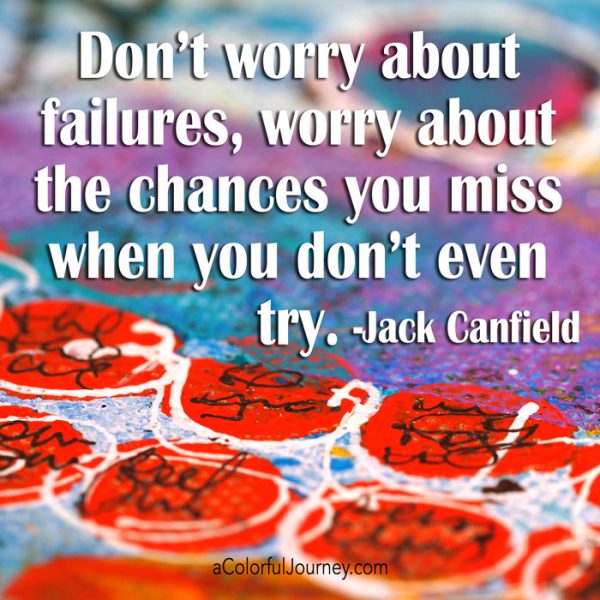 My inner critic was relentlessly running roughshod over my mojo.  My broken ankle was healing just fine but my creative bones seemed unable to go back to the way they were.  Turns out just as the ankle needed rehab, so did my mojo.
It was like there was big cloud following me around blocking out the sunshine. Nothing felt like play when I first got back into the studio after the surgery.  Here's how I got my mojo back several months ago using a color I never expected to embrace.
I wanted to play so badly but couldn't feel it.  This had been going on for days as I tried to get back to my old self in the studio.  Like a spoiled child having a temper tantrum in a toy store, I was about to stomp my foot that I wanted my mojo back.  Thankfully, I remembered the healing ankle and didn't stomp.
I wish I could tell you that calm descended upon me and with a gentle hug my muse returned bringing me my mojo just because I wished for it. I don't have that kind of muse.  When my inner critic is in full swing, she stays away.
So if I wanted to get back to my creative self, then I was going to have to get that inner critic under control.  When I get this backed into a corner creatively, my inner teenager comes out swinging.  She did not disappoint me. She said use brown.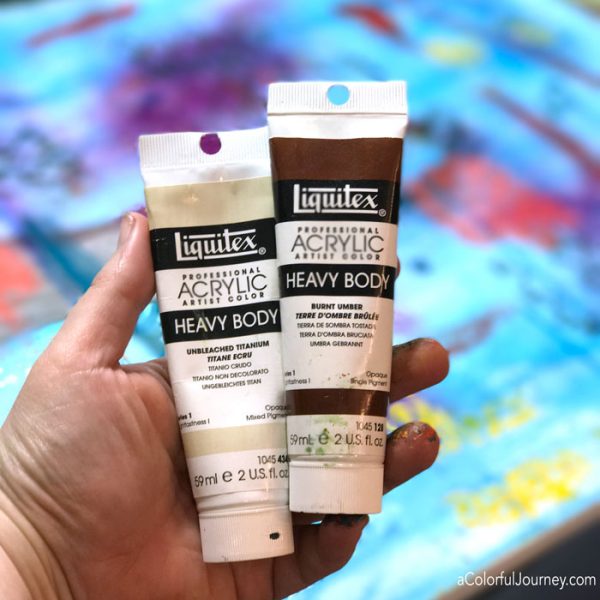 My inner critic was going nuclear so my inner teenager decided, "I'll give you something to complain about."  Oh how I could hear my mother's voice in those words.
On top of using the color that repels me, brown, I was going to use a bunch of other colors that don't excited me, at all.  Basically, a recipe to make it ugly to me no matter what.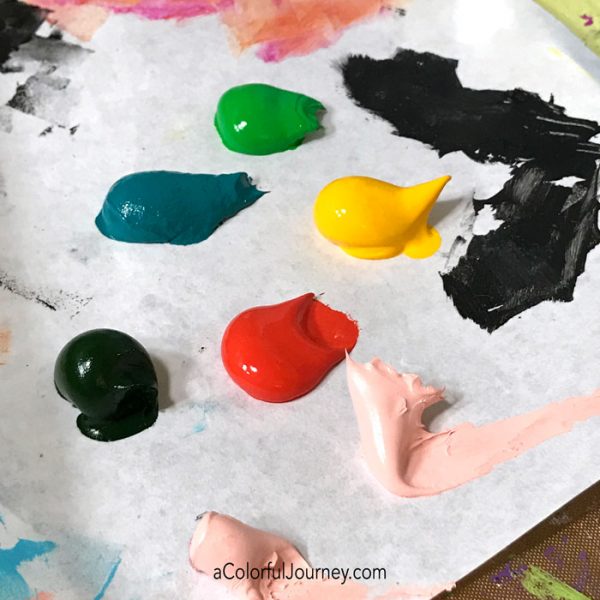 Then it was time to randomly grab a bunch of stencils and get pattern on an old ignored canvas.  Since I was using colors I didn't like much it was utterly impossible for me to like much of anything happening.  My inner critic was having a nuclear meltdown trying to criticize me.
The colors did not disappoint me…they were as yucky as I expected.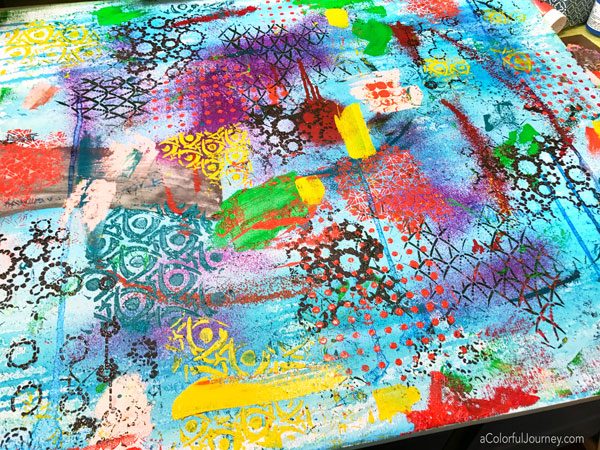 Just imagine that inner critic rocking under the table, mumbling to herself because she snapped with all those colors.  She went hoarse screaming at me about what a horrifying mess this was.   Finally, she was quiet.
The muse began to come back. I grabbed more of "my" colors.  It was becoming a hot mess (a definite improvement from blindingly ugly) but the most important part was I was starting to have fun.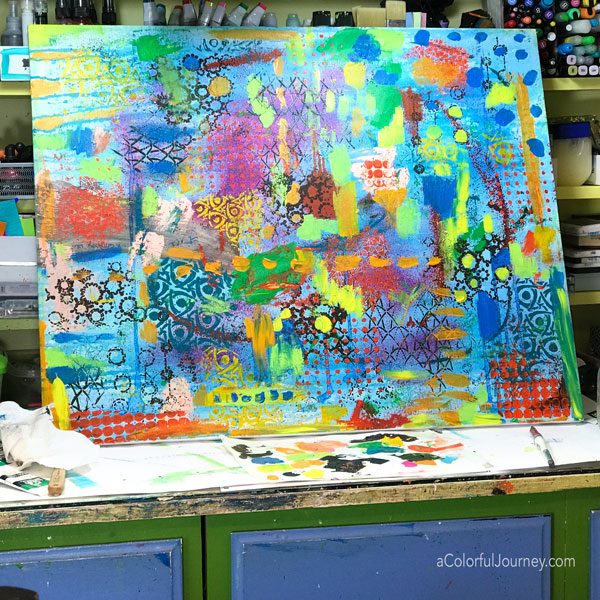 Then the silliness began. Using a fineliner filled with white ink, I began drawing on the hot mess.
More silly feelings as I went graffiti style with the Krink paint marker.   I felt like a rebel, purposely misspelling words I was writing.  Now, this is absolutely ridiculous because I was scribble writing so it wasn't like anyone, even me, could read what I had written.  But it felt good. It felt playful.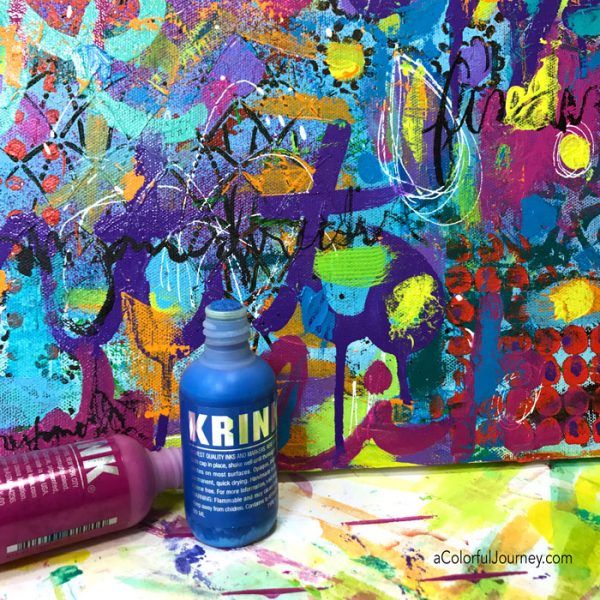 Now that I was feeling playful, making decisions was easier.  The pressure was off to make it good enough.  I was just having fun.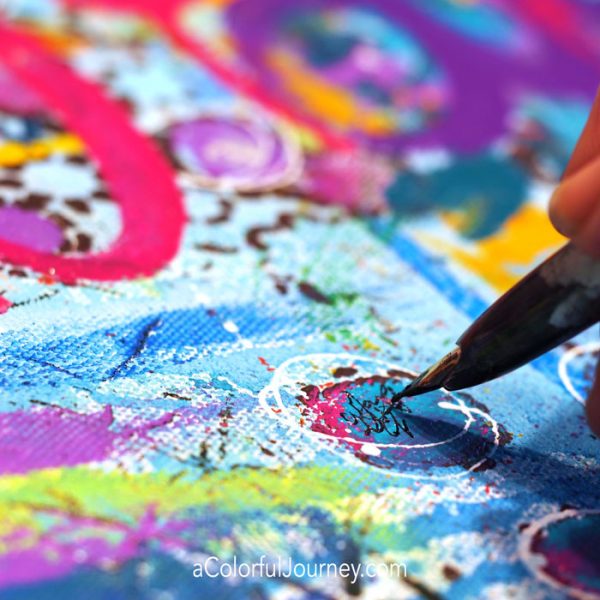 While journaling with a fountain pen, I realized this was the eye of the storm.  There had been turmoil getting the inner critic to quiet down and now it was the sweet spot of play.  But there was  turmoil still to come.
The inner critic was getting judgmental and loud again.  I could feel the playfulness slipping away.  I decided to find the shapes in the layers, just like I often do in my newsletter's free Sparks of Art-spiration and cover up the rest with lots of white paint.
Now this is where it became utterly ridiculous.  The inner critic was getting louder and having a bit of panic attack that so much of this was about to covered up with white paint.  Really?  A split second ago, it was worthless, a hot mess, and no good.  Now it is treasure that you don't want covered up?  It was really hard to take this voice seriously.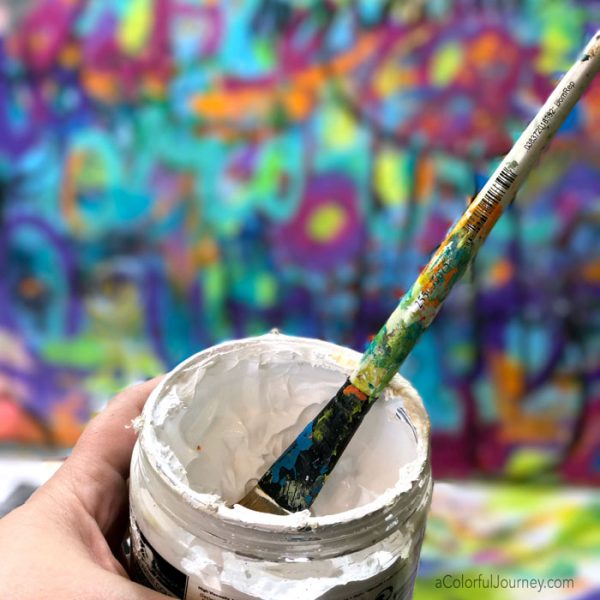 My inner critic was freaking out so I reminded her of the Jack Canfield quote, "Don't worry about failures, worry about the chances you miss when you don't even try."
She wasn't rational, so she did not embrace the spirit of it…in fact it seemed to make her even madder which brought my inner teenager immense joy.   I took the risk of outlining a few crazy characters on the canvas and slathering white paint everywhere else.
These 3 silly armless characters emerged, perhaps a reminder to not take the critical and crazy thoughts in my head too seriously.
This canvas had been a roller coaster ride starting with brown paint, but it was just what my mojo needed.  I had begun to feel like my old self and since then have been back in the studio playing.  The broken ankle is totally healed now, and so are my creative bones thanks to the play.