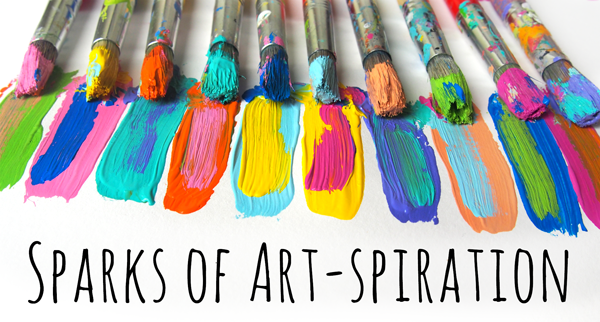 What's a Spark of Art-spiration? It is a snippet, a part, a piece of something larger.
Each person that looks at the same printable Spark of Art-spiration,  but how it speaks to each person is unique. That is the magic of the Sparks.
How do I use a Spark?  I print out the high resolution Spark on my ink jet printer  in whatever size I feel like and then I play.  That gives me complete freedom to experiment, play, explore.
If I "ruin" one – not a problem!  I just print another.  Of course, I will say some of the things I think I have "ruined" turn out to be my favorites in the end.

Sometimes the Spark gets buried in an art journal.  Check out my art journal here.

Sometimes the Spark helps me connect with my emotions. Take a look at that here.

Sometimes the Spark guides me to some very happy art play, like it did  here.

Check out this post to see examples of how differently people see the same Spark.
Weekly Sparks of Art-spiration are now exclusively available for newsletter subscriber only.
You don't have to wait until my next newsletter to start playing with a Spark because there is a pdf (with a Spark in it) and a downloadable video waiting for you when you sign up for my newsletter.
Yes, Send Me Free Sparks!