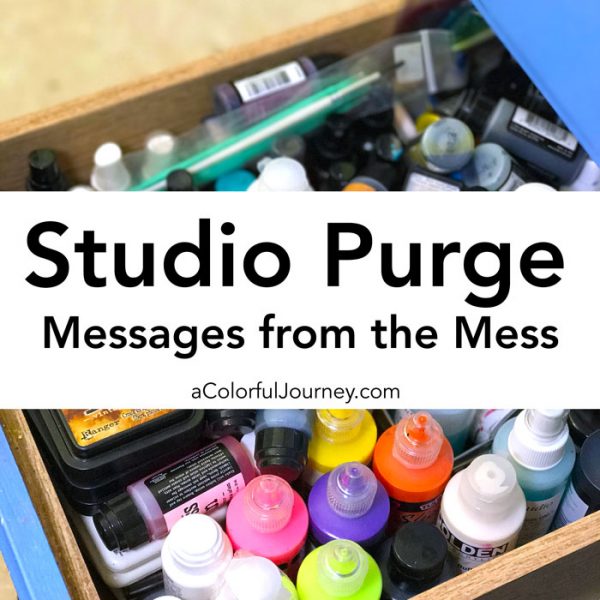 Ever spend an entire afternoon searching for that one thing you know you have but can't seem to find?  After spending an embarrassingly long time looking I had to laugh at myself. This is why I prefer to use what is within arms reach, there is no search and rescue team needed for that!
It was time to purge the studio yet again, but this time, I went at it ruthlessly and with a sense of humor because some it was a bit ridiculous.  The goal was to to clear things out so that if I looked in a drawer or a cabinet, I could see exactly what was in there. Time has proven over and over that if I can't see it, I won't remember to use it.
You bet my inner art supply hoarder was in a panic!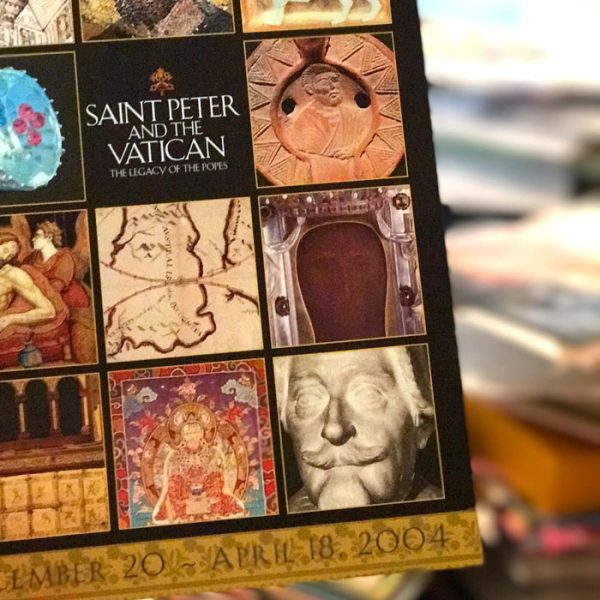 Even if I thought it was great, if I hadn't started to use it after say 10 years, then I needed to let it go.  This flyer from an art exhibit in 2004 has such potential…but if I haven't made the time to use it in 13 years then I need to face the reality, I probably won't ever use it.
What about all the Ziploc bags of project remnants and paper scraps that I just had to save?  But wait…there's more…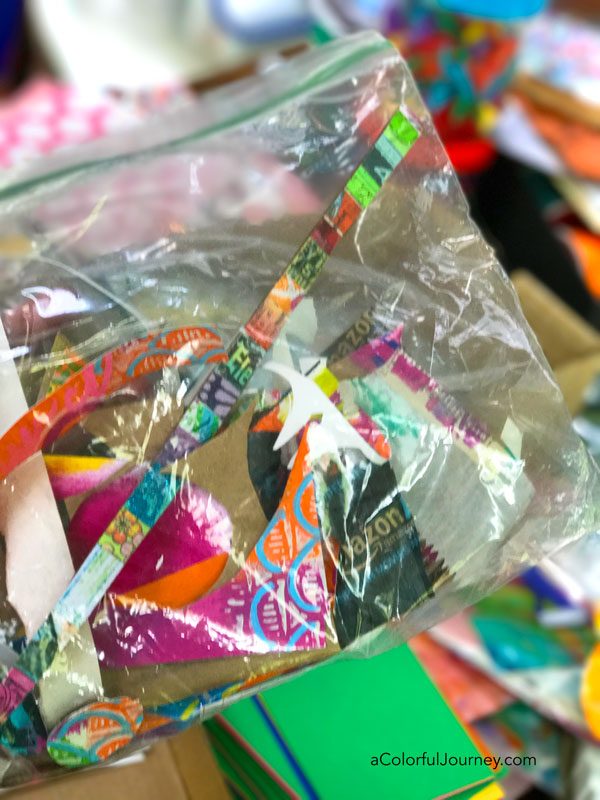 10+ year old shampoo bottles from vacation because I liked their shape…the remnants of Stabilo pencils because they might come in handy… scraps of washi tape saved on freezer paper because who wants to waste that sacred washi tape…paint that had been forgotten and totally solidified in the bottle…did I really need to save all this for eons?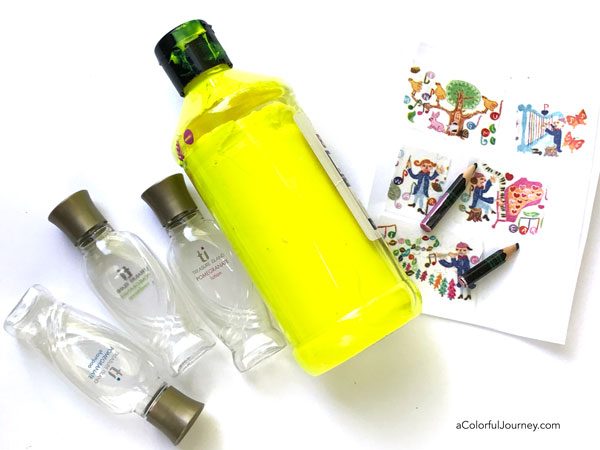 Okay, even my inner hoarder admitted this was a bit ridiculous to be holding on to these types of things for decades.  How do I know decades?  Well, if I date the piles off my messes the way an archeologist does, I know that the hotel shampoo bottles are from a vacation taken in 2005.  So anything from that layer of the cabinet was potentially just as old.
Then there were the papers.  Oh, was there paper.  Stacks of colorful  papers stamped, stenciled, and of course gel printed.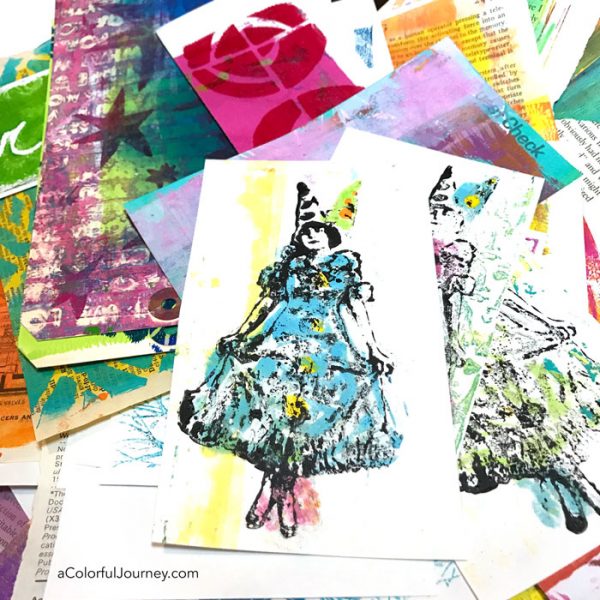 Then there were the papers from scrapbooking kit clubs, stacks of bargain paper that were just too good of a deal to pass up…when my now college age daughter was 5.  These were the papers I hadn't touched in eons.  At least my inner hoarder was perfectly fine getting rid of the brown papers.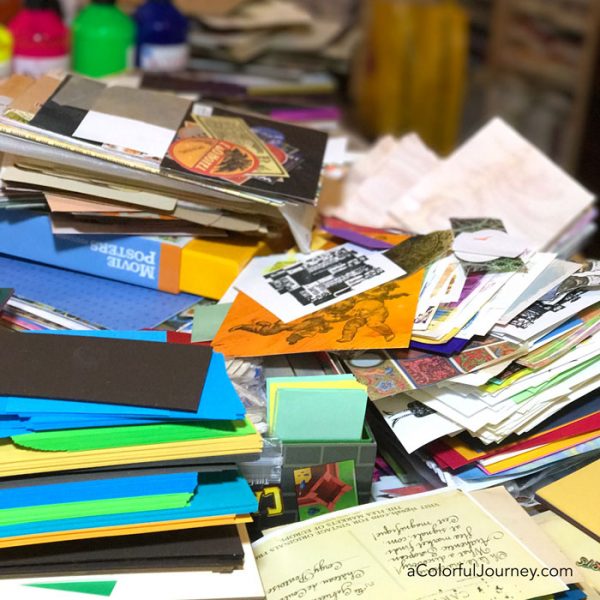 As papers were sorted into stacks, occasionally I noticed words peeking out, like messages from the mess and the muse.  The dictionary paper had fall guy on it…then the first line of a gel print stood out to me…trying to please everyone.  Well, that isn't subtle reminder of a lesson I need to relearn every now and then is it!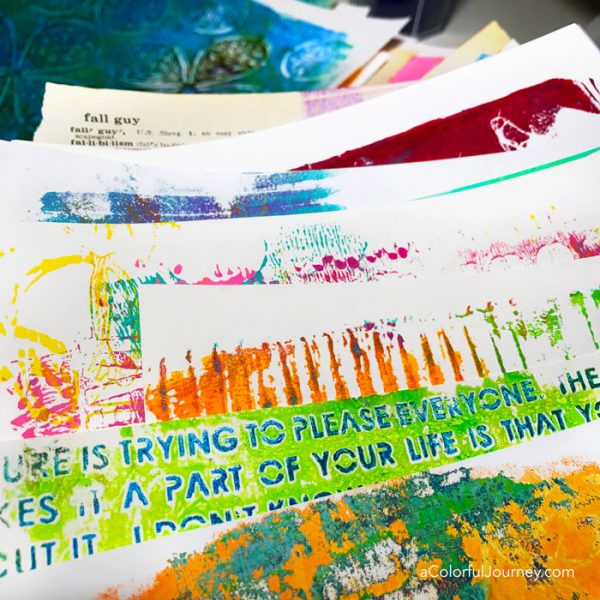 A game card I found said, "Take your normal turn."  If the muse wanted me to get anything other than a laugh out of it, she had best be less cryptic.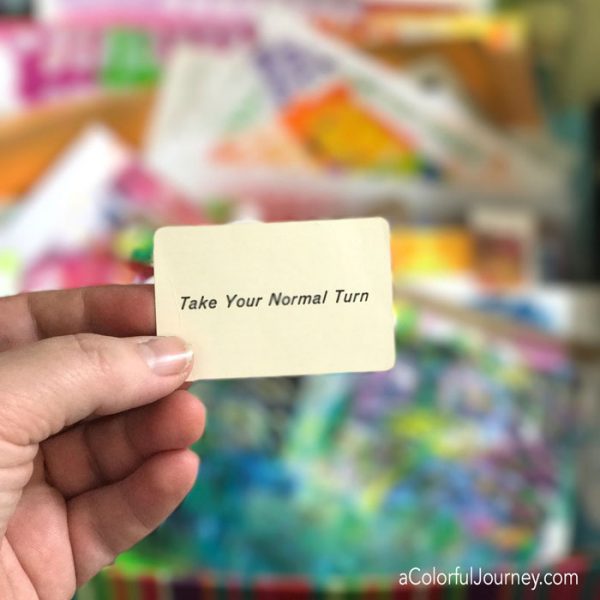 The muse also kept encouraging me to continue sorting and purging…it was surprisingly emotional to purge this much stuff.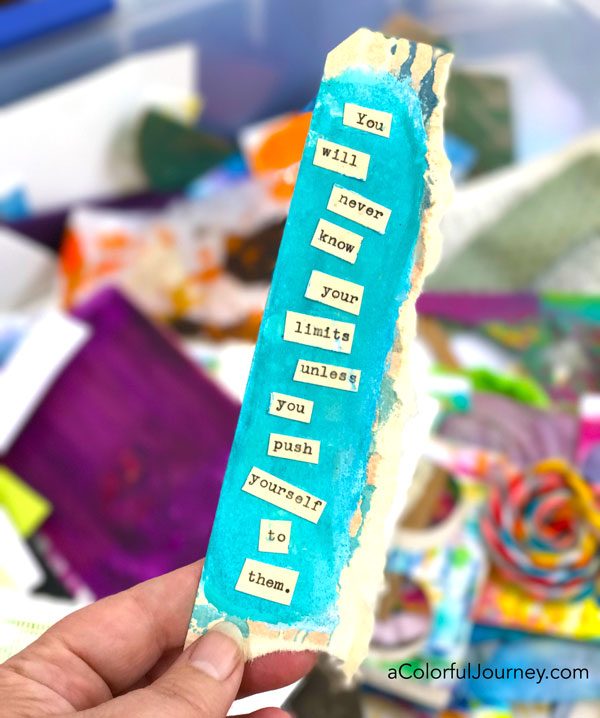 There were also reminders that this was the right time to do the purge…at least that is my interpretation of the NOW.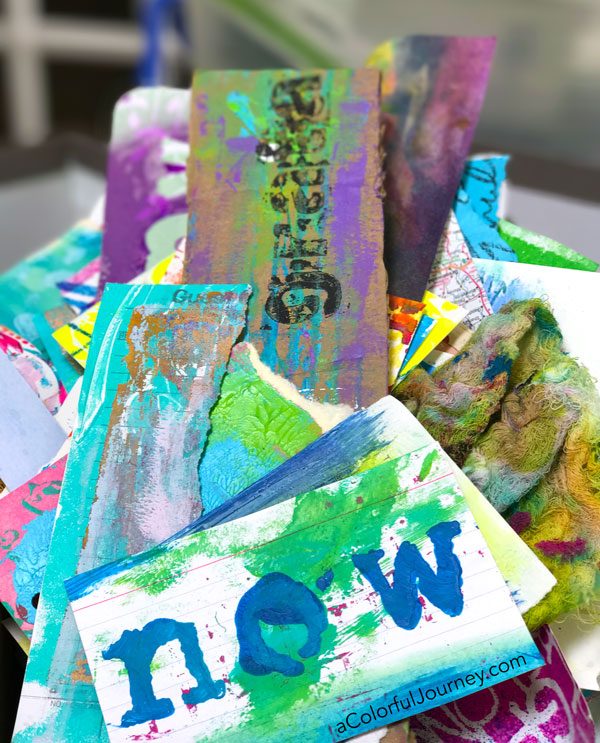 Then there were the gel prints that were all over the studio in different drawers.  This part of the purge brought me the most joy, just running my hands over them made me happy.  And I kept every one of these.  My inner hoarder won that battle!  They were sorted so I can now quickly find the ones I want when I want them.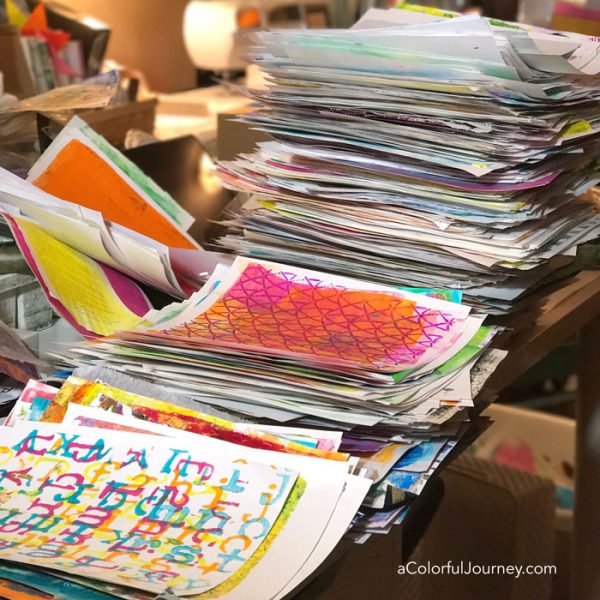 So what did I do with all the treasures I was purging?  I loaded up the van and donated them!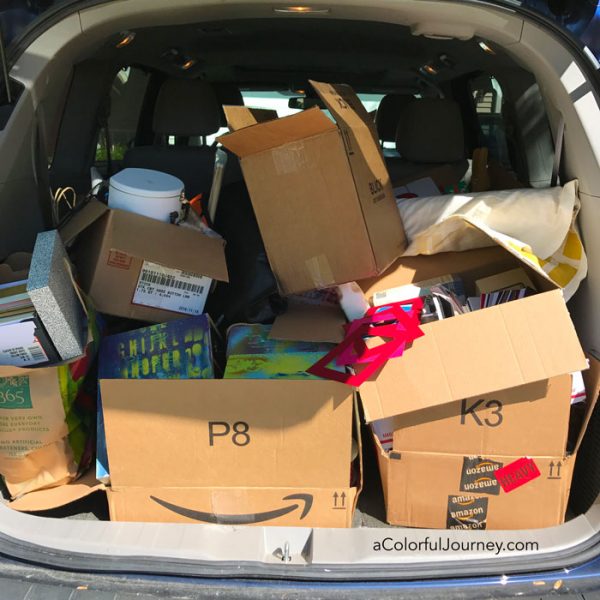 You can image the panic my inner hoarder was going through having this all head out the door but knowing that they were going to support creativity in others soothed the stress exceptionally well.  The new home for all the treasures was a thrift store for art supplies in Cincinnati, Ohio called Indigo Hippo.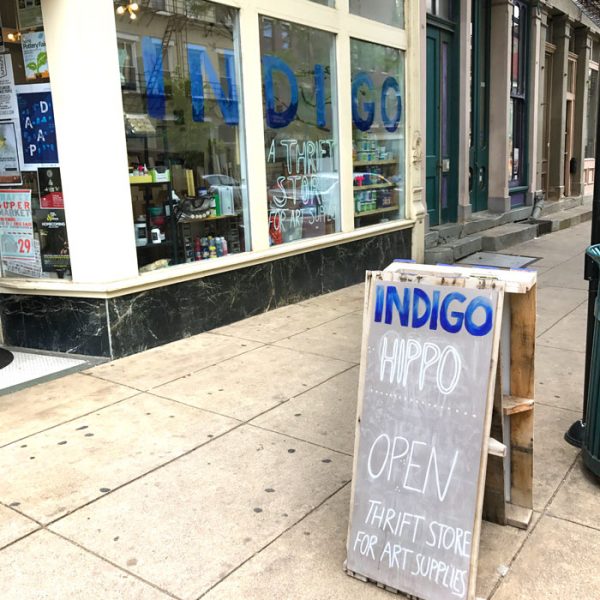 They are a pay what you can store and also do community outreach with art events so art supplies are available for anyone who wants it.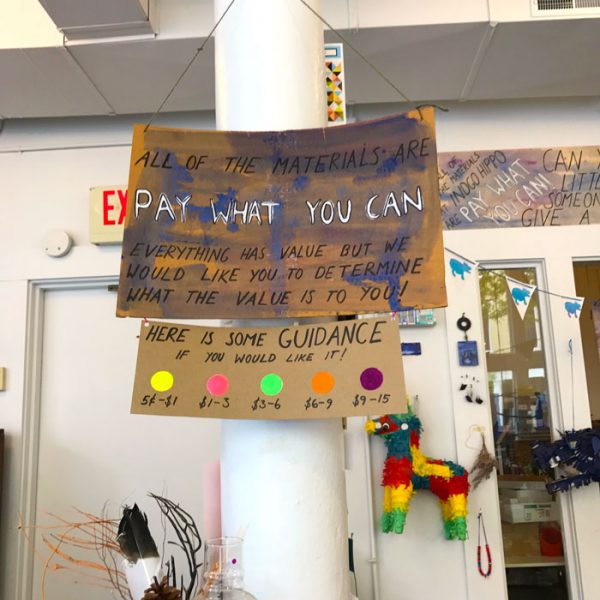 The store is mixed media playground.  They have everything from dress patterns to fabric swatch books to papers to beads to paints (Golden included) to wood scraps to bits and baubles.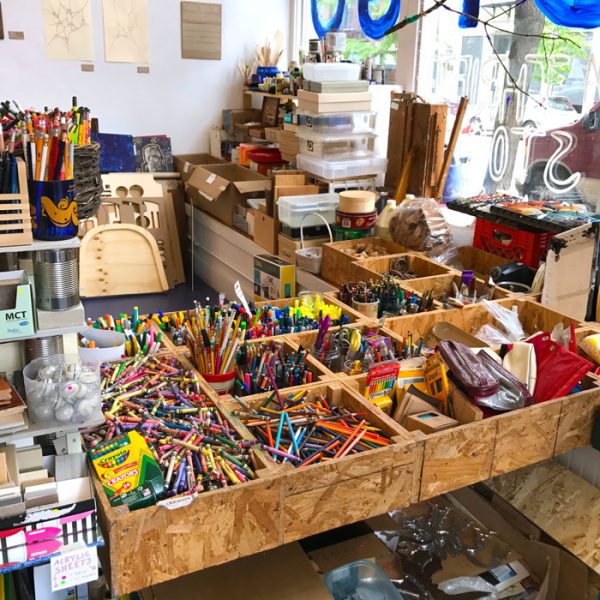 I hope every city has a store like this because more creativity in the world can only make it better!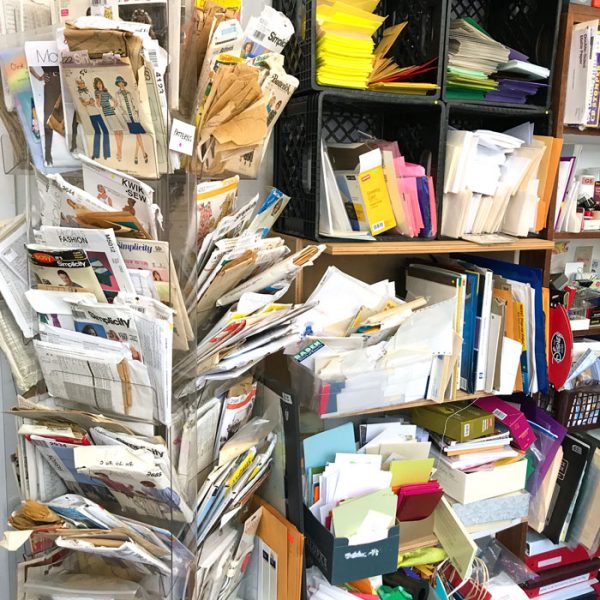 Even the outside of the building shouted creativity!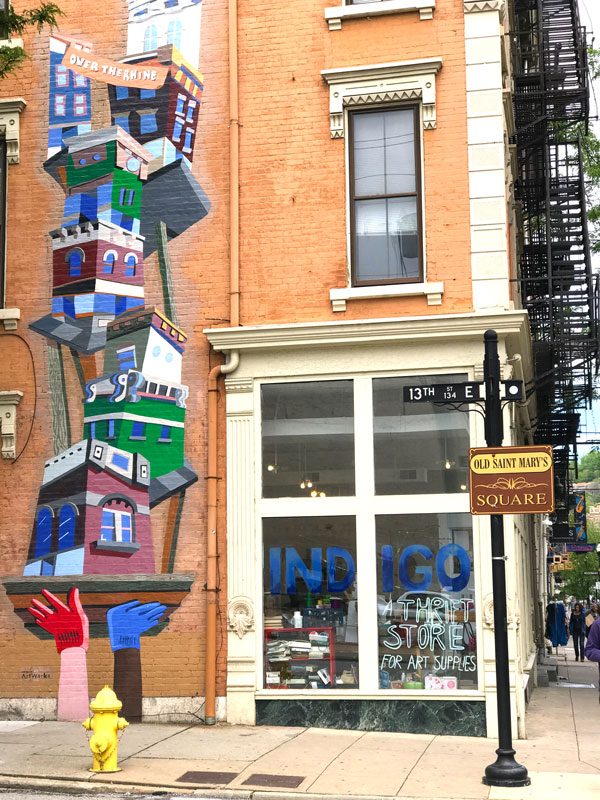 I would love to say that getting all these treasures on their way to a new home meant the studio looked empty.  It looks just like it did before except when I open a drawer or cabinet, I can see what is in there.  So now I can see what I have and spend more time playing and less time looking for hidden supplies!