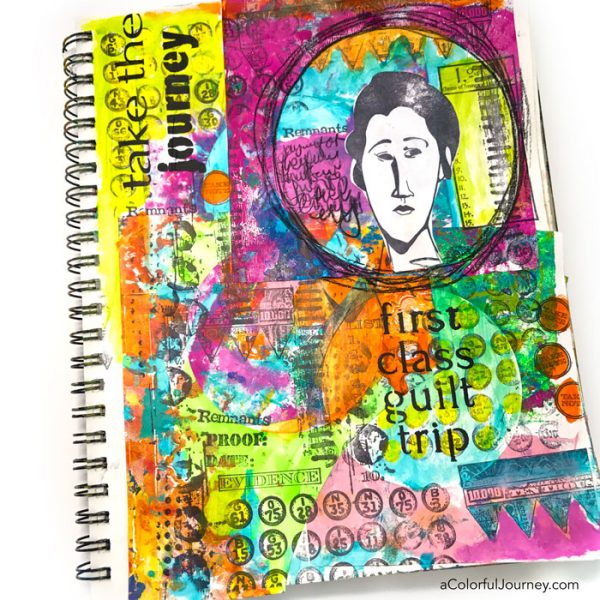 Treasures were used to create this art journal page.  Were these expensive treasures?  Nope. Would they be considered trash by many? Yes!  These treasures were a bag of scraps of paper that I had been saving in my studio for a very long time that I decided was time to use them or lose them courtesy of the recent studio purge from my last post.
In the video, you'll see this bag of treasure then my rubber stamping OOPS and then the pink paint OOPS.  Plenty of OOPSies in this one!  But all those Outstanding Opportunities Presenting Suddenly turned out to be just what I needed for the page…especially the pink rectangle I detested!
Watch The Ugly Pink Rectangle OOPS in my Art Journal on YouTube.
Doesn't this all look like treasure? These scraps of gel prints from die cutting, a favorite stenciled image on book text, and more!  No idea why a bag of this looked like trash to my husband.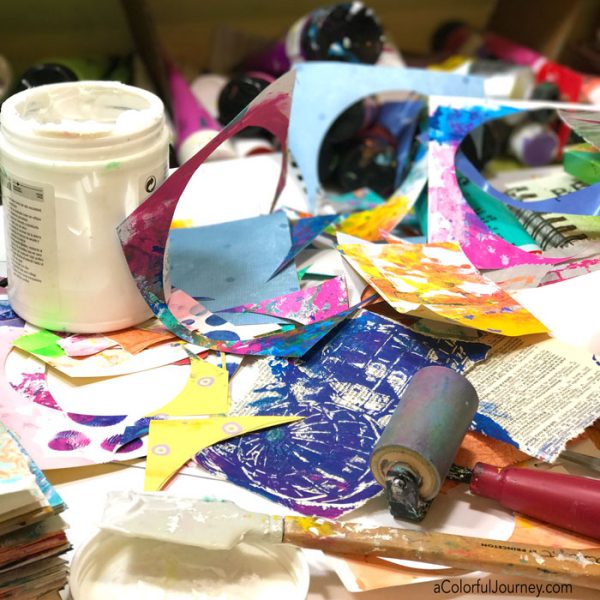 In case you didn't know…crisp and clear rubber stamping is tough on an uneven surface, like this art journal page of glued down scraps.  I thought at least a little more of her would show up but no.  OOPS.  Instead of being a sophisticated woman…she is wearing 3D glasses and has a goatee.
You're probably wondering which companies make all these rubber stamps that I used.  Me too.  I have no idea since they are all unmounted red rubber with no names on them.    If anyone knows who they belong to I will happily update this.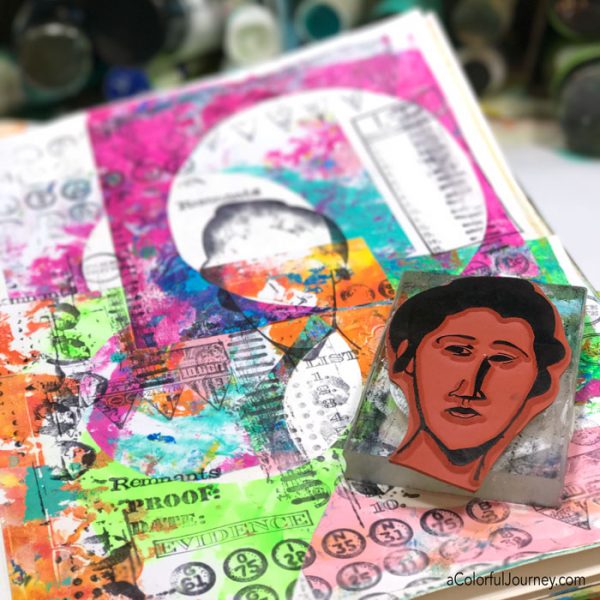 As if this didn't already have enough color going on..paint time! Loved almost every single color.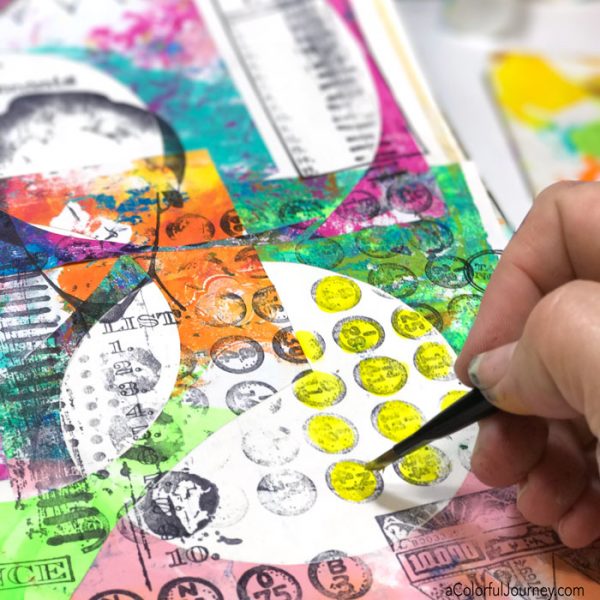 And here is that pink rectangle that I did not like.  At all.  OOPS.  But I trusted the OOPS and in the end it did not disappoint.  It was in just the perfect spot.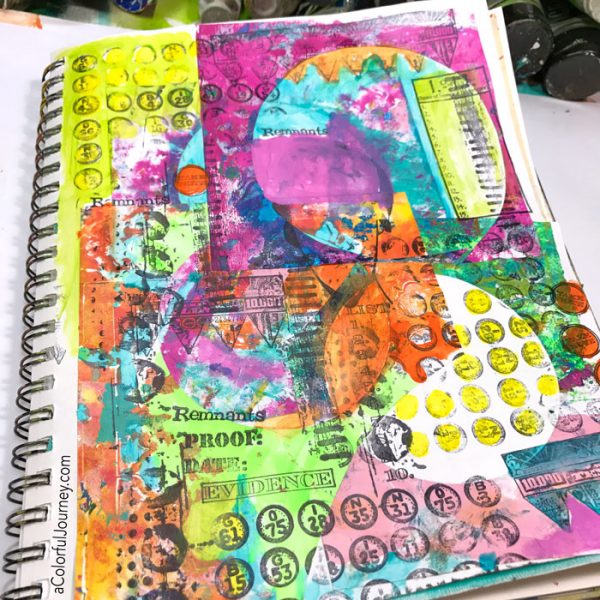 If it was nearly impossible to get a good image of her stamped directly in the journal, then there had to be a better way.   She was stamped on scrap paper and just glued in place.  I stamped her 3 times and cut them out but only used one…and now you know how the treasure builds up in the studio.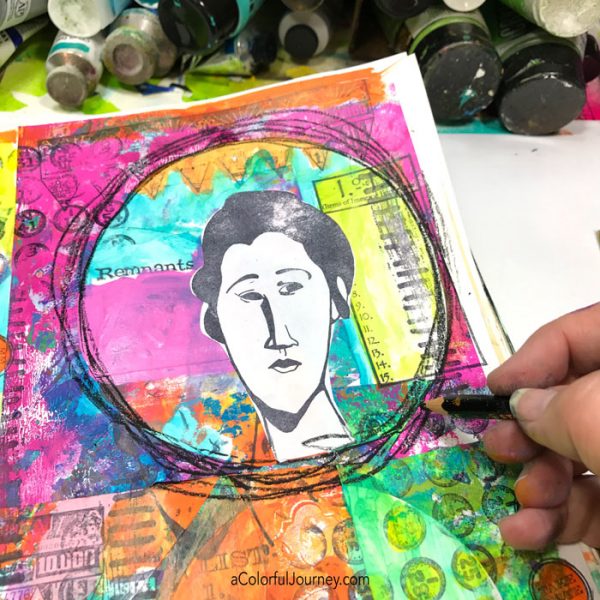 Using the ever handy Post It notes, I created a quick mask to add some words to this page that poke a little bit of fun at what flashed through my head as I started collaging with the hoarded scraps, guilt over not having not made time to use my these treasures sooner.
I used a very fluid paint for stenciling so that meant if I wanted to get a crisp image, I had to dab the cosmetic sponge off several times to be sure it wasn't juicy.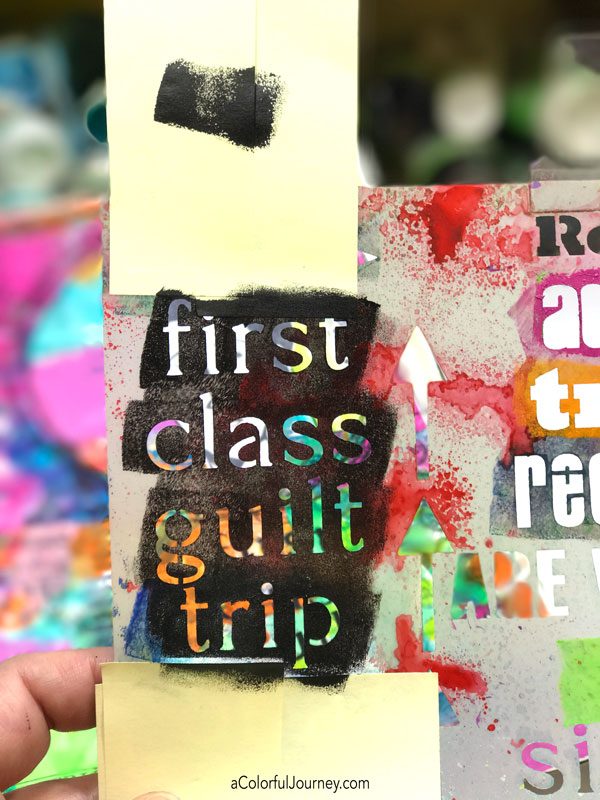 Now that I captured the guilt, I also wanted to honor the fun part of it, the journey of the play.  After all, I could have stopped at any point, but instead I chose to take the journey and see where it led!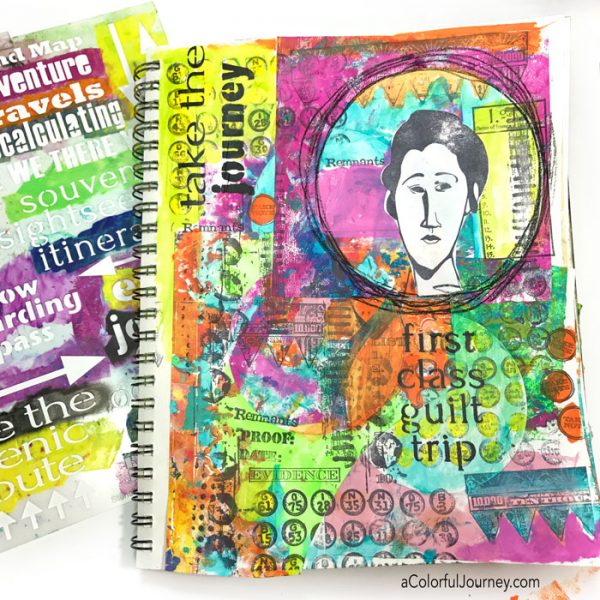 One last thing was needed on this page…some scribble journaling.  That ugly pink rectangle was just the place for it.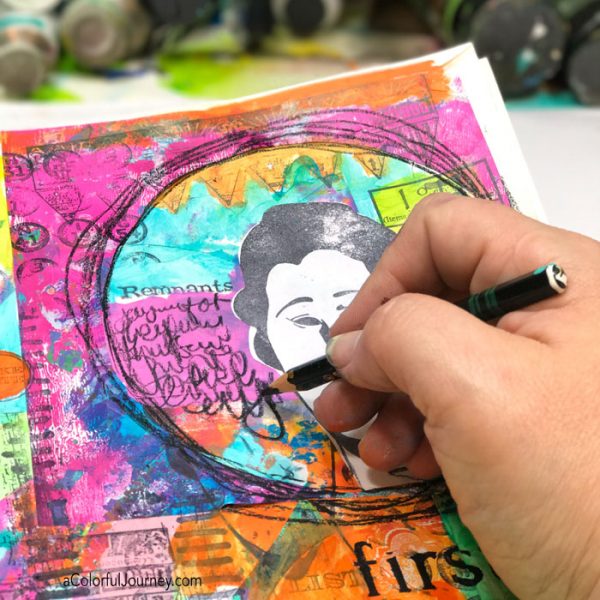 What an adventure these scraps of paper took me on from the guilt to the rainbow to the OOPSies but most of all, the fun of play!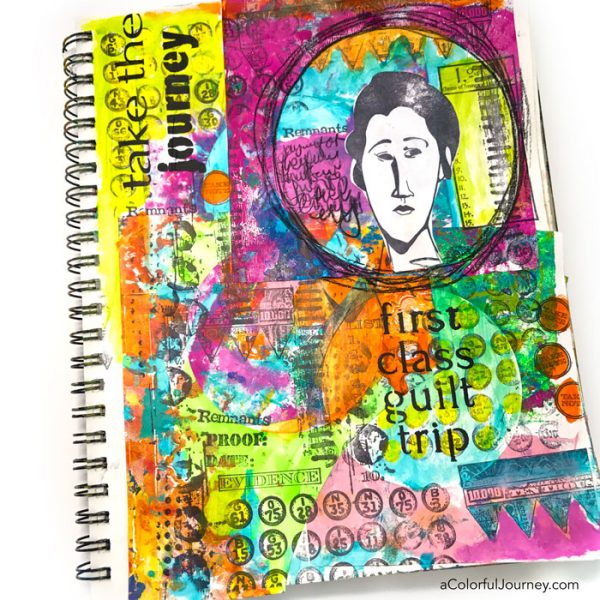 Here are the supplies I used. Some of these links are affiliate links which means I get a small percentage. It doesn't cost you anything extra and it helps keep the free tutorials coming!