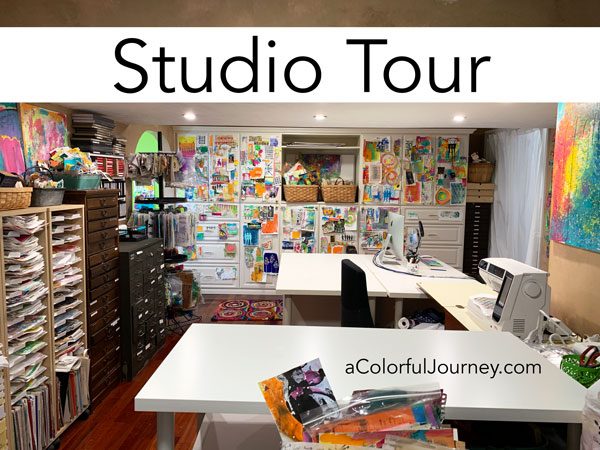 Welcome to my art studio, my play place. As you watch the studio tour, you'll notice 2 big themes. 1. Keep as much out where you can easily see it. 2. Lumber from the hardware store can do all sorts of things!
Did I always have this much space so that there was a splash zone and a dry zone? Nope. Just like I have evolved and changed, so has my art studio. One thing has been constant, no matter how much space I have, I could always fill more.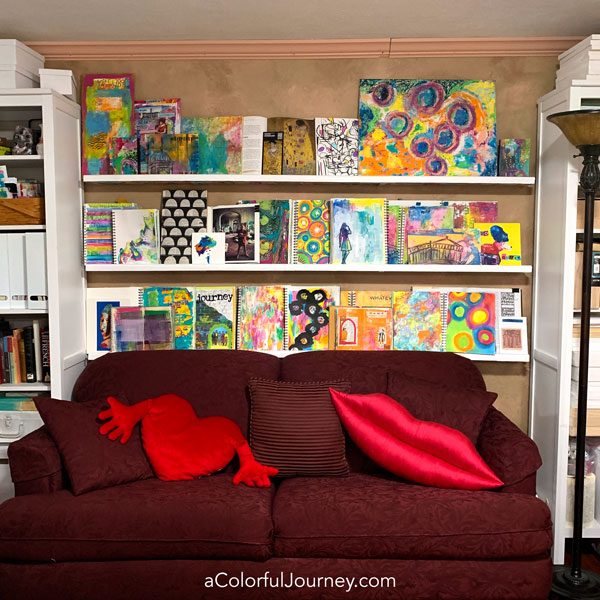 Propped up on these shelves, made from basic hardware store lumber, are books that inspire me at the moment, art journal pages (finished and in progress), canvases, and anything else that calls to me.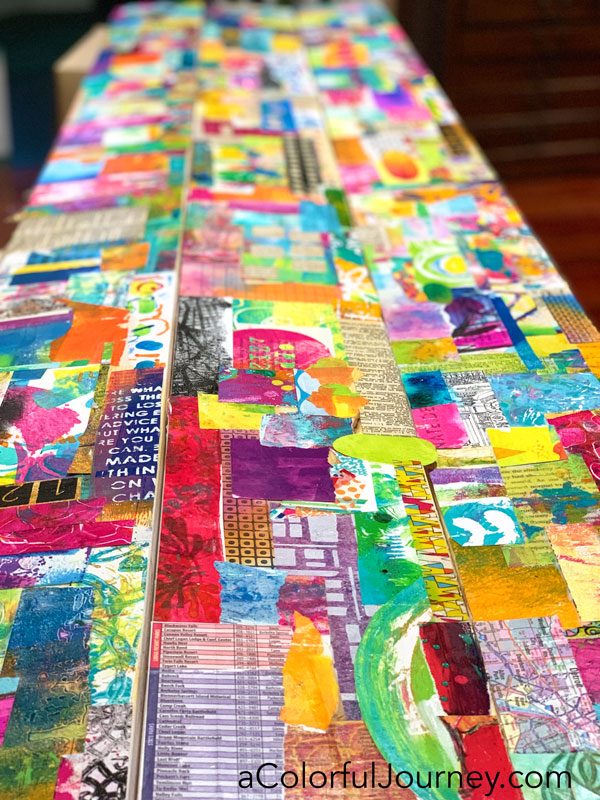 When sitting on the sofa, you see the underside of the shelves. So why leave them plain when it's a chance to use up leftover bits and scraps to add some color.
Did this all go as planned? Nope. I apparently didn't understand that short people can't reach as high as tall people. The original plan was to have the shelves about 8 -12 inches higher, bu then I couldn't reach them easily. O.O.P.S.
As with all Outstanding Opportunities Presenting Suddenly, this one turned out better than planned. Having it right at sofa level makes it so easy to grab what I want off the shelves.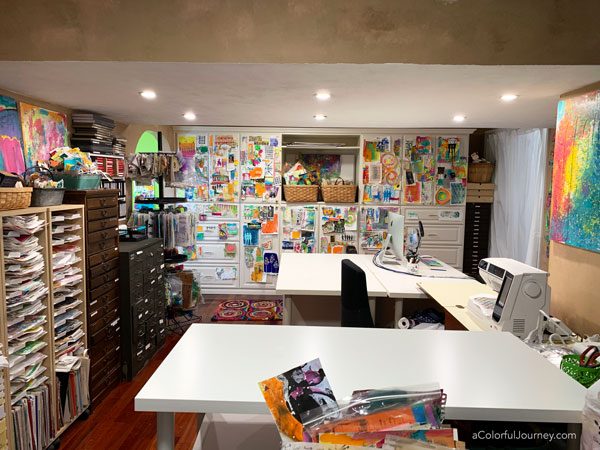 This is the dry zone for things like the die cutting machine, computer, and sewing machine. Since I knew you were coming, I cleaned everything up. Usually, there is a mess everywhere and you can't see the table tops or even the floor after a day of gel printing.
No matter how big of a space I have, there just isn't enough so I will use anywhere I can – like the fronts of the cabinets. My favorite bits and pieces get taped up there so I can see what I have and find what I need when I'm creating. Why waste any space.
The cabinets with the skinny little drawers or shelves are by Best Craft Organizer. They have held up extremely well over the years and are a compact way to organize everything from rubber stamps to ephemera to beads.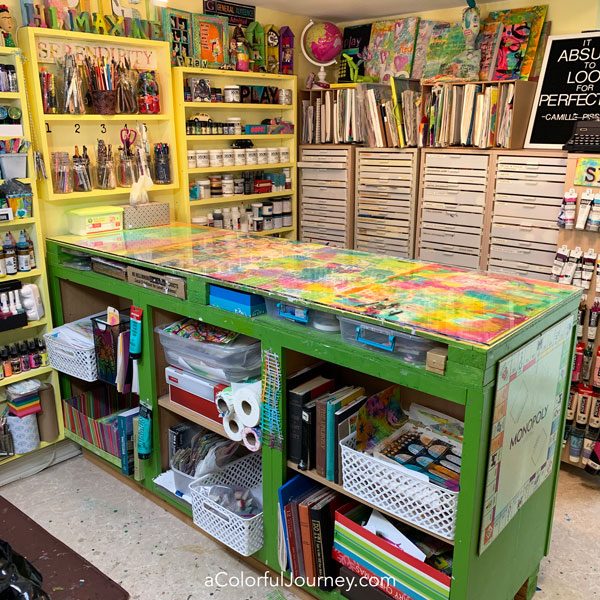 These are cheap unfinished kitchen wall cabinets from the hardware store turned into the counter for the center of the splash zone area of the studio. They had the open shelving that I wanted but were just a little too short.
So, using the ever functional 2 x 4, we raised up the glass on top. If you look closely, you can see 2 of them stacked on the ends and the middle. Nothing fancy but extremely practical.
The glass top is also practical. It is easy to clean no matter what I throw at it and can handle things like cutting with a craft knife directly on it plus you can customize it by putting art underneath it.
Having as much in sight as possible means I am more likely to use it so I lined any wall I could with shallow shelving. These are simply boards from the hardware store cut to fill every inch possible.
When you paint the cheap wood the same color as the walls, they look like so much more than what they are.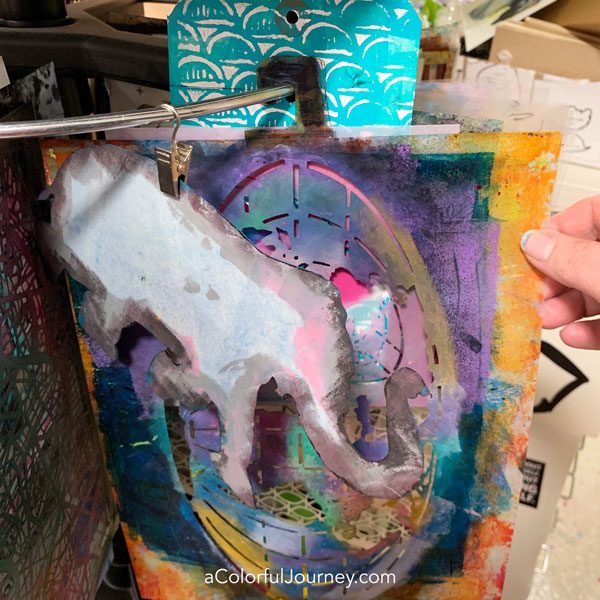 To make it easy to store my stencils, I use J hooks. They just go on like a sticker and it is the fastest way I've found to store my stencils. You can find them on Amazon or at Uline.
Any spinner rack that I've bought, comes with clips- those I use for stencils or masks, like this elephant mask designed by Nat Kalbach.
If you're looking for stencil storage ideas, check this blog post at StencilGirl Talk. The spinner rack that I have is called a Clip it Up by Simply Renee, but sadly, it is no longer available, but every now and then you can find one on ebay and again, check out that blog post at StencilGirl Talk for lots of creative stencil storage ideas.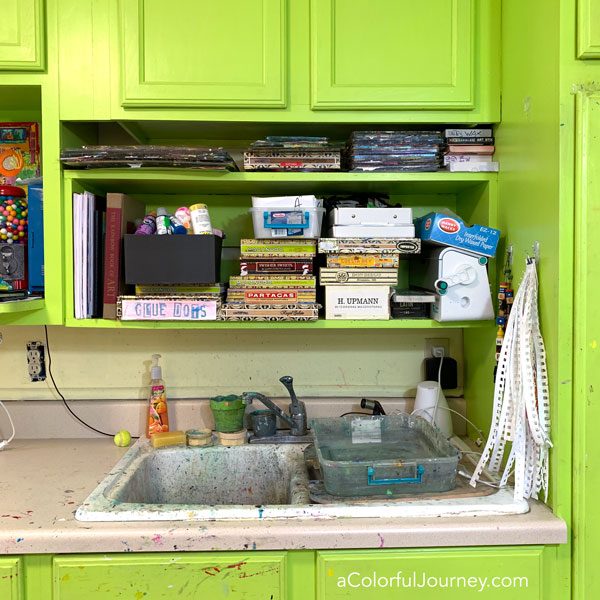 A frequent question I get is how do I store my gel plates. Here they are- on the top shelf. No clam shell packaging, just the protective plastic sheets that come with the plates.
Why do I store them this way? So they are easy to grab and easy to put away. I tend to avoid cleaning so the faster that can go the better. The plates have been stored this way for years now and they have held up just as well as if they were in the clamshells.
I cleaned the tables for you, I cleaned the floor, but not the sink. I just never seem to get around to cleaning that sink. There's only so much cleaning I can bring myself to do!
Ready for more studio peeks? Be sure to check out the Rainbow Stairs that lead into the studio.