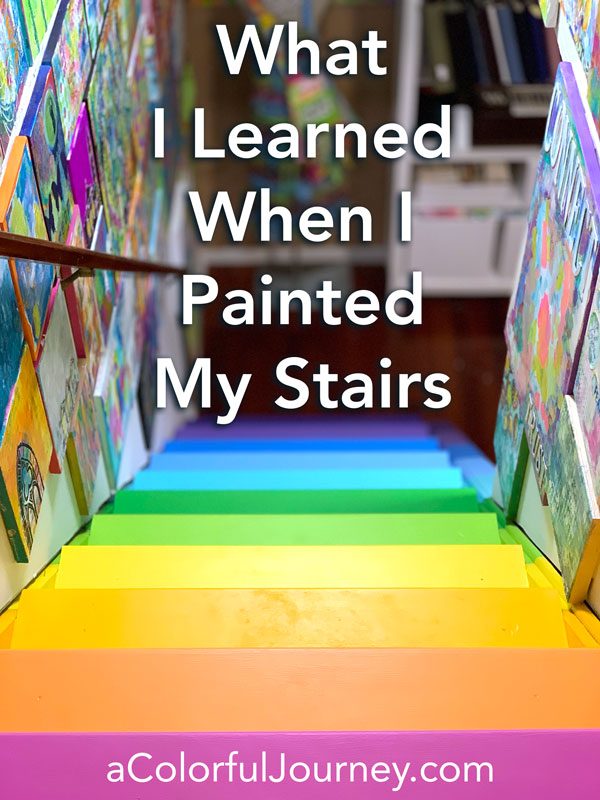 At long last, this year, I finally updated my painted stairs. These are the stairs I walk on every day to get to the studio and now that they're colorful, I wonder why it took me so long to make time to do this! What I learned and the OOPS or two along the way are all in the video.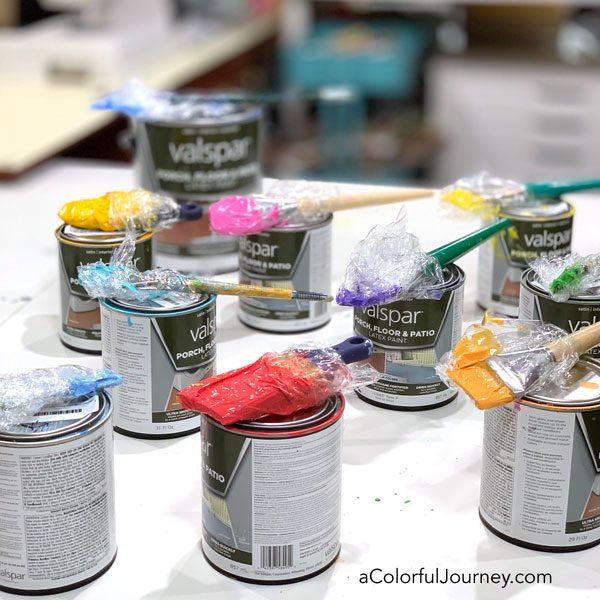 Use a floor paint. Stairs get a lot of wear and tear and need a very durable paint to look good over the long haul. I used Valspar Porch, Floor, and Patio paint.
To save myself some brush cleaning, I wrapped the brushes in plastic wrap so I could skip cleaning them at the end of the day. The whole process took 2- 3 days and it was a real time saver to not have to wash so many brushes out after each coat.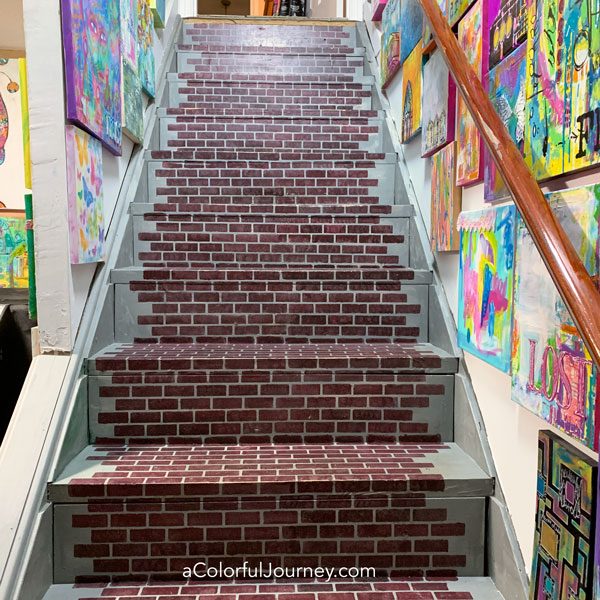 It's wise to prime the stairs. I was painting over a faux brick pattern and was too impatient to prime it. I wish I had taken that time early on to save me the extra coats it took to cover it up.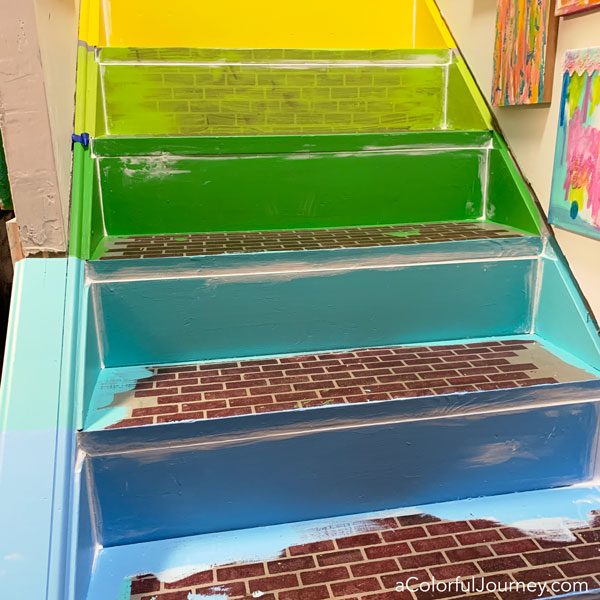 If there are gaps between your boards you can fill them in with a flexible caulk. Be sure that it is a caulk for indoor use and it's paintable. There were plenty of gaps on these stairs since I think these were originally intended to be carpeted.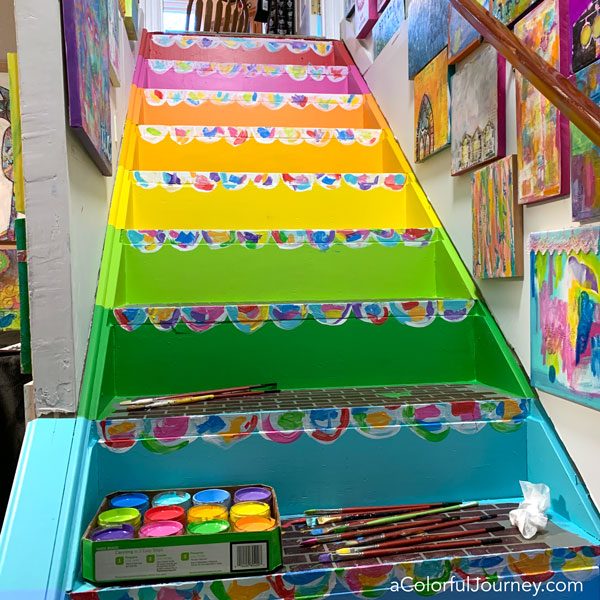 Start, even if you don't have a clear or exact plan. Just get paint in colors you love and start. It's only paint, so if you change your mind you can paint right over it.
There wasn't a clear plan for me when I started. I wanted a quote and color and once I got started, then the idea of the scallops came to me. But that only happened because I got started.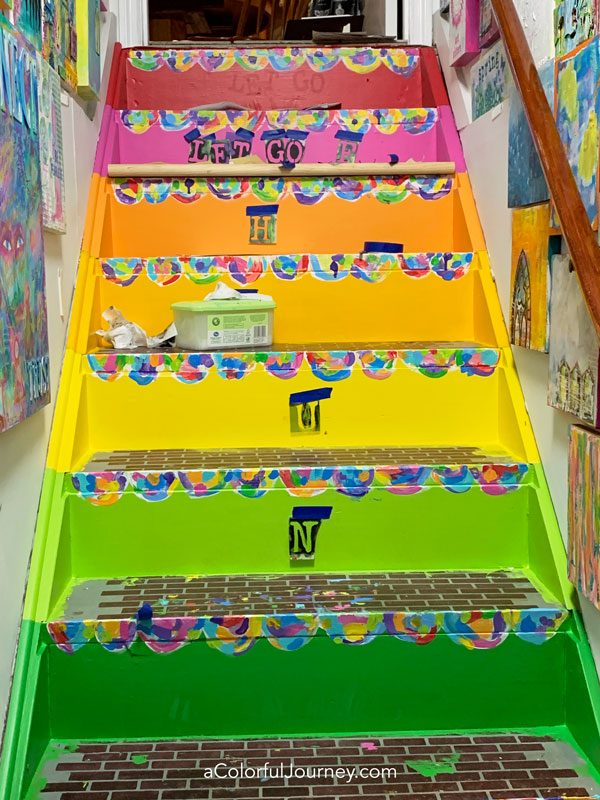 You might not be able to see the entire quote or pattern from the bottom. When you get to the bottom of my stairs, you have to take a quick turn. So there isn't much room to stand back which means I couldn't read the first line of the quote at all if I started on the top step.
You can see the ghost of the Let Go that I started up on the red step. After I stenciled I went to the bottom of the stairs, and totally couldn't see it. A baby wipe removed 95% of the paint but you could still see it.
Was that a mistake? Nope. It's An O.O.P.S., an Outstanding Opportunity Presenting Suddenly. It's a bonus reminder to let go of trying to make something perfect.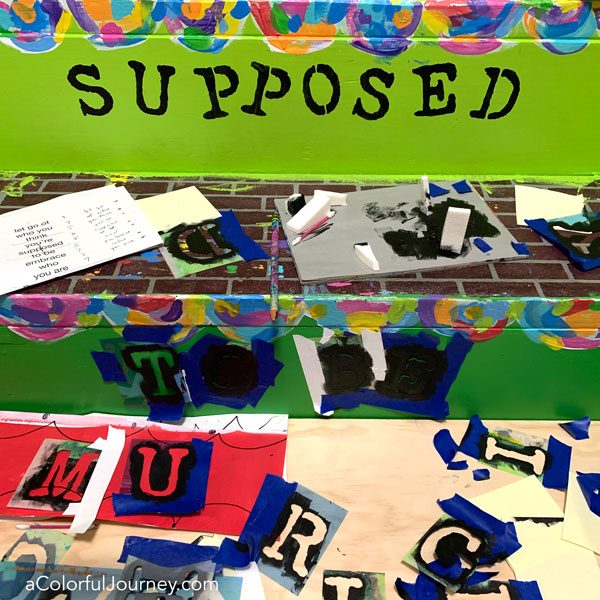 Embrace who you are. If you're an engineer who likes things mathematically straight, then do that. If your lines are never straight or even no matter what you do, then don't line anything up! Bet you can guess which one I am.
To make it easy to stencil the words, I cut apart the Vintage Typewriter Alphabet Jumbo stencils (A-P & Q-Z) that I designed for StencilGirl. Then I taped them on with painters tape.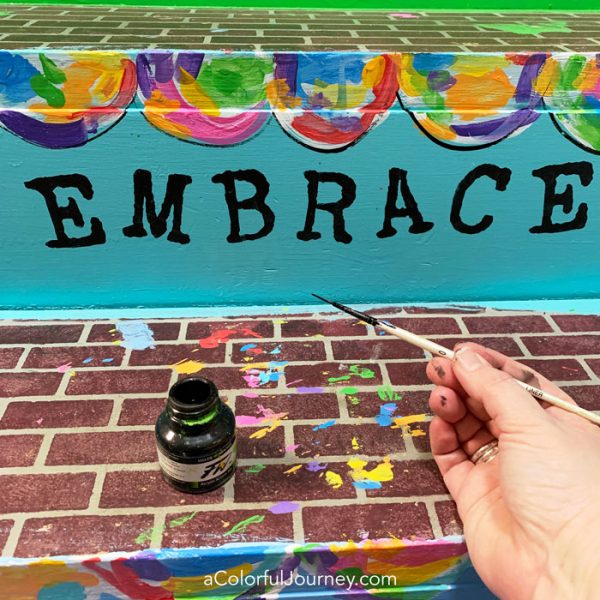 The risers won't be walked on so use whatever you have on there. I didn't buy black floor paint so what could I do? I used what I had, which was black acrylic paint that I use in my mixed media art. The finishing touches on the scallops were so much easier to do with ink than paint. Nobody will be walking on the black so it isn't a big deal.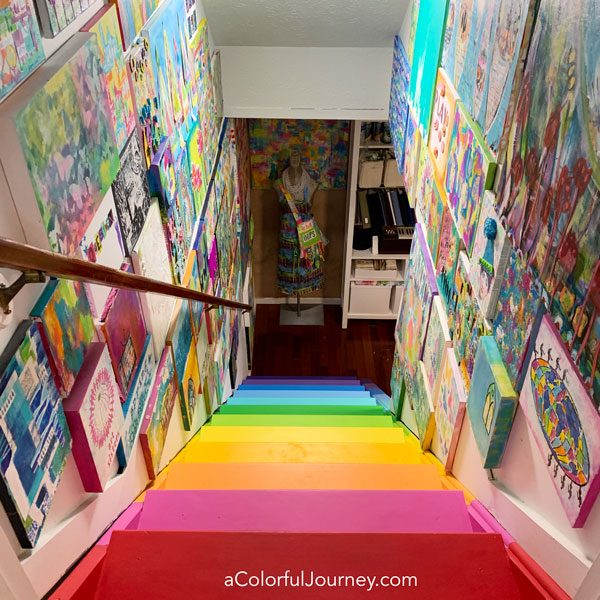 Make it safe to walk on. Fancy patterns can look cool but can be an adventure to walk on. I'm no spring kitten so I chose to avoid optical illusions that make it hard to see where I'm stepping.
Solid areas of light colors show dirt faster than a darker color or a pattern.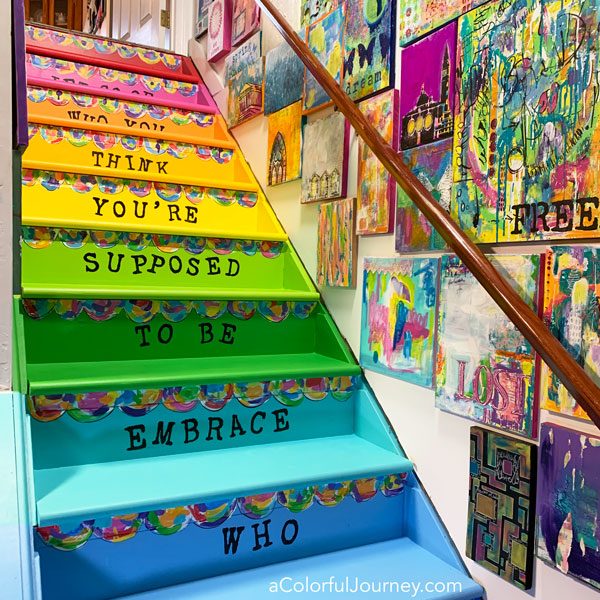 Have an escape plan if you paint the entire staircase at once, otherwise, you're stuck there until the stairs dry. If you don't have another way out of the room or area, then paint every other stair so you can step over any wet paint.
Choose a quote that is meaningful to you. Every time you go up the stairs, you'll be seeing these words. Even if you don't read them aloud, your subconscious will noticing them.
Let go of who you think you are supposed to be embrace who you are- Brené Brown
I chose this quote because it is about accepting who you are, not worrying about all the shoulds and musts that come as part of the baggage of growing up.
Whenever I get my art supplies out, when I am creating, I feel like the true me. So when I leave my art studio I now have a reminder to bring that feeling with me and keep me grounded in who I truly am.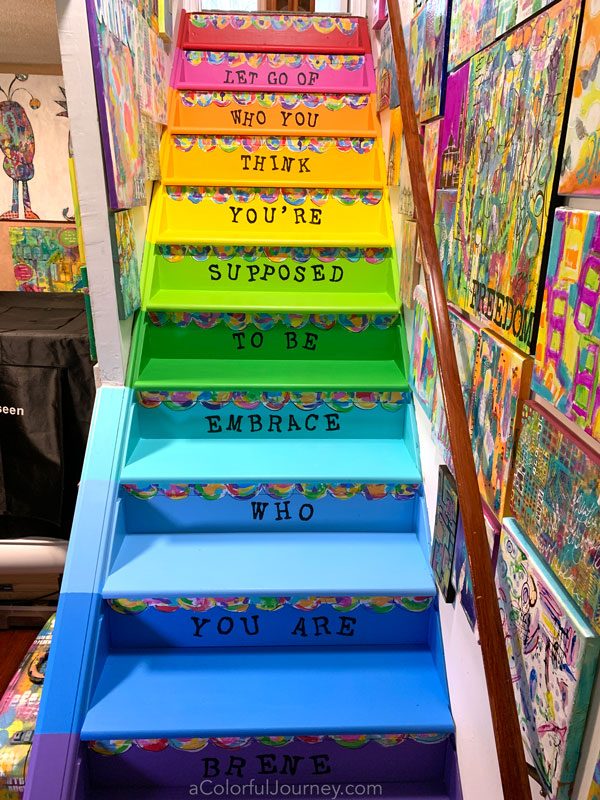 Want that