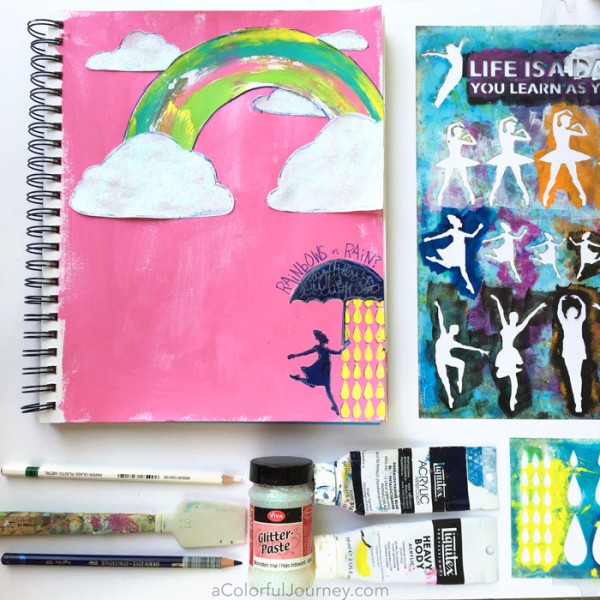 What do I do about critical thoughts in my head?  Do I let them rain on my play?  Those judgmental thoughts..the inner critic…gremlins…no matter what name it goes by it used to squash my play.  But it doesn't any more and I'm sharing how one word can chase those thoughts away.
My inner critic shows up as a team of attorneys with the sole job of keeping me safe from threats.  When crossing the street, they are quite handy.  When making an art journal page, not so much.  Drawing an umbrella imperfectly is not the same as walking a tightrope across Niagra Falls. But the attorneys tried to convince me it was!
In the video, I'm sharing the process of how those inner attorneys behave for me and how I keep them at a whisper so I can keep on playing.  The most important tool for me is just one little word to keep the inner attorneys under control.
Watch Rainbows or rain drama in my art journal thanks to an inner critic on YouTube.
The Permission to Play free workshop mentioned in the video here.
The rainbow started with a Gelli print® made in this videos in the Let's Play series.  The Let's Play series is all about specific strategies for how to rediscover play.  You can find them all here.
Up until this point there, the inner attorneys were silent.  In fact, they hadn't made a peep!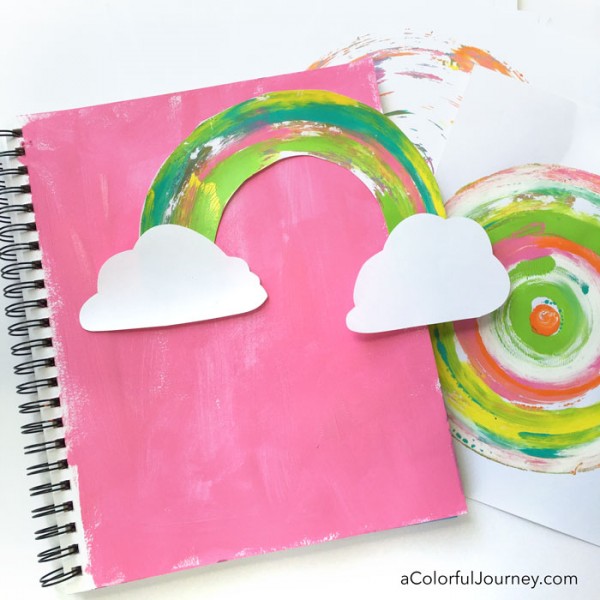 Then, suddenly they started making noise when I started drawing the umbrella.  Drawing an umbrella can be such an intense and threatening thing apparently.
My attorneys were acting like I had a legally binding contract that could save humanity if I drew a perfect umbrella.  With a bonus addendum  that I had to draw it "right" the  first time.  Just in case you were wondering…there was no actual contract like that…my inner attorneys can be a bit high strung.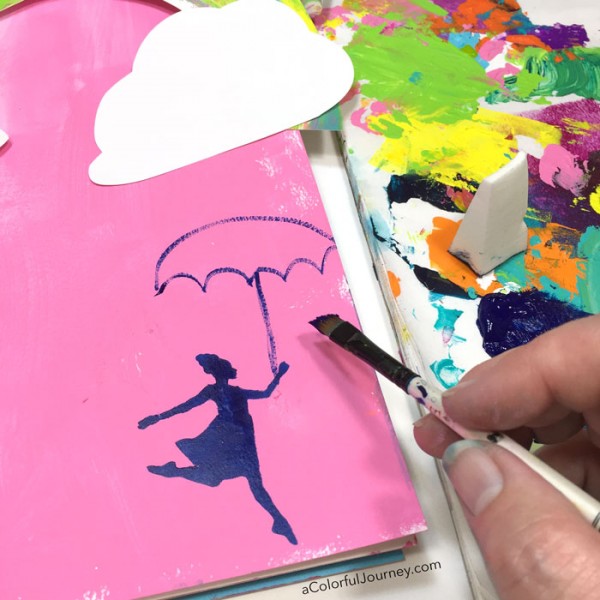 Cutting the clouds was comical.  I had 3 cut and was very satisfied with them.  Suddenly, I couldn't cut a cloud I liked at all.  The attorneys presented their case as to why this meant I could never be a brain surgeon since I couldn't free hand a 4th cloud.  After all, those two things are so related.
Those attorneys wanted me to take this so seriously.  This was a big deal to them and all I said was OOPS.  It's just an Outstanding Opportunity Presenting Suddenly.  So I kept cutting clouds until I had ones that brought me joy.  And the attorneys pouted.  They felt I was being wasteful.  FYI…I was using up scrap paper not platinum.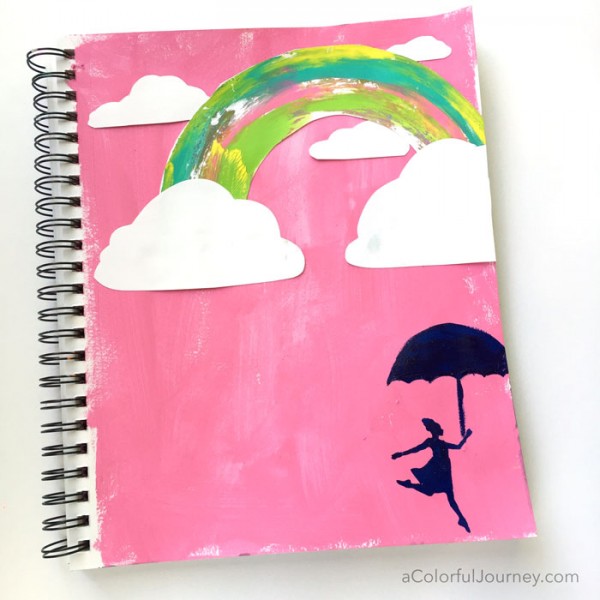 What seems to really rile them up was a mistake.  A potential failure of monumental proportions.  Like this yellow on the blue.  This is a horrifying event to the attorneys and they were contemplaing even worth throwing out the page all together.
What did I say?  OOPS!  And a cotton swab took care of it.  Not a crisis at all.  The attorneys were even more frustrated.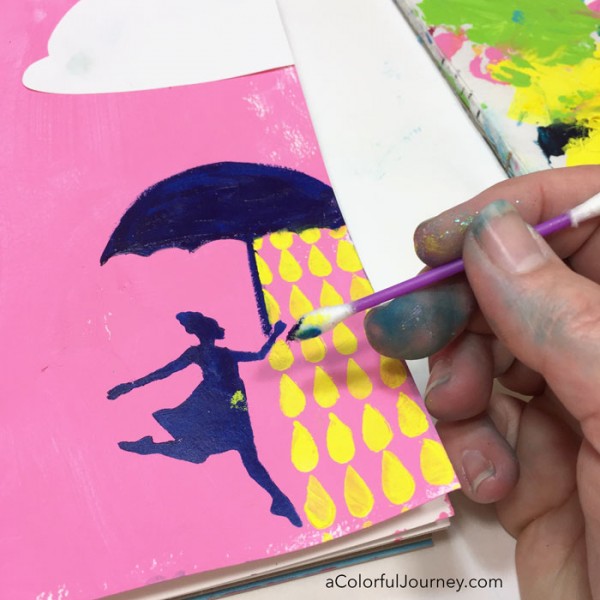 Clouds need sparkle in my world.  A bit of Glitter Paste and they shimmered and shined. This is where an Oops was an opportunity.  Early in the video, you saw how I didn't glue the rainbow down very well.  That made it so much easier to tuck the little clouds under it.  Good thing I didn't do a "good" job with the gel medium!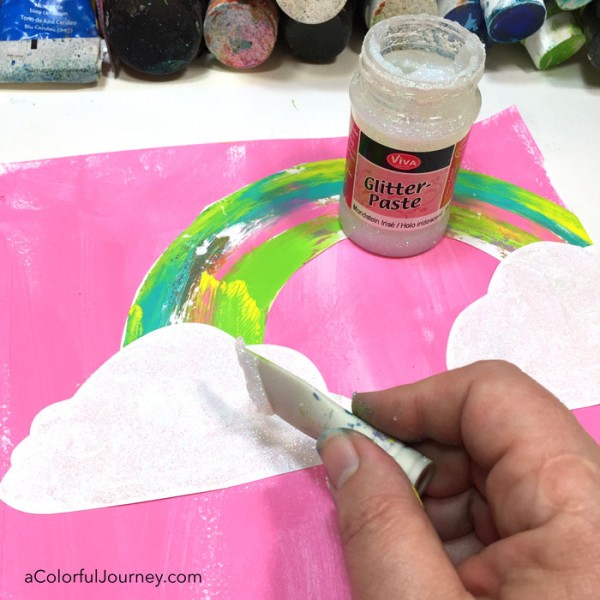 My inner attorneys are all worked up by this point.  They are trying everything they can to get me to follow their critical comments and all I am doing is saying Oops.  So I decided to have a little more fun with them…and did something that they were pretty sure was comparable to sky diving with out a parachute.  I wrote legibly on the page.  With my own handwriting *gasp*!
This page was all about rainbows or rain.  The page had both, literally and figuratively, but which one I focused on determined if I had fun playing or not.  I could have easily fallen into the trap of blindly listening to the inner critic (and I have done than many a time).  Instead I chose to just say Oops and let myself play.
If you should ever hear any critical voices in your head when you create, try saying Oops and see what happens.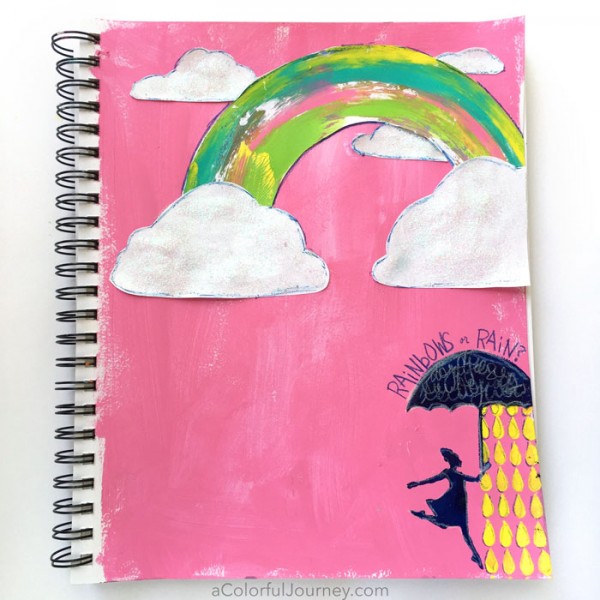 Here are the supplies I used. Some of these links are affiliate links which means I get a small percentage. It doesn't cost you anything extra and you are helping me keep this blog and my videos ad free! Thank you- I don't like ads any more than you do!