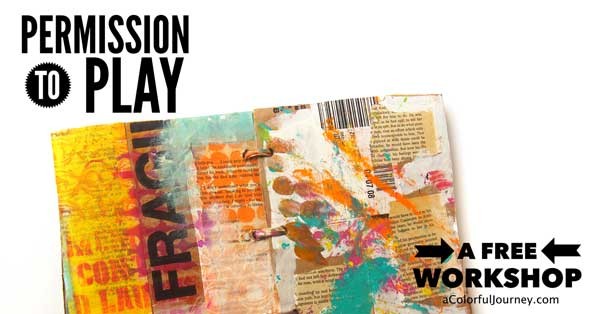 I couldn't always let myself play…when I was a kid I did it effortlessly, then as I grew up I lost that skill…boy did I miss it! So, I decided to reclaim my sense of play.
What does play mean for me as an adult?  Play means not worrying if it's perfect or right or even if it's good. Play is about the fun, the process, the moment.
Watch Permission to Play on YouTube.
Before I even tried to play I had to give myself permission to play. That meant that my goal was the fun, the process, and being in the moment. This was very different from before when I worried if I was doing it perfectly. Back then, I felt defeated when I didn't do it just right and I had so many doubts if what I was doing was good enough. Shockingly, all those feelings did not foster any sense of play or fun.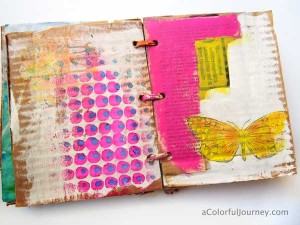 Once I had given myself permission, then I had to find what I wanted to play with…there were so many rules to things like watercolors or pastels or paints. I didn't like rules because that really flared up my perfectionism. I needed something without rules…like mixed media.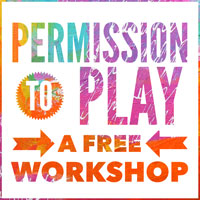 What's mixed media? It depends on who you ask…but I think of it as when I use 2 or more different mediums. So watercolors and acrylic paints collage rubber stamps crayons markers, etc. Whatever supplies you have around are your medium. Use 2 or more of them and it's mixed media!  Since there are no rules to it, there is no wrong way to do it.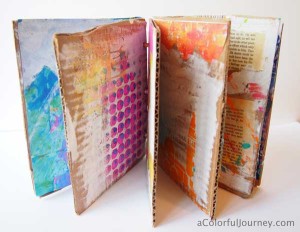 In Permission to Play, I share 3 of the ways I reclaimed my sense of play.  You'll see those 3 in action while we make an art journal out of cardboard. Along the way I share some of my favorite mixed media techniques too.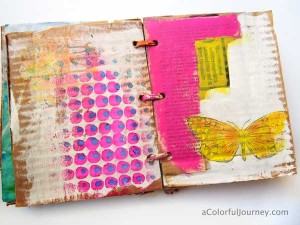 This is a 5 lesson workshop with each new video lesson coming out every 3 days. Starting when?  Right when you sign up.  You can start playing right away.  You can watch the videos as your schedule allows plus all the videos are all downloadable. You'll also have access to the classroom forever so any time you want a refresher you can log in and watch it again.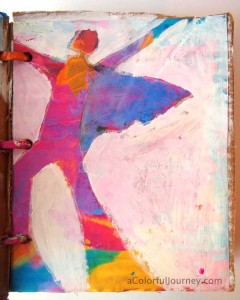 What supplies do you need? I strongly encourage you to use what you have even if it isn't exactly what I use. The basics are a cardboard box that we'll cut into the pages of our journal, a piece of ribbon you don't like, paint, spray ink, rubber stamps, and stencils. If you don't have these supplies just substitute with what you do have. Give yourself permission to play in this free mixed media workshop! Let's Start Playing!