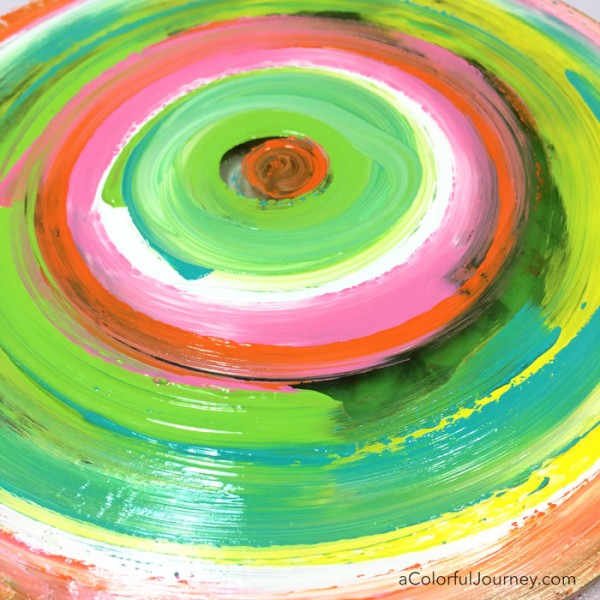 What happened when I put a round Gelli Plate® on a rotating cake stand? Hypnotic colors spinning round and round that resulted in a stack of playful prints for this week's Let's Play video!
How does this help me play?  There is no wrong way to do this so the pressure is off! After all there is no "right" way to use a cake decorating tool with a Gelli Plate®. Plus seeing the colors spin made me smile all afternoon.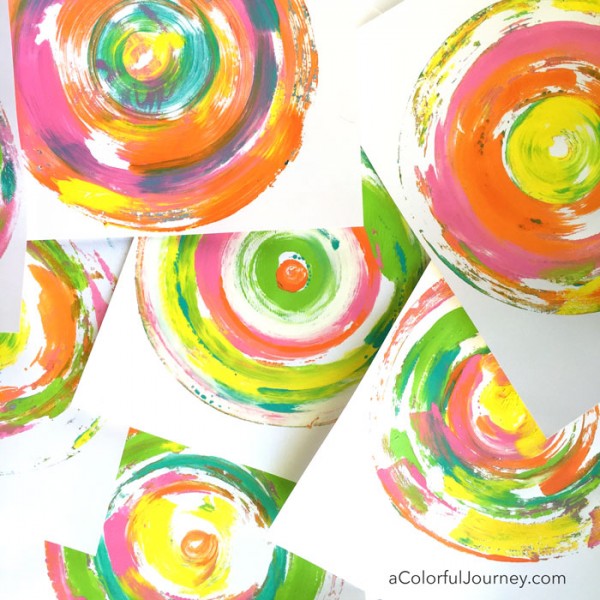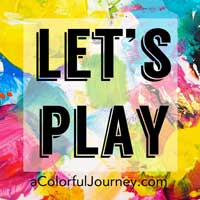 What is Let's Play?  It's all about rediscovering the ability to play. Each month I share a specific strategy that helped me ditch the stress and rediscover how to play. You can see all the previous ones here. Each month has a theme, and this month's theme is turning non art supplies into art supplies.
Giveaway! This month's giveaway is a $50 gift certificate to Dick Blick! Leave a comment to be entered -details at the end of this post.
Watch How to Make Spinning Gelli Prints® on YouTube.
Of course, once you use the cake stand with paint, it isn't safe to use with food any more.  But I make more prints than cakes, so that's just fine with me!
It's very simple and low tech.  Give the cake spinner a spin and then put your brush on the plate.  The possibilities are endless!  How much paint you use and how much pressure you use changes the look of the prints.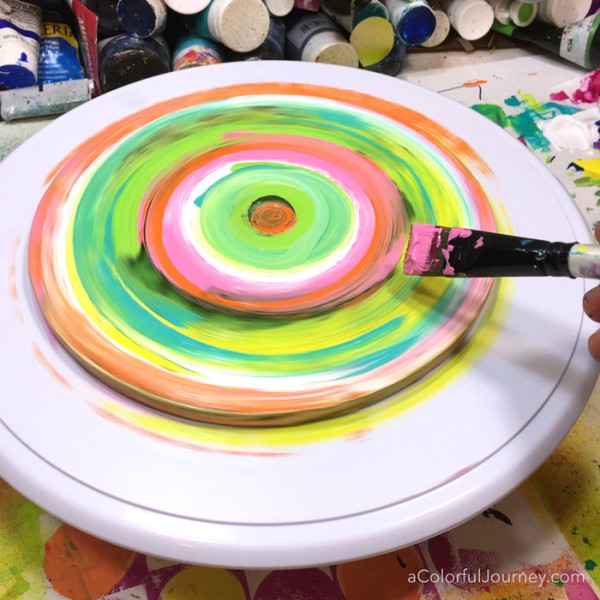 I was mesmerized by the spinning colors and spent the afternoon joyously making print after print.  Each and every print was different in some way from every other print. Did I mention how much I loved watching the optical illusion of those colors spinning? It was mighty addictive!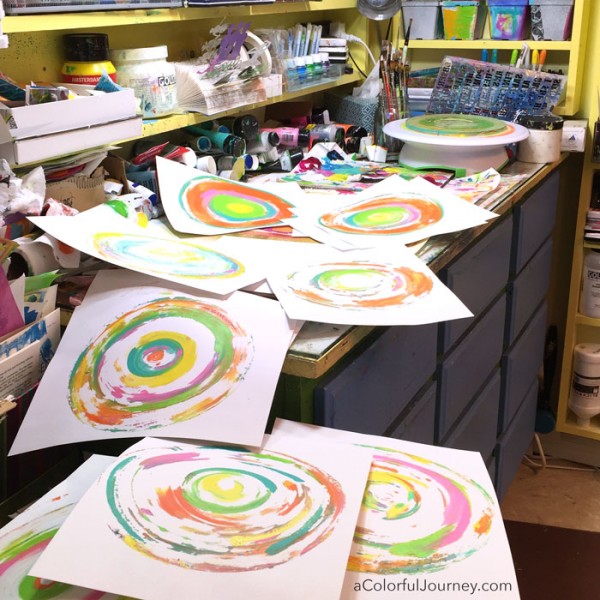 What am I going to do with all these prints that brought me so much joy? I'm going to be playing with them in my art journal next week- so keep your eyes open for that video and blog post!  If you want to be sure that you see it, get signed up for my newsletter and it will be in the next one that goes out!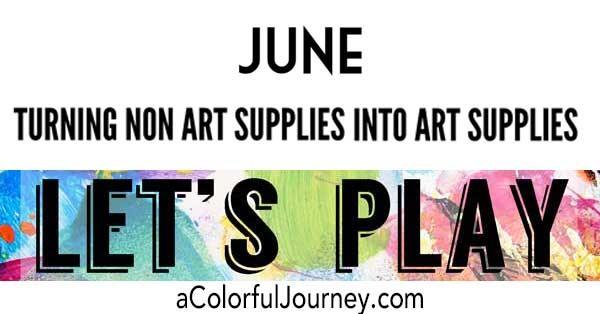 Want to see more Let's Play videos? You can find all the weekly posts here.
Sharing your play:   Why Facebook?  I've listened to your feedback about how and where you'd like to share your play.   Instead of the link party as in previous months, we're sharing it in the Facebook group called A Colorful Place to Play.
Monthly giveaways:  Just leave comment on any (and all if you'd like more chances) of the weekly Let's Play blog posts to be entered and one winner each month will be chosen by random.org.  Want more chances to win a $50 gift certificate to DickBlick.com?  Pin any of the images from the page or share about it on Facebook- then come back and leave a comment telling me what you did and you can have more chances to win! Giveaway closes the Sunday, July 3rd at 11 pm EST and the winner will announced on the blog the following Monday.
Here are the supplies I used. Some of these links are affiliate links which means I get a small percentage. It doesn't cost you anything extra and you are helping me keep this blog and my videos ad free! Thank you- I don't like ads any more than you do!