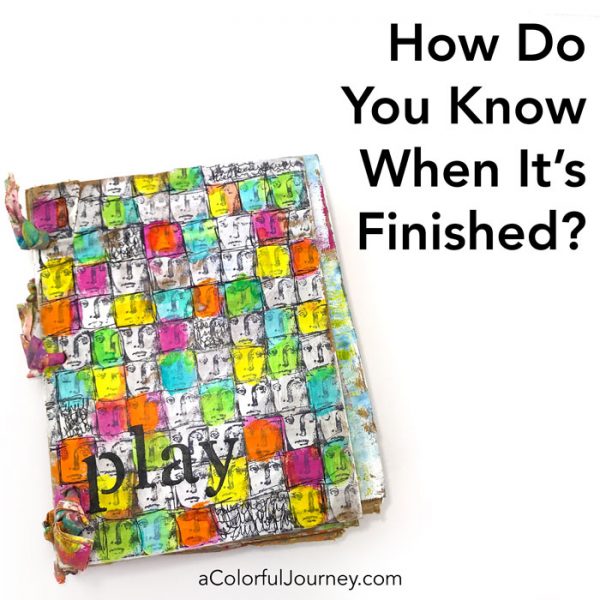 How do you know if an art journal page is finished?  Here's my perspective on it.  It's a very personal thing because what you create comes from your soul and is unique to you. When you look at it, if it feels finished, then it's finished.  If it doesn't feel finished, then it isn't.
You get the final say. That also means that you can change the status of anything you make at any time for any reason from finished to unfinished or back again.  This happens to me all the time.  In fact, that is what happened with the cover of my Permission to Play journal.
It felt finished when I made it, but today, when I looked at it, I had the impulse to add more layers to it. It's status was changed to unfinished. And then finsihed again.
Watch How Do You Know When An Art Journal Page is Finished? on YouTube.
Want to build an art journal just like this one? Join my free workshop, Permission to Play.
Using a pen, the stamped faces were outlined with loose scratchy lines.  I had thought that I would only outline some of them, but it was such fun I made the executive decision to do them all.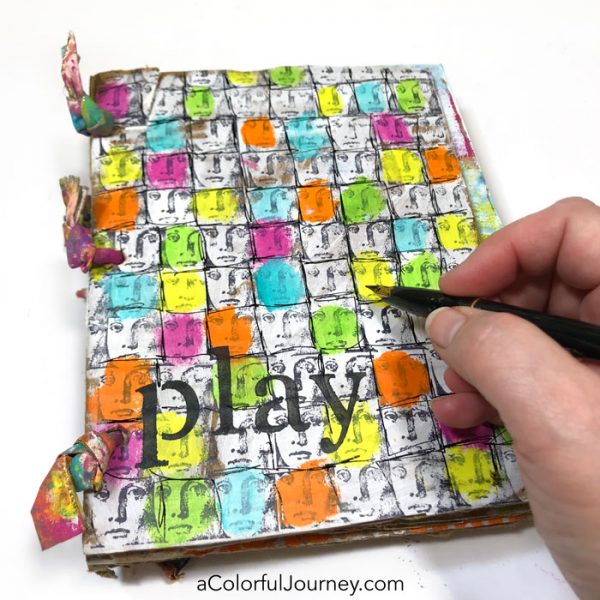 More color was added using Marabu's Art Spray.  It has a spray nozzle but here it was brushed on like a watercolor.  The reason I chose to use this instead of watercolors is that when it dries it will stay dry meaning it will not reactivate if I put more layers on top.
There just might be more layers on top with my tendency to change the status of a page or piece of art from finsihed to unfinished and then back again.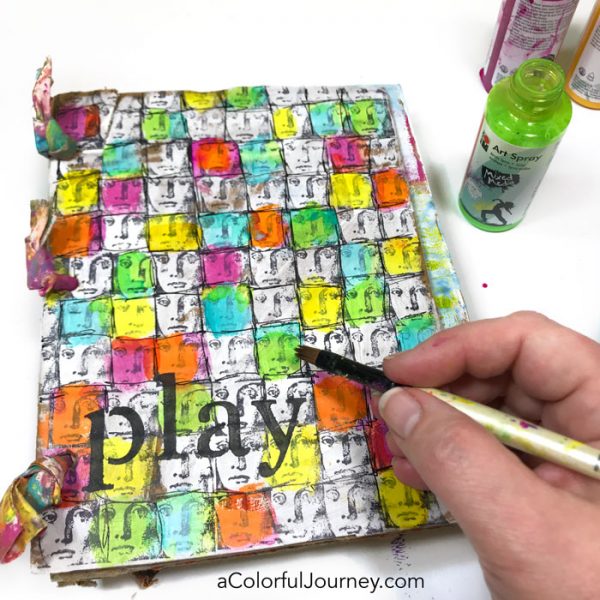 Inside some of the squares, scribble journaling was added.  When I scribble journal I am actually writing words but I can't read them.  The important part to me is to get the thoughts embedded into the play, not to focus on punctuation or spelling.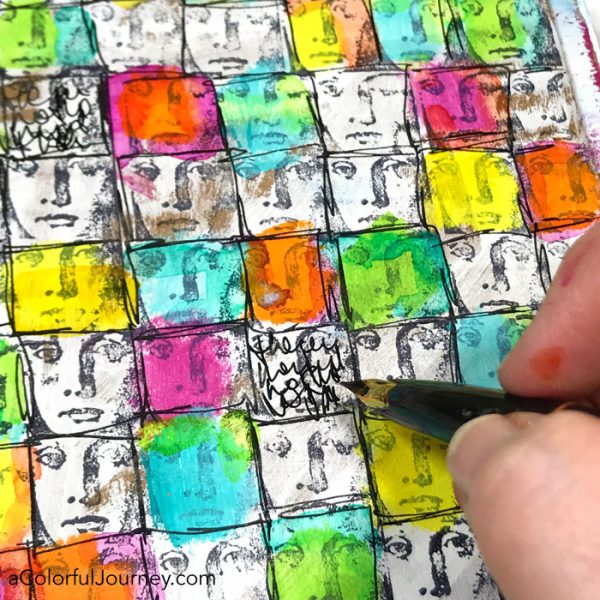 How did I know what to do to the page to make it finished once again? I ask myself 3 questions that always guide me as to what to do next so I am never stuck.
If you'd like to know those 3 questions that are the foundational base of art journaling, check out my workshop Art Journaling FUNdamentals where there are videos waiting for you right now in the classroom.
Here are the supplies used. Some of these links are affiliate links which means I get a small percentage. It doesn't cost you anything extra and it helps keep the free tutorials coming!
The rubber stamp is from Invoke Arts.