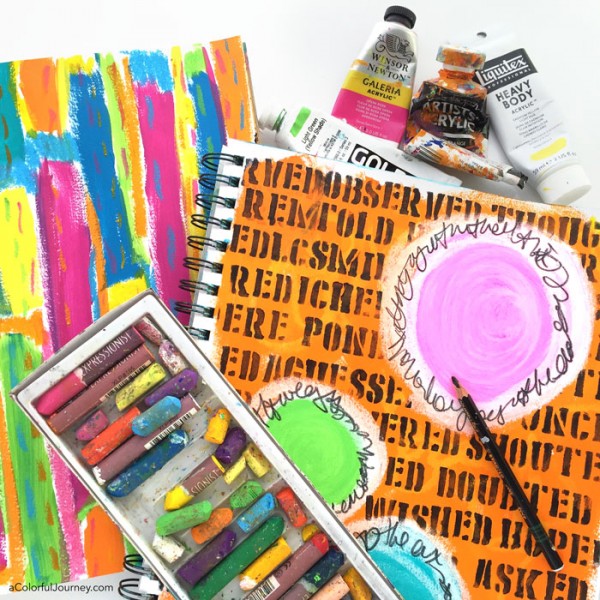 A friend of mine wanted to start art journaling but the idea was so overwhelming—the supplies, the ideas, the creativity, what's wrong, what's right?— that she couldn't get started. So much joy in creating—and she was missing out!
So many questions racing through her mind: How do you start?  What goes on a page? What colors should be used? What tools are needed? When is a page finished?  Will it be "good enough"?  Pretty intimidating—no wonder it was so hard for her to start!  So I created this workshop to answer all those questions.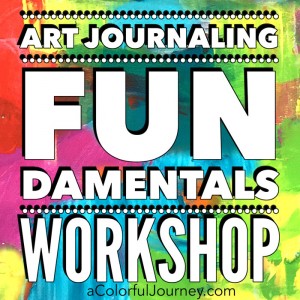 Art Journaling FUNdamentals is all about getting started and art journaling with confidence.  Why do those two go together?  Because they come from the same place -a fundamental understanding of the essential principles of art journaling.  When you know those, getting started is easy and you create with confidence.
So if you're brand new to art journaling or would like more confidence creating art journal pages, this workshop is for you!
Watch Art Journaling FUNdamentals on YouTube.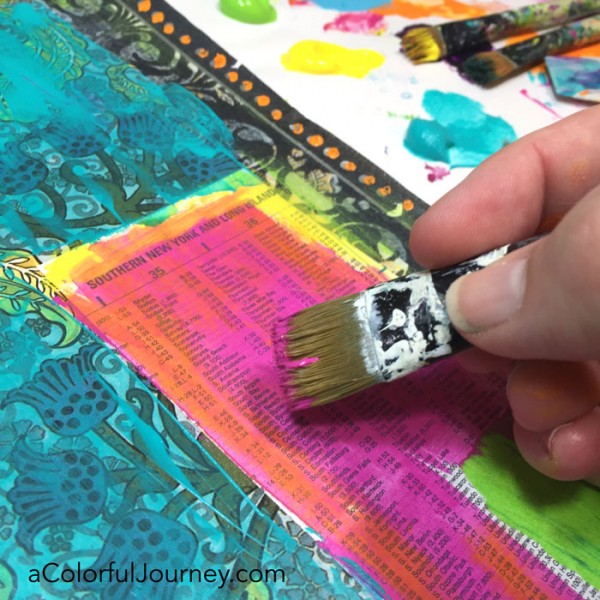 After this workshop here is just some of what you'll know:
3 sure fire questions you can ask yourself whenever you sit down to art journal so you always know where to start a page

Easy color theory so that you know how to pick colors and how to avoid making mud

The magic number to building up layers 

How to know when a page is finished and what to do when it feels unfinished

Which glues work with what types of papers and why

How to deal with the ugly pages, after all we all have them!

Each Monday, Wednesday, and Friday there is a new video lesson during this 3 week workshop. 
Actually, it's FOUR weeks, because there's a BONUS week, waiting right now in the classroom. A total of 4 weeks—12 sessions—of step-by-step art journaling.
Get signed up now and the 3 BONUS lessons are waiting for you in the classroom.  Then on Monday, you'll get the first official lesson!  

30 day money back guarantee. I want to provide the workshop that is right for you.  If you feel this workshop isn't for you, I'll refund your money.
This workshop is designed to fit your schedule. The videos are downloadable so watch them online or offline on your computer or mobile device.  You have the flexibility to watch the lesson the day it comes out or anytime since you have lifetime access to the classroom.  
Throughout the workshop, I'll be there answering your questions and offering support in both the classroom and a secret Facebook group.  I'm looking forward to seeing your art journal creations!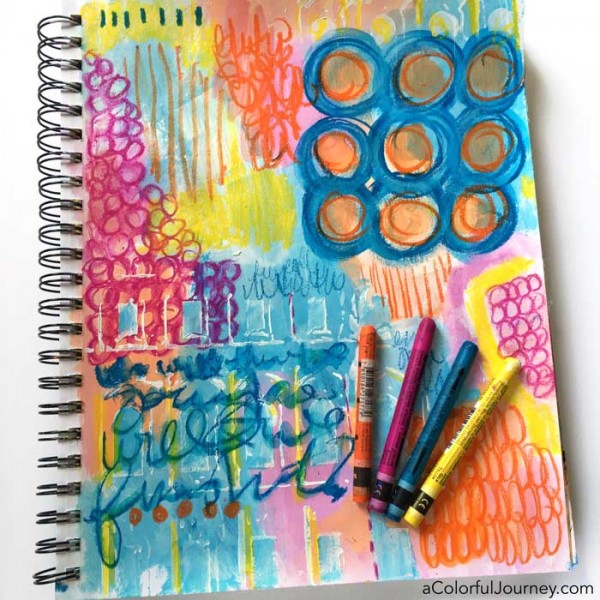 What supplies do you need? You'll need something to art journal on and something to art with.  Very non-specific and unhelpful, I hear you.  I am strong believer in "use what you have first."  The workshop includes detailed supply videos introducing you to the supplies I use, along with ways to decide which supplies are right for you.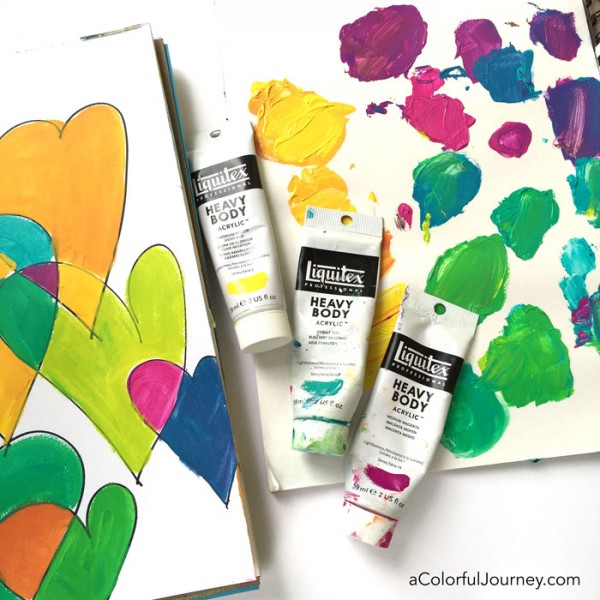 What's it like to take a workshop with me?
"If people see your work and think 'no way I could do that' they are wrong. They can. Your instructions and videos make each step simple, and encourage the participant to PLAY. You break down those barriers we all put up that restrict us from trying a new technique or supply. In your workshop there are no mistakes…..just learning exercises." Jo Murray
"I've taken two classes with Carolyn and love her breezy, casual, encouraging teaching style.  She knows we all make mistakes and are too often ruled by our inner critics–and she has lots of suggestions for how to happily exploit the first and tame the second. She has fun and her enthusiasm is contagious, making learning enjoyable.  I highly recommend her workshops and classes!"  -Jane O'Brien
"I highly recommend taking any of Carolyn Dube's classes. She gives lots of content and keeps it fun. A beginner won't get overwhelmed yet there is still plenty of information to keep a more seasoned artist interested and engaged. Carolyn is a wonderful artist and an amazing teacher." -Raine Phoenix
"I was a newbie—recently. Carolyn's amazing artistry, teaching, down-to-earth explanations of color theory, paint mediums, building pages, etc., have taken me from "deer in the headlights" in the art section of the hobby store to "wow this is so cool, I'm taking art lessons and loving it" in a very short period of time. She's fun, funny and talented. Can't miss with this workshop!" – Lisa Slagle