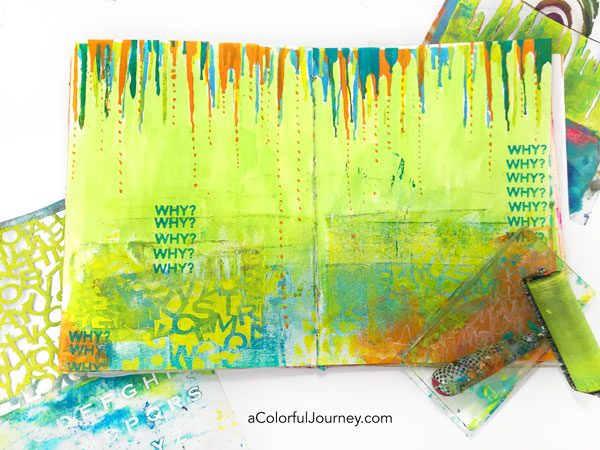 Can you stencil using paint without a brush or a cosmetic sponge? Yes!  Then what was used to apply the paint?  A gel plate!  Not only did it make for speedy stenciling, it also gave it a grungy flair.
In the video, you'll see how to use a gel plate as a paint applicator and the exact moment that the cranky critical voice in my head started acting up.  It wanted to know why I was doing this.
My answer, because it is fun! Oddly enough that didn't make the judgmental voice in my head very happy. And it was going to have to get over it because it was fun to paint drips, stencil with a gel plate, and gel print directly into my journal. Oh, and yes, there's an O.O.P.S. in here too.
Watch Grungy Stenciling with a Gel Plate on YouTube.
The paint drips were the first thing added to the page using the Painted Rainbows stencil.  The rainbow is all masked off and covered up to make it a breeze to get drips on the page.
One benefit to using stencil to do this is that it dries faster than actual drips of wet runny paints and inks.  A plus to those patience impaired like myself.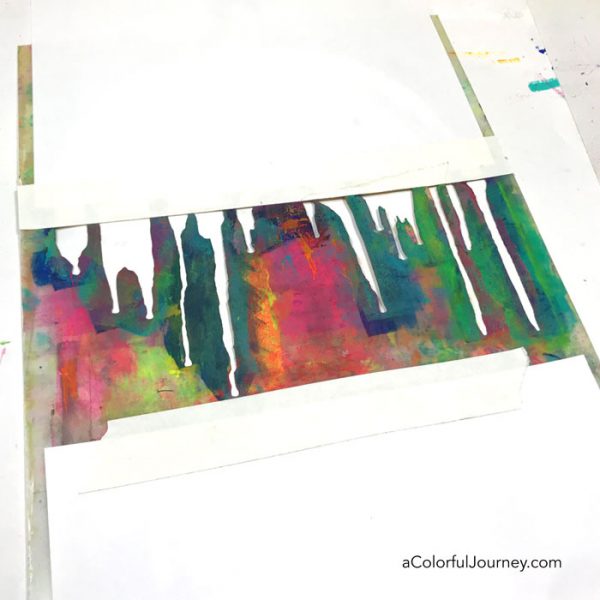 The paint was applied with a gel plate.  Yup, a gel plate.  It produces a slightly different look than a brush or cosmetic sponge, and it is super fast.  Again, a plus for the patience impaired.
The grungy goodness at the bottom is courtesy of cleaning off the brayer directly on the page. After all, why waste a drop of the rainbow.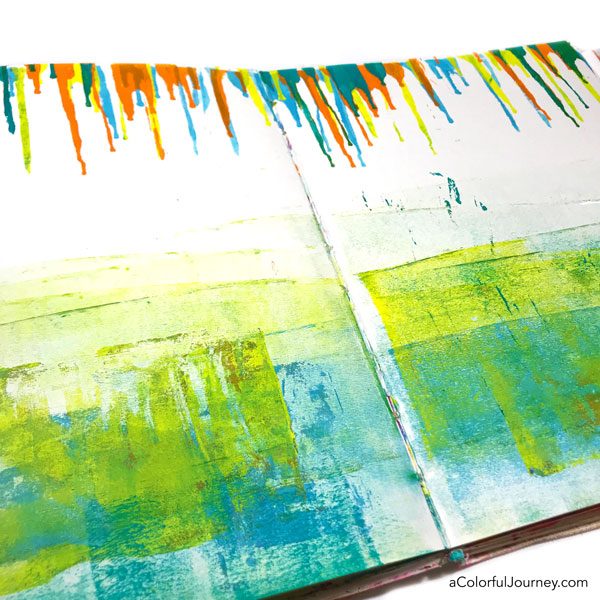 The big what background was just too white.  But adding paint would mean carefully painting around the drips.  Not something I wanted to do.  So I used Marabu's Art Spray to brush on some color.  When it is brushed on like this it is wonderfully forgiving around the edges, so there was no careful painting involved!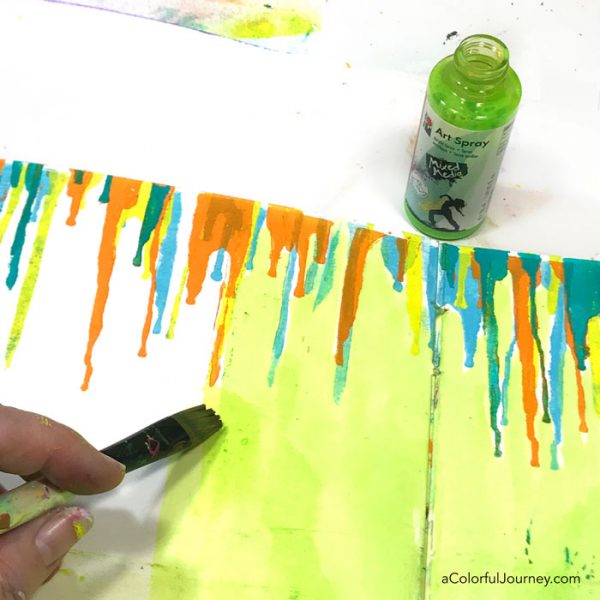 How did the letters get on there? By stenciling the Alpa Jumble stencil with a gel plate.  It is a quick way to get a very loose look to your stenciling and hold crisp details too.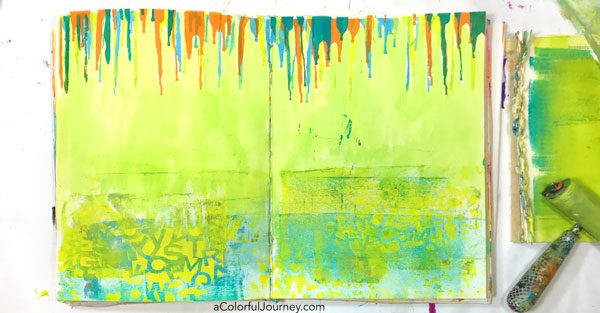 Painting the drops at the ends of the drips made me happy.  Crazy happy and full of joy.  So why was there a voice in my head attempting to pester me with the fact that what I did is not how drops drip realistically.  Um…at what point did I say this was going to look realistic?  Was I trying to paint something like Vermeer, so realistically it might be a photo? No.
What is this silly voice in my head prattling on about? Questions like why do you make an art journal? Why do you use such unrealistic colors?  And so on. My answer, because it is fun. Until it figures out that fun is enough of an answer, I am going to have to keep repeating myself.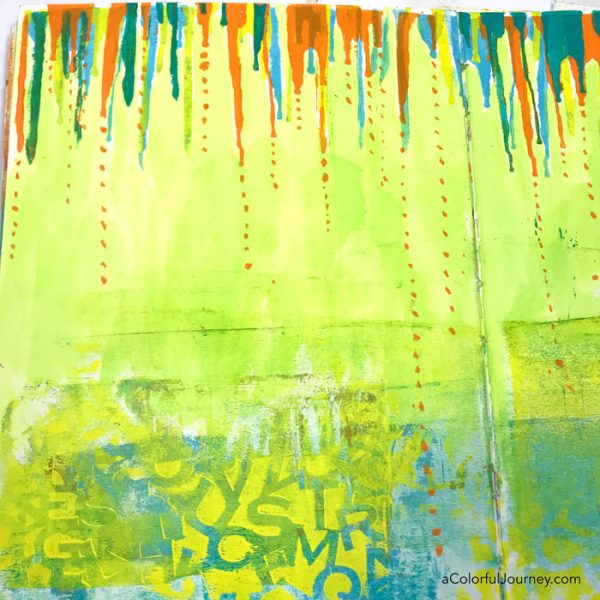 That judgmental voice had asked why so many times during the play, I decided to incorporate that word into the page.  The word comes from the Teenage Angst stencil that is full of phrases.  The stencil is 9 x 12 and I cut apart the individual phases.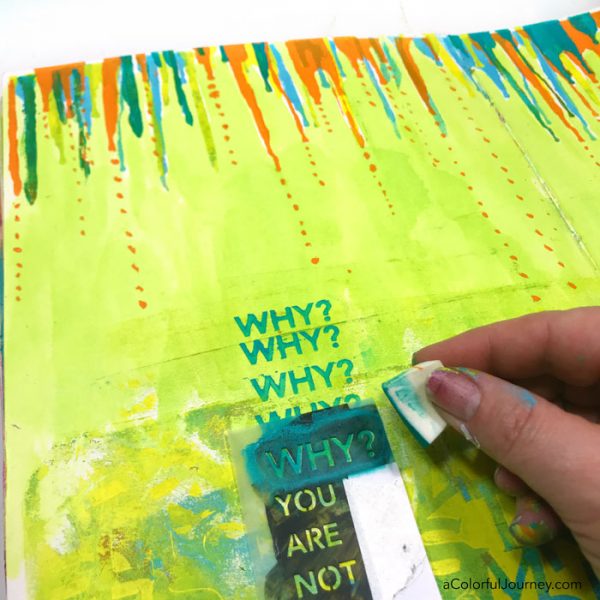 Writing with a pen on damp paint is like Evel Knievel jumping over the school buses.  It's a risk.  Okay, it isn't as risky as that but it can ruin the pen.  I knowingly take those risks and sometimes the pens live, and sometimes they are ruined.  This time, the pen survived.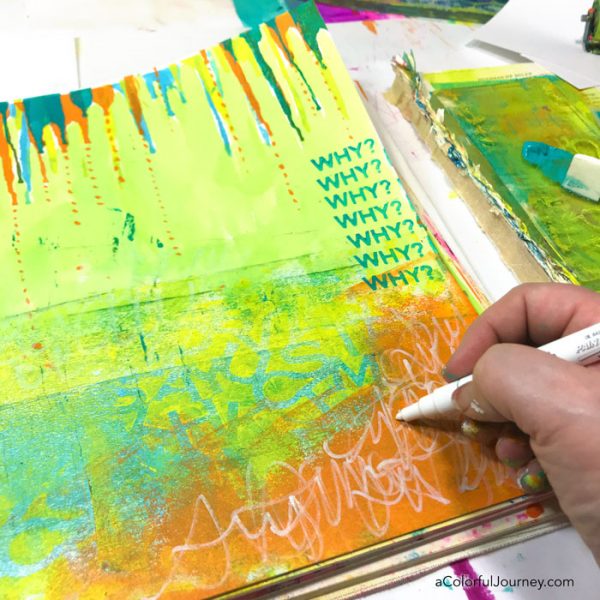 Why all that orange paint there by the way?  That was OOPS, an Outstanding Opportunity Presenting Suddenly that made the best spot for some journaling!
I make OOPSies all the time as I play, and if you'd like to see more of that fun plus  get weekly creative encouragement , get signed up for my newsletter.
Here are the supplies used. Some of these links are affiliate links which means I get a small percentage. It doesn't cost you anything extra and it helps keep the free tutorials coming!