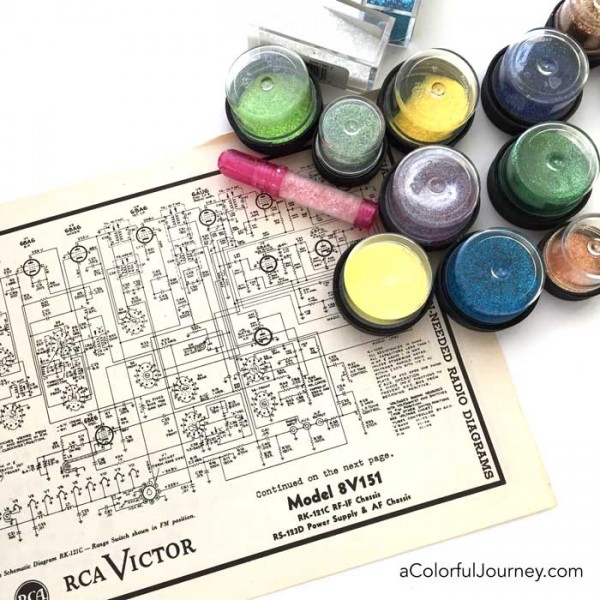 What do kids do with glitter? They use it, to their hearts content.  Not just one little spot of sparkle, but an entire explosion of glitter.  As the glitter took over a vintage radio diagram, I created a sort of coloring page, mixed media style for this Let's Play video, all about rediscovering how to play.
In the video, you'll also see how I deal with that left brain of mine when it tried to control the play while I was coloring in the page with watercolors!
Watch How I Made My Own Mixed Media Glitter Coloring Page on YouTube.
The glue I used can be found here and the tray used for catching the glitter is here.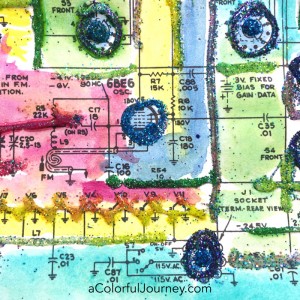 What is Let's Play?  It's all about rediscovering the ability to play. Each month I share a specific strategy that helped me recapture the freedom and fun of play.  This month's theme is act like a kid. You can see more of the Let's Play series here.
Now you've seen my play, let's see yours!  Share what you're creating with us all in the Facebook group and be inspired by what others are creating! And be sure to leave a comment here to get entered in the monthly $50 Dick Blick gift certificate giveaway!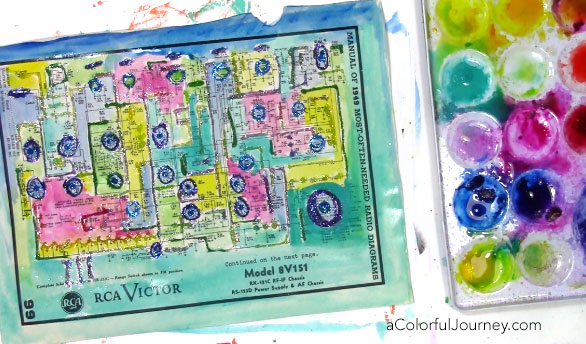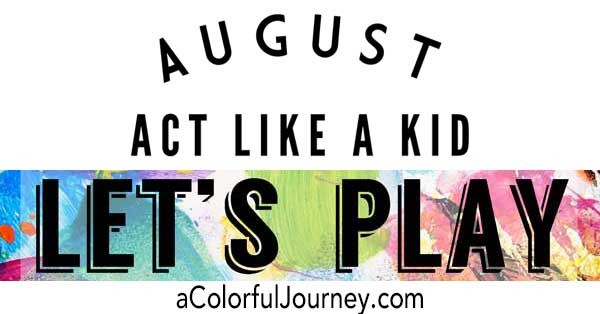 Want to see more Let's Play videos? You can find all the weekly posts here.
Sharing your play:   I, and a whole bunch of others, would love to see what you're creating!  We're sharing it in the Facebook group called A Colorful Place to Play. Why Facebook?  I've listened to your feedback about how and where you'd like to share your play instead of the link parties.
Monthly giveaways:  Leave comment on any (and all for more chances) of the weekly Let's Play blog posts to be entered and one winner each month will be chosen by random.org.  Want more chances to win a $50 gift certificate to DickBlick.com?  Pin any of the images from the page or share about it on Facebook- then come back and leave a comment telling me what you did and you can have more chances to win! Giveaway closes the Sunday,September 4th at 11 pm EST and the winner will announced on the blog the following Monday.
Congrats to Kristiina, last month's winner!