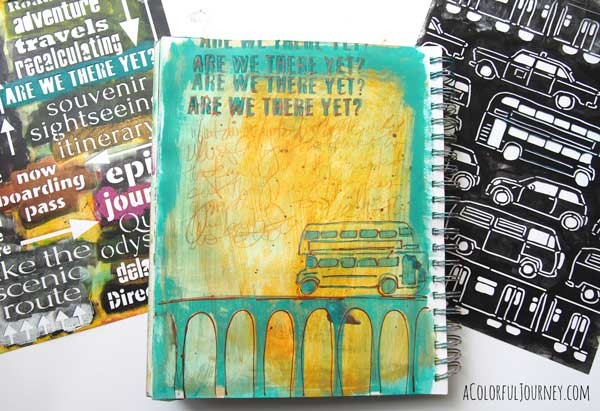 I'm about to say something surprising…I'm giving away one of my new stencils and the details are below.  But that isn't what surprised me.   Brown…I used brown.  Are you surprised?  I know I am!  And…get this…I apparently liked it so much that I had to wipe off the paint way more than I ever expected.  Perhaps it was my excitement over my latest stencils that overwhelmed my usual rainbow tendencies…
Not only can you see how I used a baby wipe with a stencil you'll also find out what song went through my mind thanks to an Oops.  There's always an Oops…
Watch Using a Baby Wipe with a Stencil in an Art Journal on YouTube.
I'm giving one Are We There Yet stencil away to a randomly selected winner!  Want a chance to win?  Leave a comment to be entered.  Want more chances to win?  How about 5 more chances?  For each of these that you do, you'll get another entry!  Each time you do one of these, come back and leave a comment tell me you did it and you've got more chances to win.Giveaway closes on Wednesday, June 3rd.  Be sure to stop back on the 4th to see if you've won!  And yes, this is open to all countries! Giveaway is now closed.  You can find the winners here.
Pin the image below.
Share this post on Facebook
Tweet it.
Share on Google+
And there are 2 other stencil giveaways going on right now too!  Head on over to each post for a chance to win those too!
Take a peek at the Arched Aqueducts giveaway here.
Check out the Coming and Going giveaway here.

Supplies Used: