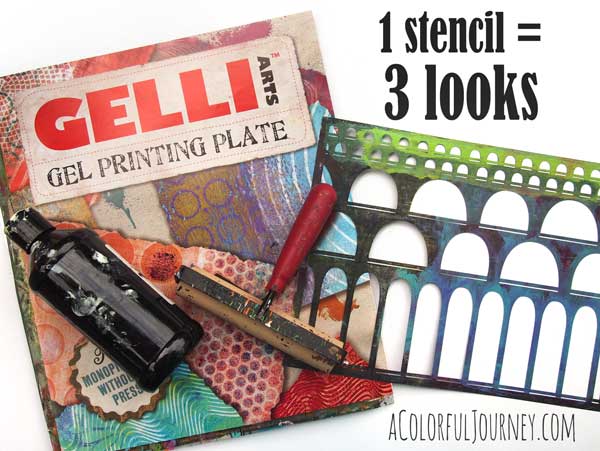 Is it a reverse print?  Is it a negative print?  Whatever you call it-  you can create very different looks from just one stencil. I'm using a Gelli Plate® to quickly get my new stencil, Arched Aqueducts, loaded with paint. In the process I get a bonus print with a great grungy vibe!  I'm giving away a stencil so keep reading to find out how you can win it!
This isn't my only new stencil! You can see Are We There Yet and Coming and Going  at StencilGirl.
Watch Getting Reverse Prints with a Stencil on the Gelli Plate® on YouTube.
I'm giving one Arched Aqueduct stencil away to a randomly selected winner!  Want a chance to win?  Leave a comment to be entered.  Want more chances to win?  How about 5 more chances?  For each of these that you do, you'll get another entry!  Each time you do one of these, come back and leave a comment tell me you did it and you've got more chances to win.  Giveaway closes on Wednesday, June 3rd.  Be sure to stop back on the 4th to see if you've won!  And yes, this is open to all countries! Giveaway is now closed.  You can find the winners here.
Pin the image below.
Share this post on Facebook
Tweet it.
Share on Google+

Supplies Used:
Gelli Plate®
Mixed media paper
Deli paper
I'm Gelli® printing on both deli paper and mixed media paper.  Finding the deli paper that makes you happiest is a personal preference.  I have tried many and these are the 2 that I am happiest with…This one because it is super thin but it is a bit smaller in size.  This one because is a little heavier than the other amd is a larger size.    In the video, I use the 2nd because it was larger but any deli paper will work with this technique.