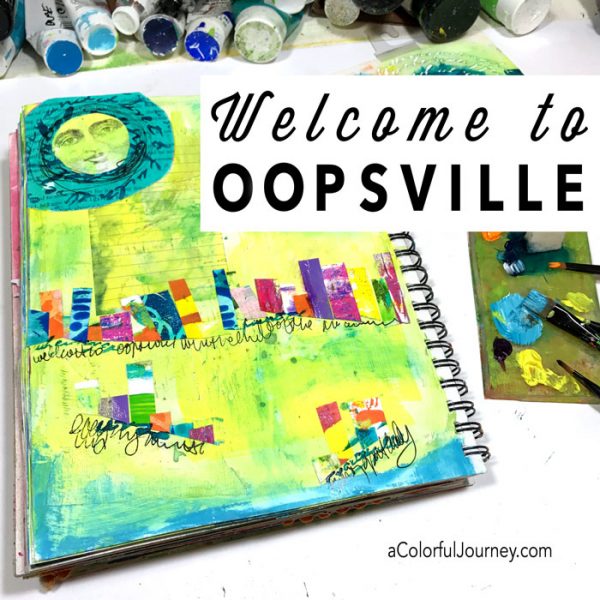 O.O.P.S.ville is a wonderful town, after all there are no mistakes just Outstanding Opportunities Presenting Suddenly.  This art journal page started with the leftover scraps I just couldn't bear to throw away from cardmaking with gel prints.
Living up to the name of this town, plenty of OOPSies were a part of this process and of course I left them all in the video!
Watch OOPSville in my art journal on YouTube.
A hoarded pile of small colorful scraps from making cards with gel prints led to this page. You can see where the scraps came from here.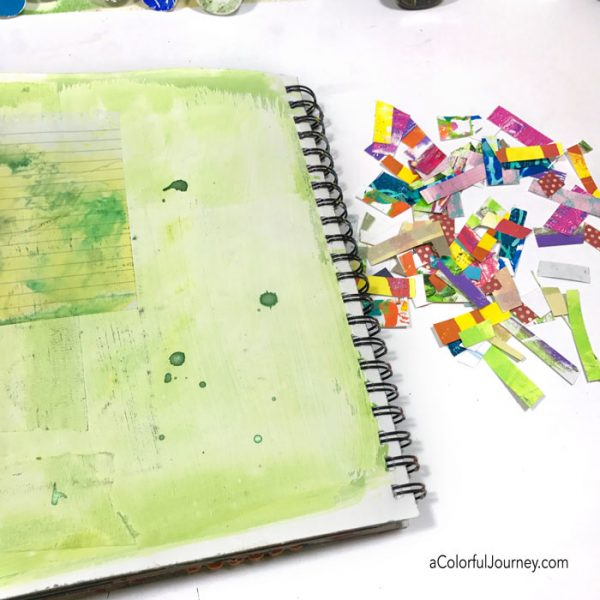 To get a layer of bright yellow paint on the art journal page, I used a 3×5 Gel Press Plate.  If you're new to gel printing or just curious about monoprinting, I've made an introductory Getting Started Gel Printing step-by-step video for you.
First OOPS…when I just tossed the pieces of paper onto the journal, I loved their shape.  Immediately, I saw buildings in the colorful scraps and the town was founded.  Welcome to OOPSville.
When I went to glue it down it just didn't feel as loose and free.  OOPSville was living up to its name.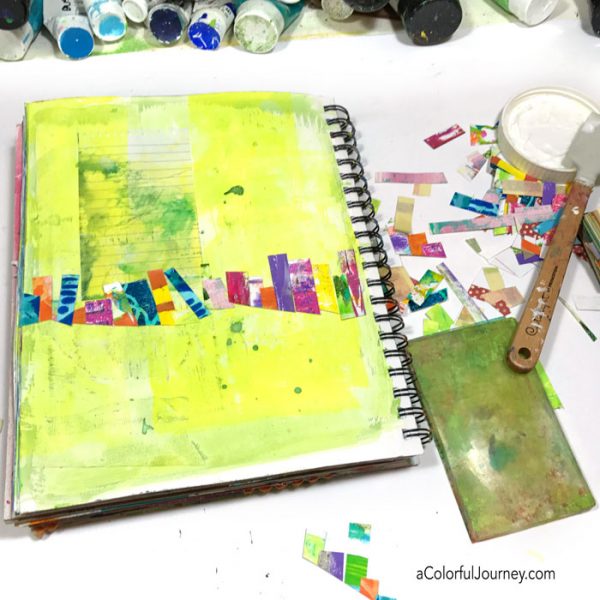 This colorful skyline needed a sun, so I used a scrap circle of painted book text.  The circular words is courtesy of my Encouraging Words stencil.
As long as I had the Gel Press Plate out next to me, it was easy to use as a paint palette.  After all, paint will peel right off of it.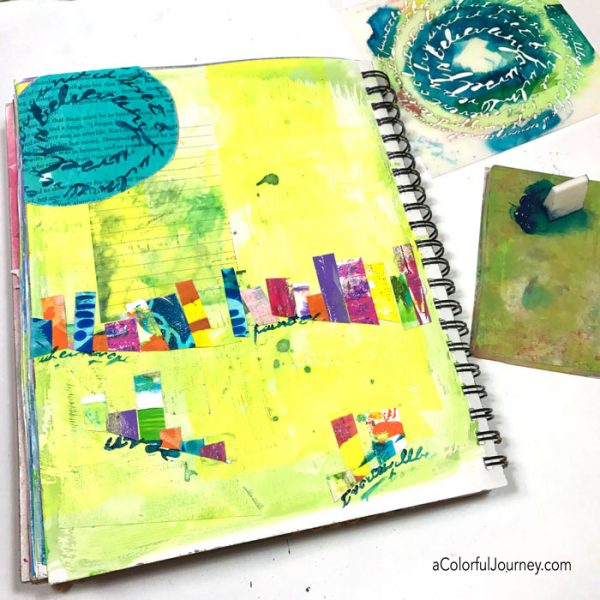 The sun became a moon when I spied my man in the moon stamp from Stampa Rosa on the shelf.  When I stamped directly on the page it barely printed and naturally,  the part that did print clearly was not where I wanted it. OOPS!  I redid the image, but the mark from the first stamping was too visible for my taste.  The opportunity in that OOPS?  To take a pen and draw loose circles all around the moon.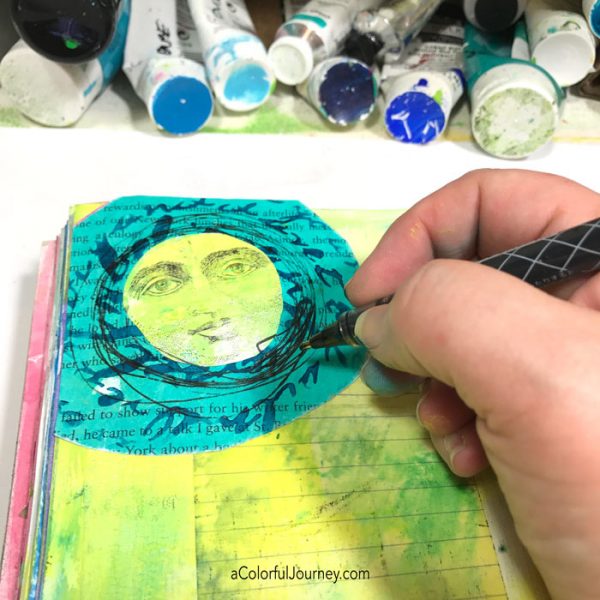 I thought I wanted more color on this page.  That is the first place I look when I am not sure what a page needs.  Notice the Gel Press Plate with all the colors I kept trying?  I tried to use them but kept stopping myself.  In the end, it was just a bit of scribble journaling and OOPSville was finished.
Now you've seen my play, let's see yours!  Share what you're creating with us all in the Facebook group and be inspired by what others are creating! And be sure to leave a comment here to get entered in the monthly $50 gift certificate giveaway!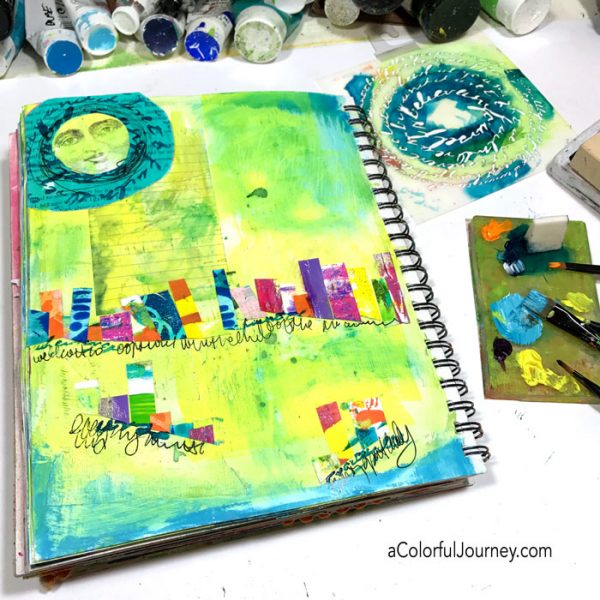 Here are the supplies I used. Some of these links are affiliate links which means I get a small percentage. It doesn't cost you anything extra and you are helping me keep this blog and my videos ad free! Thank you- I don't like ads any more than you do!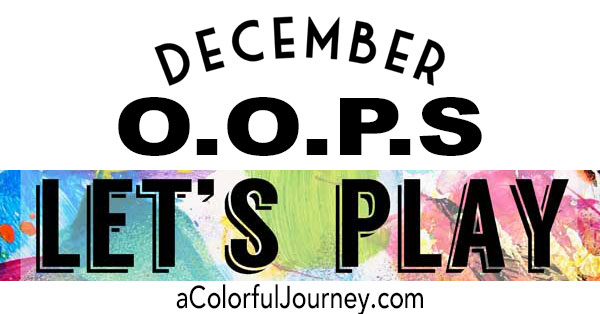 Want to see more Let's Play videos? You can find all the weekly posts here.
What is Let's Play? It's all about rediscovering the ability to play and each month I share a specific strategy that helped me recapture the freedom and fun of play. You can see more of the Let's Play series here. Be sure to get entered in the $50 Dick Blick giveaway by leaving a comment below.
Sharing your play:   I, and a whole bunch of others, would love to see what you're creating!  We're sharing it in the Facebook group called A Colorful Place to Play. Why Facebook?  I've listened to your feedback about how and where you'd like to share your play instead of the link parties.
Monthly giveaways:  Leave comment on any (and all for more chances) of the weekly Let's Play blog posts to be entered and one winner each month will be chosen by random.org.  Want more chances to win a $50 gift certificate to DickBlick.com?  Pin any of the images from the page or share about it on Facebook- then come back and leave a comment telling me what you did and you can have more chances to win! Giveaway closes the Sunday, December 28th at 11 pm EST and the winner will announced on the blog.
Congrats to Jodi, last month's winner!