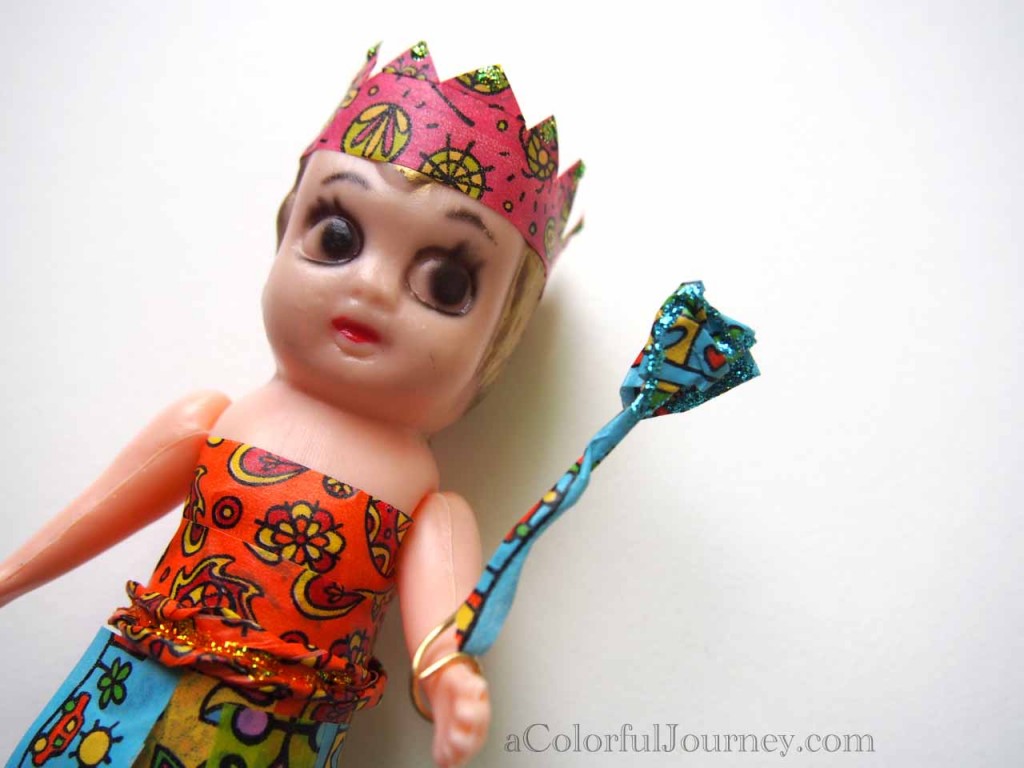 Aimee over at Artsyville has designed the most playful and fun washsi tape!  6 amazing designs that capture the color of the rainbow and you know how much I love the rainbow.   And Aimee is giving one lucky commenter a set of 6!
The plain kewpie doll I had on the shelf raised her plastic hand and shouted "pick me pick me" when I brought the tape into my studio.    Now she is all dressed in high fashion washi tape clothing.  I captured it all on film for you to see so you too can dress with washi tape.
You can watch Dressing a doll with washi tape on YouTube here.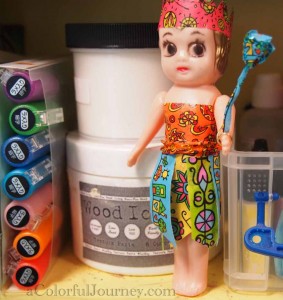 Where do I put my newly clothed doll? On my shelf with my art supplies of course.  She now looks over me and makes sure I use a rainbow in everything I do…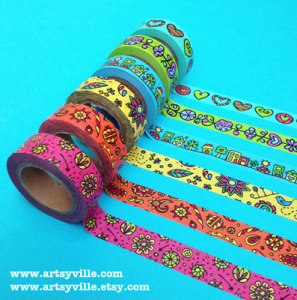 You can find Aimee's washi tape in her Etsy shop here and on her website here.
Everyone who leaves a comment by Tuesday, Sept. 24th at midnight EST will be entered into the drawing for a set of all 6 of these amazing tapes!
Have you seen all the stops on this hop? there is some incredible washi tape inspiration happening!  There are still giveaways open on many of the stops too…
Monday, September 9 Rachel Awes  http://allididwaslisten.blogspot.com
Tuesday, September 10 Joanne Sharpe http://joannezsharpe.blogspot.com
Wednesday, September 11 Jill Berry http://http://jillberrydesign.com/2013/09/11/birthday-book-with-tape/
Thursday, September 12 Lindsay Hopkins http://www.penandpaintblog.com
Friday, September 13 Traci Bunkers http://www.tracibunkers.com/blog
Monday, September 16 Lori Vliegen http://elviestudio.blogspot.com
Tuesday, September 17 Raine Boyd http://www.limetreefruits.com
Wednesday, September 18 Samie Harding http://www.journalgirl.com
Thursday, September 19 Carolyn Dube http://www.acolorfuljourney.com
Friday, September 20 Tammy Garcia http://daisyyellowart.com
Like this post? Love it if you'd share it!