Wanderlust 2023 is now open for registration and I'm excited to be back as a guest host this year! This is the 8th year for Wanderlust and if you've been a part of it you know how much fun this year long mixed media art journaling course is! You also might have an idea about how fast the early bird spots go!
They've actually lowered the price for this year's early bird. It's $89 (there may be additional local taxes) and there is a payment plan option now too!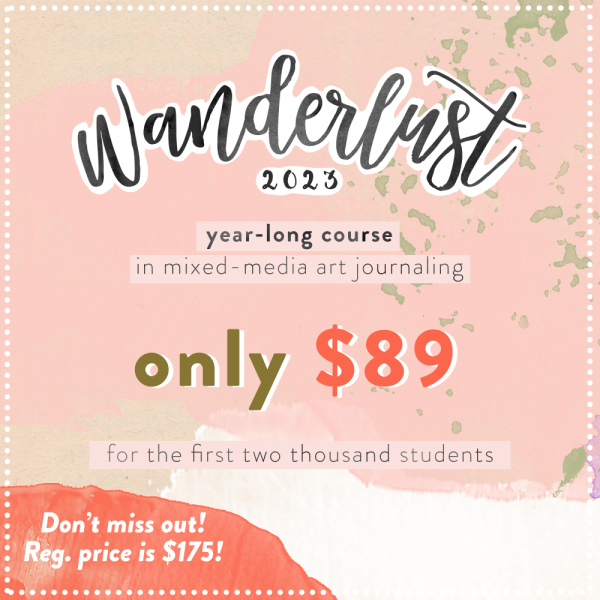 What is Wanderlust? It's an online, year long mixed media art journaling course where you get a new video lesson (with a downloadable pdf) each Friday in 2023. There are a total of 55 lessons.
It starts January 6, 2023 but when you join now there are bonus videos waiting for you right now inside the classroom. That way you can start playing now!
There are 30 teachers which means you get a buffet of styles and techniques. There are star supplies and hero techniques which means every single lesson is different! One of the many perks of being able to explore with so many different instructors means you can try on different styles.
As one of guest hosts, I have the honor of sharing 4 lessons with you in 2023. Who are the other guest hosts? Mary Beth Shaw and Jeanne Oliver and they will each also have 4 lessons!
Who is this for? Both new and experienced art journalers. If you're just getting started with art journaling, everything is clearly explained from the supplies to the techniques! For the more experienced art journaler, it is inspiring to get a look inside the process of the instructors, try their techniques and incorporate it with your own style.
The supportive community is the part that excites me the most every year. It's bonus inspiration seeing how students interpret the lessons in their art journals while trying different styles. Watching the Adventures connect and support each others creative growth is contagious in the best possible way! 
Get all the details, check out each of the instructors, and join the fun here!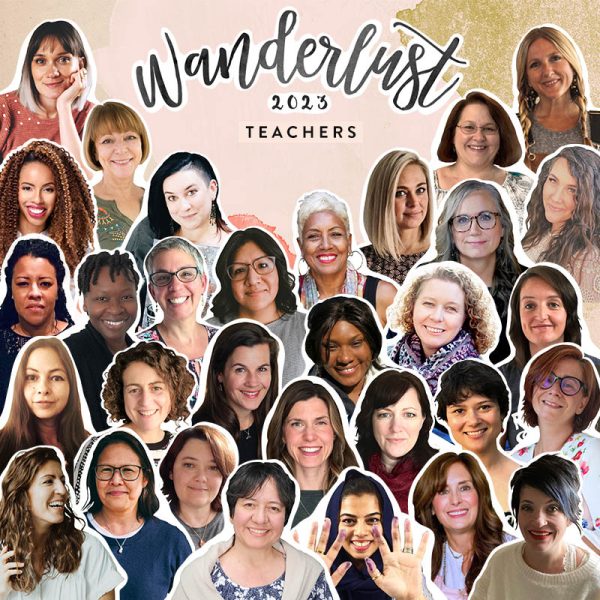 What's included:
55 video lessons
30 teachers
Hosts: Kasia Avery and three guest hosts (who will each be doing 4 lessons)- me, Mary Beth Shaw and Jeanne Oliver
Every Friday a new video lesson and a handout to go with it
All videos are downloadable with lifetime access
A community platform to share your work and connect with others in the Adventurers Circle (it's not on Facebook)
$89 for the first 2,000 who enroll (There may be additional local taxes.) This sells out every year very quickly so jump on in if you want the early bird price!
Looking forward to seeing what you create in Wanderlust!