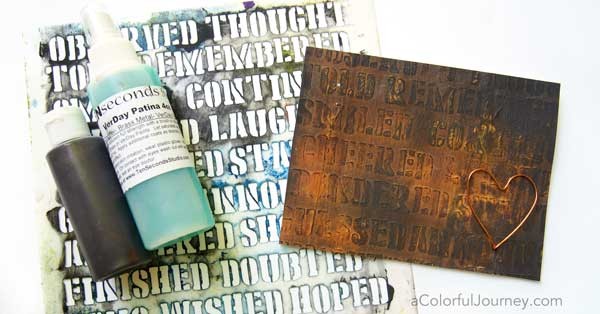 What do you need to turn paper into metal?  VerDay paint!  This stuff is fantastic for creating a patina of old metal on anything you can paint. In the video you'll see my explorations and how I turned the rusted paper into a quick card.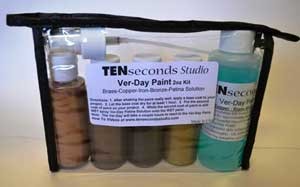 TenSecondsStudio sent several of these sets out for the StencilGirl team to play with and there's a giveaway too!  You can find all the details at the end of this post.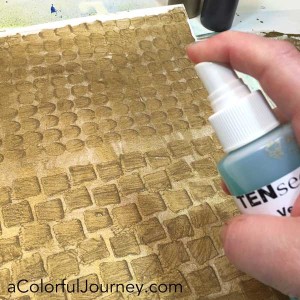 I could have been precise and perfect with my stenciling, but I decided to go loose and messy as I experimented around using 3 stencils, Verbage, Circles Layer Me, and Squares Layer Me.
Today, I'm making a card and you know how I detest measuring so that means my cards are always a little off.  Frankly, even when I measure super carefully they are a little off so that's why I don't measure carefully.  But I do like the look of it lining up and I'm sharing my quick and easy way to line up the card and the paper I'm attaching.
The Almost Oops…I've never had an almost oops before that I can remember.  I thought it was going to be a very big oops…but it turned out to be a false alarm.
Watch Creating an aged patina look with VerDay paint and stencils on YouTube.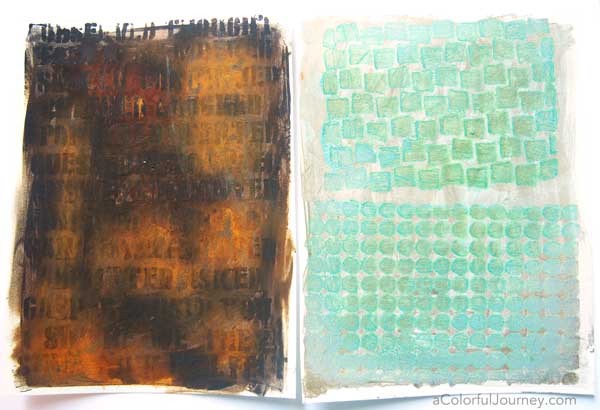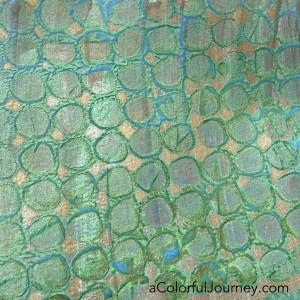 Here's a close up of the brass with those wonderful bits of blue that appeared as the patina activated the wet paint.  I can't wait to play around with this paper in my journal.
I'm not a professional wire artisan but I am an art adventurer.  That means I'll jump in and do things I don't know how to do and just to see what happens.  That is exactly what happened with the wire.  I have no idea if these are the "right" pliers and tools for this job.  I just know they are what I have so I'm using them.  My wire heart is a bit…imperfect…so that means it is perfect to me!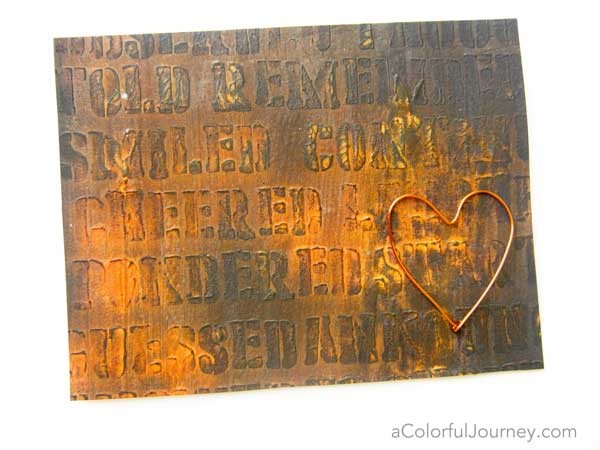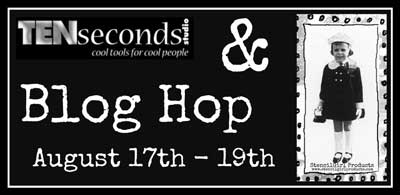 This is a blog hop, so there's lots of inspiration for you and a giveaway too!  Leave a comment here to win  a 4-piece VerDay Kit of Reactive Metal Paint & Patina and a $25 StencilGirl Gift Certificate to one lucky winner!  Want more chances?  Leave a comment on each blog (but just one per blog) for more chances to win!  But hurry, it all ends on August 21st @ 11:59PM Central!
Carolyn Dube – you're here