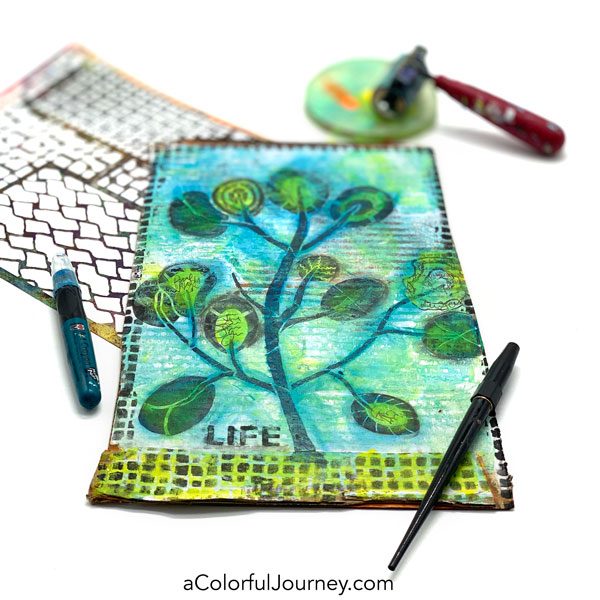 This wasn't a color in the lines kind of a day or one where things went as planned. Was that a bad thing? Not when I'm playing with stencils and art crayons!
The tone of the play was decided right here as I stenciled the Modern Tree, designed by Mary Beth Shaw. I thought I had it lined up so it was centered. But it wasn't. O.O.P.S.!
An O.O.P.S. isn't a mistake, it's an Outstanding Opportunity Presenting Suddenly.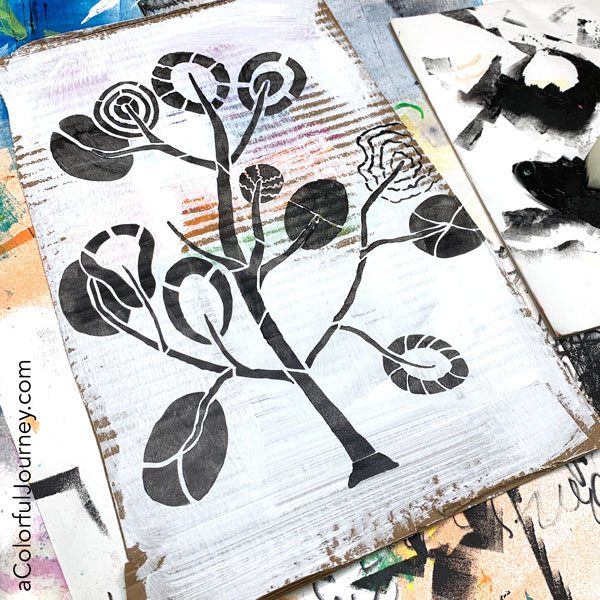 A small gel plate created the background. Any size or any shape of gel plate can do this. The colors were mixed directly on the gel plate.
This is just one of the many ways you can use a gel plate. There's an entire page of resources for you including the Dos and Don'ts of Gel Printing, technique tutorials, and ideas for what to do with your gel prints here.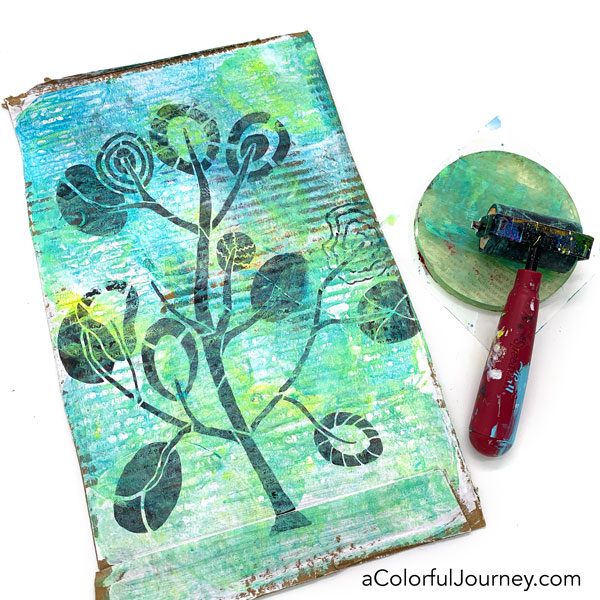 To create the dreamy blended look on the tree use Marabu Art Crayons. They blend easily with your fingers and are wonderfully vibrant.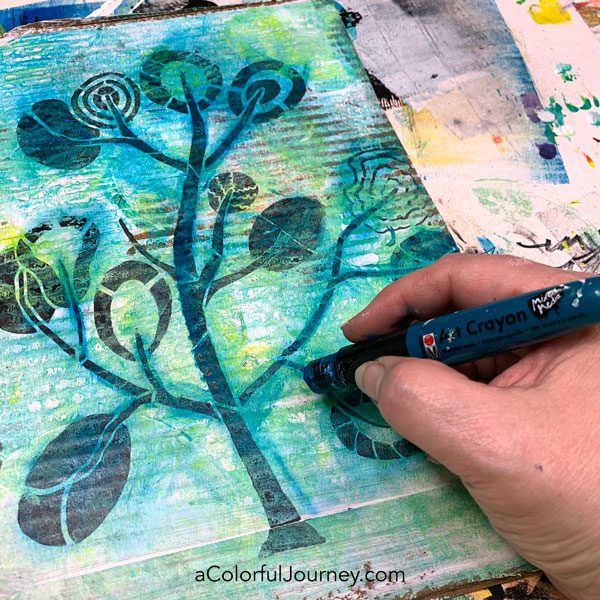 When you stencil in a light color, it can be tough to see. O.O.P.S. again. But it wasn't a mistake, just an Outstanding Opportunity Presenting Suddenly to add more of the pattern in a darker color on top.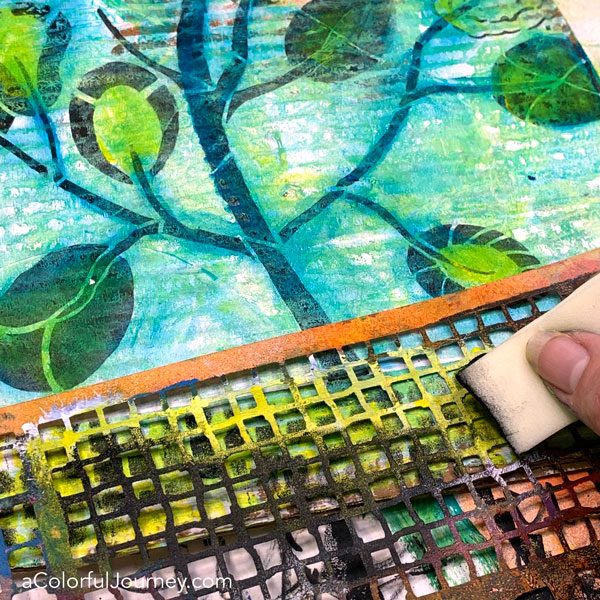 When you use a stencil, you have the freedom use all or part of it. Stencil it just as it is or pick and choose selected areas. There are 4 coordinating patterns to choose from on Rectangular Patterns for Play so you can have the one that is just right for your project.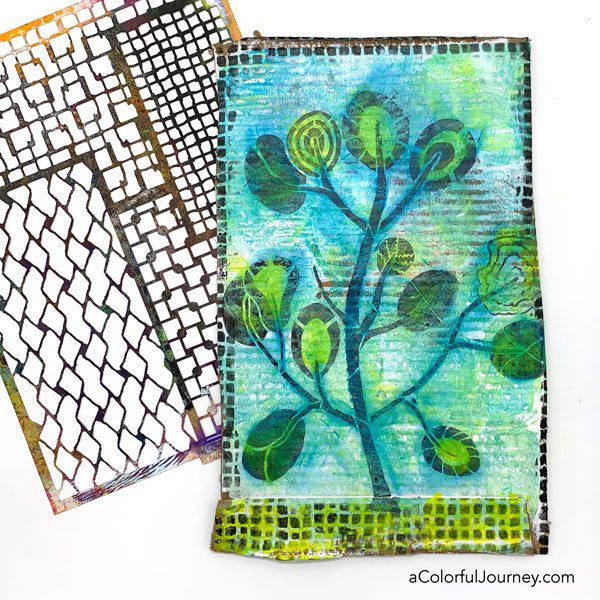 The final touches came from some scribble journaling along the tree and the leaves using a fountain pen.
Neatly and crisply stenciling the word Life as another O.O.P.S. Why on earth I wanted a neat and tidy anything on here is a mystery to me but by adding a bit of Art Crayon on top of the damp paint, blending it with my finger got to a better, imperfect place.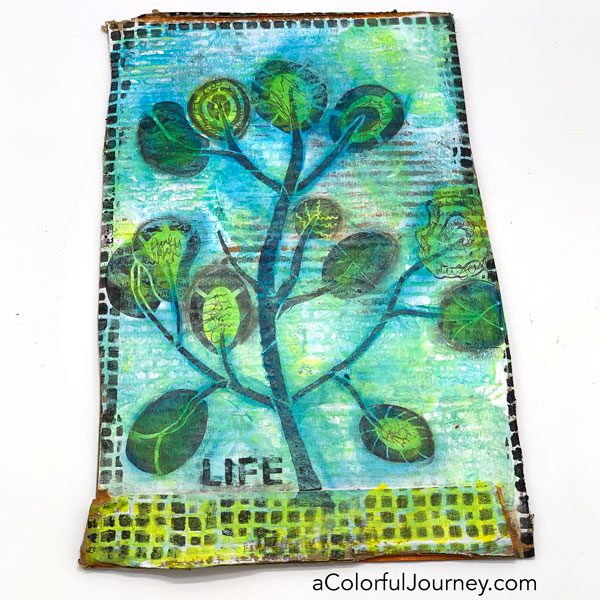 What can you do with cardboard play like this? Turn it into a journal. Join my free workshop, Permission to Play, to see how to make a recycled journal and a whole lot more!
Here are the supplies used. Some of these links are affiliate links which means I get a small percentage. It doesn't cost you anything extra and it helps keep the free tutorials coming! The Art Crayon color I used is called aqua green.