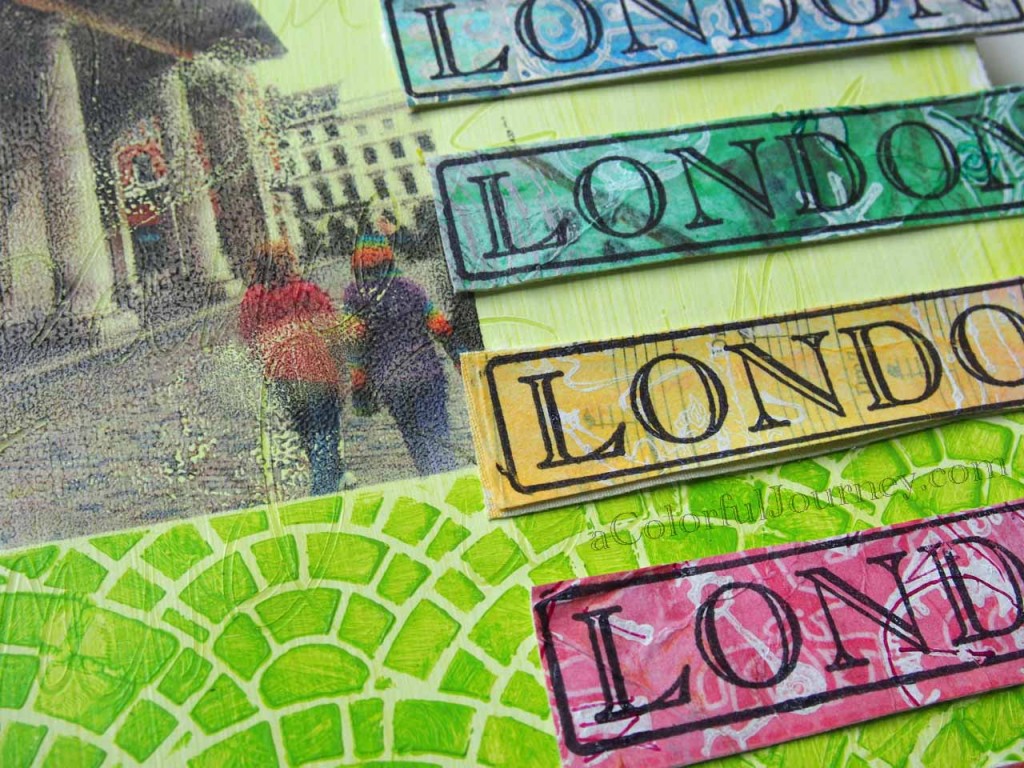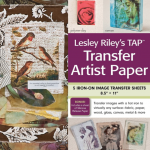 Lesley Riley is celebrating her class, Mastering the Art of Transfers on Multiple Surfaces with a fantastic blog hop!   You get to see so many different artists using TAP and there is a giveaway on each and every blog! Including this one! Be sure to leave a comment here by Wed., July, 10th at noon Eastern time to win a spot in her class!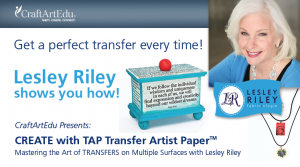 Her class teaches you all about TAP (Transfer Artist Paper) on all sorts of surfaces.  TAP is amazing- you can use markers on it, stamp on it, inkjet print on it and more! No wonder TAP was named the Most Innovative New Product at CHA in 2011.
Here's how I used TAP in my art journal.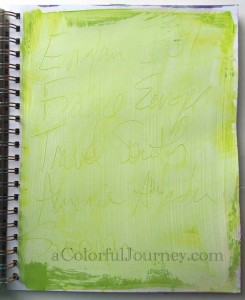 I started with scribbling into wet gesso. Once it was dry I added green paint.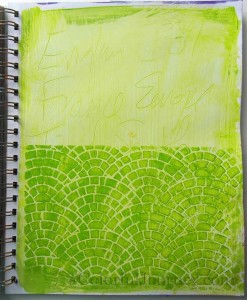 Lizzie Mayne's Fishscale Brick stencil at StencilGirl Products reminded me of so many old walkways we saw on our trip to London.  Of course, those walkways weren't green due to acrylic paint…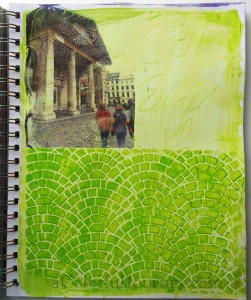 I used my ink jet printer to put a photo from our trip onto TAP.  Then I ironed it right into the journal.  So easy and so fast!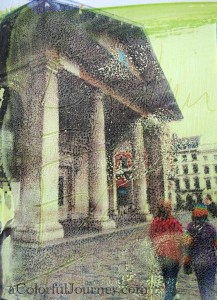 Lesley shows you how to get amazing transfers in her class.  I didn't want perfect. I wanted aged and imperfect so I did not iron it as long as I "should"…love that I can adjust it to what I want!  Notice how the texture in the gesso comes through!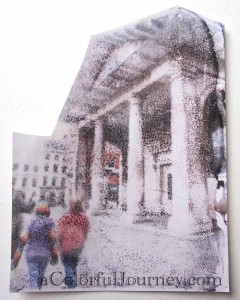 This is what the release paper looks like!  This will definitely be showing up in an art journal or on a canvas.  Maybe some stitching…lots of possibilities….nothing wasted here!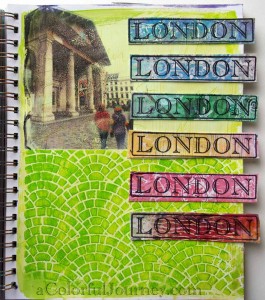 London (by B Line Designs) was stamped on some old paper cloth I had made long ago.  It felt good to use something I had been saving!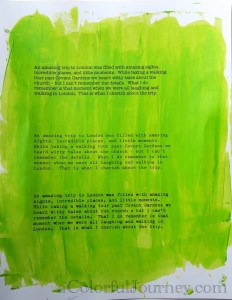 I wanted a bit of journaling but I don't love my handwriting so I typed it.  I painted a piece of card stock and let it dry COMPLETELY!  Couldn't decide on a font so I just printed the text in 3 different fonts.  My ink jet printer's ink is very wet on painted surfaces so I let it sit overnight to dry.
I picked one and glued it onto the page.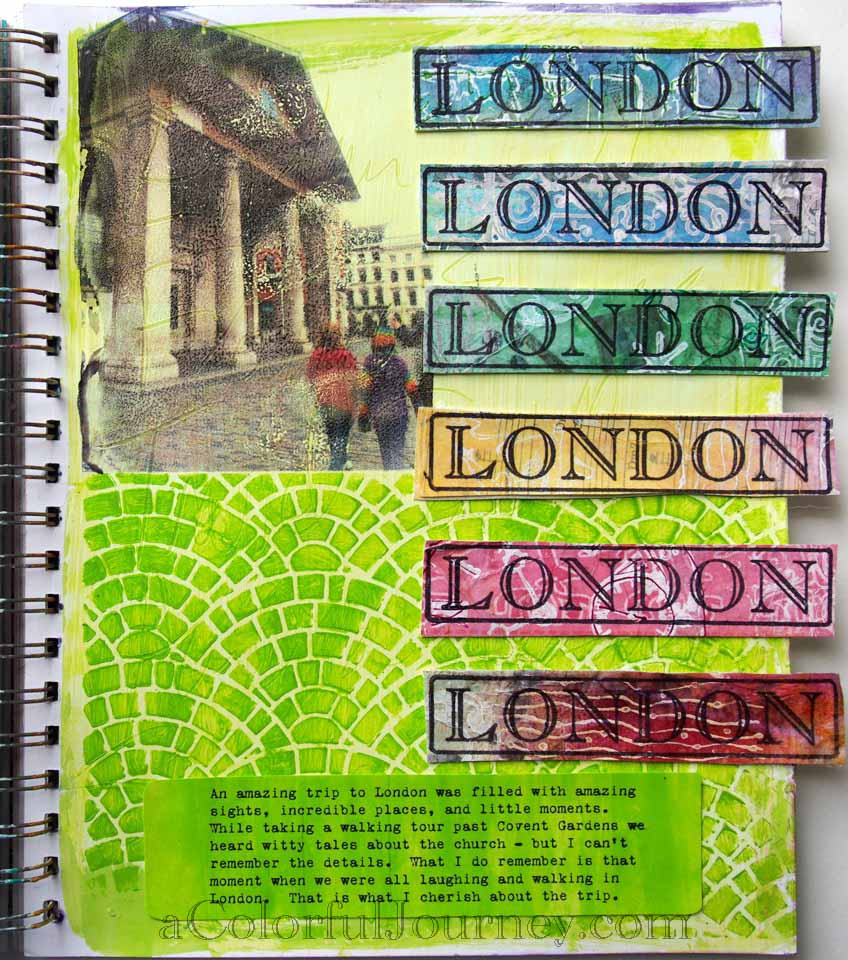 Thanks Lesley for such a fabulously easy way to get transfers into my art journals!
TAP can be purchased online from LesleyRiley.com, TAP at Amazon.com
, Joann.com and more.  Also look for it (or ASK!) at your local art, craft and quilt shops.
You can also win a 5-sheet pack of TAP Transfer Artist Paper!  Hop over to Lesley Riley's blog to leave a comment for that giveaway but before you go be sure to leave a comment here! I'll be randomly picking a winner for a free spot in Lesley's class, Mastering the Art of Transfers on Multiple Surfaces, on Wed., July 10th!
Check out these blogs for more chances to win a free spot in Lesley's class!
June 26 – Christine Urias – Scrap Time
June 27 – Karen Watson – The Graphics Fairy
June 28 – Judy Coates Perez – Judy Coates Perez
June 29 – Theresa Wells Stifel – Stifel & Capra
June 30 – Lynn Krawczyk – Fiber Artysta
July 1 – Claudine Hellmuth – Claudine Hellmuth
July 2 – Gina Rossi Armfield – Joyful Purpose
July 3 – Carolyn Dube – A Colorful Journey
July 4 – Liz Kettle – Stitch Journeys
July 5 – Jane LaFazio – Janeville
July 6 – Joanne Sharpe – Whimspirations
July 7 – Pam Carriker – Pam Carriker
July 8 – Theresa Martin – Theresa Martin
It's a busy day for me! I've also got a stencil tutorial today over on the StencilGirl Products blog, StencilGirlTalk!