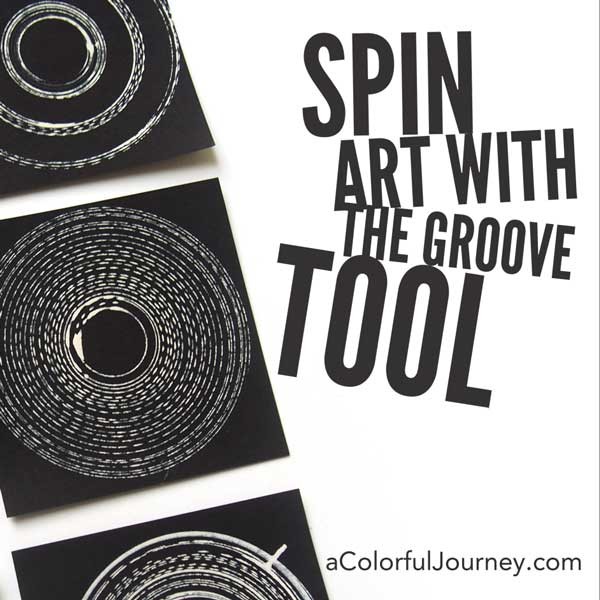 Want to feel like a kid again?  Making spin art takes me right back to when I was a kid.  After getting a spin art machine, I would get paint all over the place as the machine whirled the paper around.  Guess that is why Mom always sent me outside to do it.  Hours were spent mesmerized by the color play as I used up the paints way more quickly than Mom wanted.  Looking back that was a hint of what was to come later in life for me.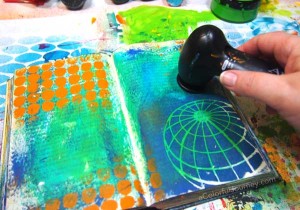 Back to the present moment….I have been exploring The Groove Tool, which Art-C sent me to give it a try. You can see my video from an earlier post as I played in an altered book journal here.
The Groove Tool comes with 4 different tips. I thought I would try something different with one of the sanding tips to turn it into a hand held spin art machine.  It was easy and fun and doesn't seem to have impacted the sandpaper either!
I was even well behaved in the beginning and didn't splatter….but couldn't help but add a lot of color and create a bit of a splattering mess on my hand by the end.  Splattering piant makes me so happy!  Join me for a little spinning fun in the video!
Watch Spin art with the Groove Tool on YouTube.
Here are the spins I made in the video.  Warning, warning, warning, this is highly addictive and can make time stand still!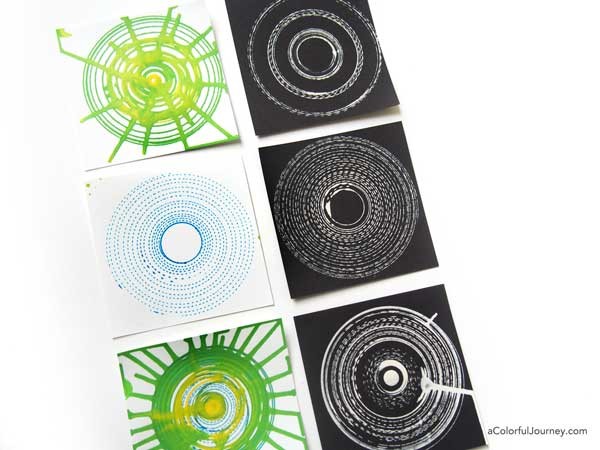 Here are the supplies I used. Some of these links are affiliate links which means I get a small percentage. It doesn't cost you anything extra and you are helping me keep this blog and my videos ad free! Thank you- I don't like ads any more than you do!