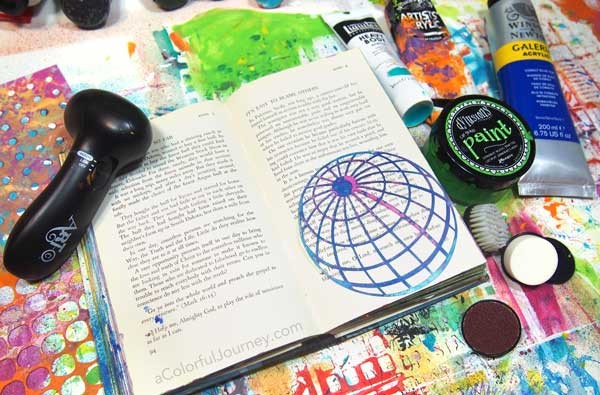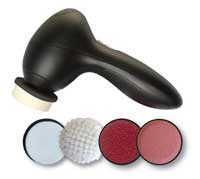 When I was invited to try out the Groove from Art-C for the blog hop with StencilGirl, I didn't know what to expect.  I must admit I was a bit skeptical and wondered if it was something for me.  Turns out, it is exactly the kind of thing I like to use.  It's easy to use and it makes stenciling go faster!
Be sure to check out the giveaway details for this blog hop at the end of this post!
In the video, I'm searching for just the right word as I experiment and play with The Groove…the tool worked great but my mind just couldn't find the exact word I was looking for…it escaped me big time! What was that word? Dry brushing.  Okay…two words.
Watch Trying Out The Groove by Art-C in an Altered Book on YouTube.
The sanding attachment actually got me to sand.  I say actually because I have a drawer full of sandpaper that I never use.  It's even right next to me but I never use it.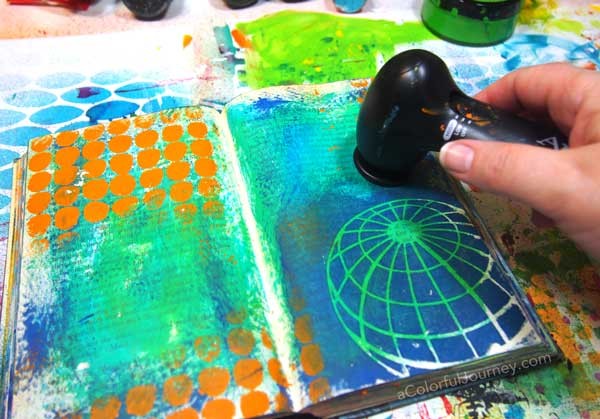 The bright white was just too bright white for me so the sanding attachment came to the rescue by adding a bit of aging to the white circles.  Funny thing is I never would have reached for the sandpaper as a solution but I will be now!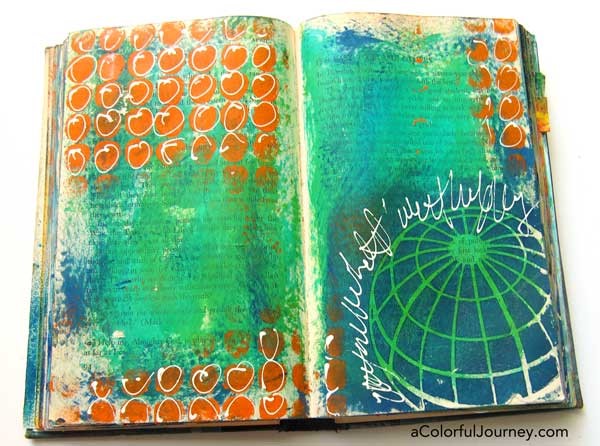 This is a blog hop and there's a giveaway!  What can you win? A Groove tool and a $25 gift certificate to StencilGirl!  Leave a comment here to be entered and if you want more chances to win, head on over to all the blogs in the hop and leave a comment there too!  One comment per blog please.  The giveaway closes on September 26th at 11:59 pm central time.
Carolyn Dube- you are here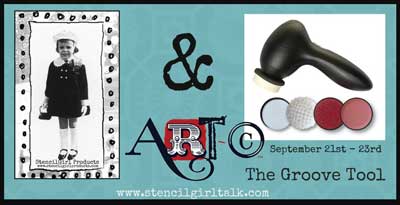 The Groove is available now at EVERY Hobby Lobby store.  Most Michaels and Joann Fabric and Craft stores have it now, as well. At Hobby Lobby and Michaels, it is in the stamping isle.  At Joann, it is in the paint and stencil isle, near the unfinished wood.  Of course, it may be ordered directly from Art-C by calling Customer Service at 800-448-6656.
Here are the supplies I used. Some of these links are affiliate links which means I get a small percentage. It doesn't cost you anything extra and you are helping me keep this blog and my videos ad free! Thank you- I don't like ads any more than you do!