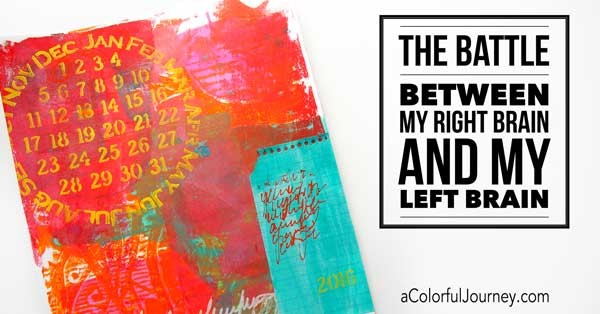 Time was on my mind  around the start of new year and I wanted to capture that in an art journal page.  Start of the new year?  It's March!  Well, this video got lost in my files and I just found it again.  Better late than never!
Little did I know when I started this page, that there would be a battle for control.  Right brain wanted to play.  Left brain wanted precision.  My muse was thoroughly entertained watching all of it- I am quite sure!
I should have had a clue something was amiss when I tried to do a messy sloppy stencil job and it wasn't messy….and it's all caught on video for you!
Watch The battle between my right brain and my left brain art journaling style on YouTube.
Never Ending Calendar Stencil from StencilGirl
Time is limited, so sometimes I only have a little of it for play.  To make the most of the time, one of my tricks is to start with a Gelli print® from my stash. I was able to get an art journal page finished in under 10 minutes thanks to that print.  If you're new to Gelli prints® and want to know more, I have a page of resources and videos here.