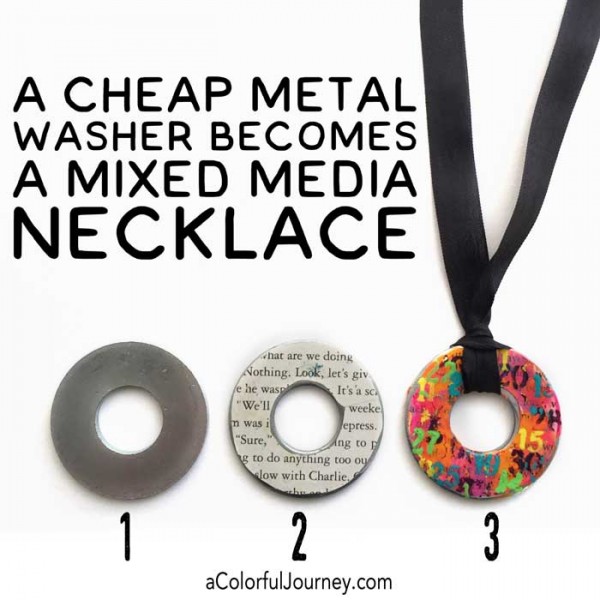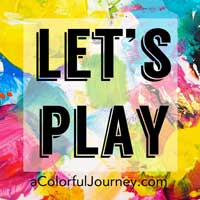 22¢.  That's a price I can get excited about!  This metal washer was only 22¢ so a handful cost less than a gallon of gas!
One of the ways I found to help myself play was to use things from the hardware store.  They're often cheap…like today…I can get as many I could possibly want, and there is no pressure to use it correctly since I am not doing any home construction here.  I am making a mixed media necklace!
As I turned that washer into a colorful necklace for this week's Let's Play link party, it became a necklace of gratitude.  A count your blessings type of necklace. The numbers each represented something I am thankful for or some memory associated with the numbers. So as I wear it, I am reminded of all the every day things I have to be grateful for in my life.
And I even clean off a stencil in the video…but that is just to not waste paint…
Watch How to make a mixed media necklace with a washer from the hardware store on YouTube.
Here are the supplies I used. Some of these links are affiliate links which means I get a small percentage. It doesn't cost you anything extra and you are helping me keep this blog and my videos ad free! Thank you- I don't like ads any more than you do!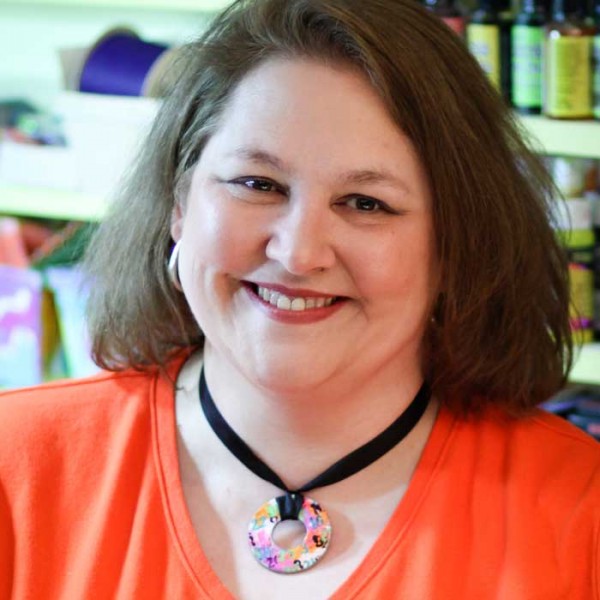 This necklace is the one I thought was horribly ugly at one point in the video, and it turned out to be my favorite!  That happens quite a lot to me.
Now you've seen my play and I'd love to see your play!  What play can you link up?  Any play- it doesn't have to follow this month's theme because play just doesn't have a lot of rules.  And you get a bonus entry into the monthly $50 giveaway every time you link up!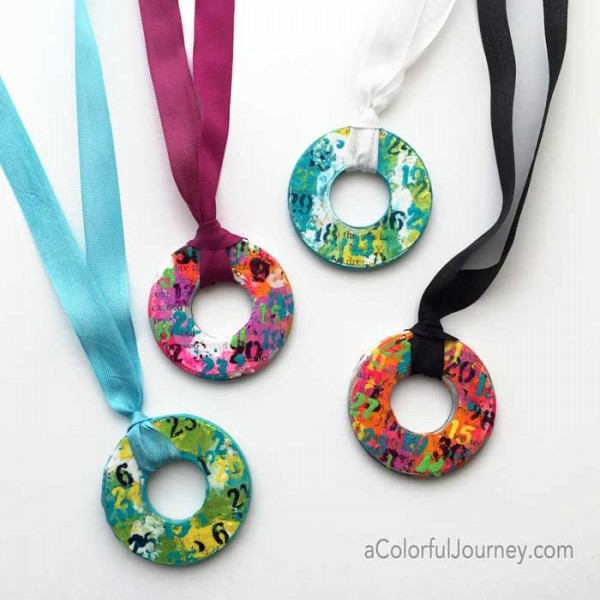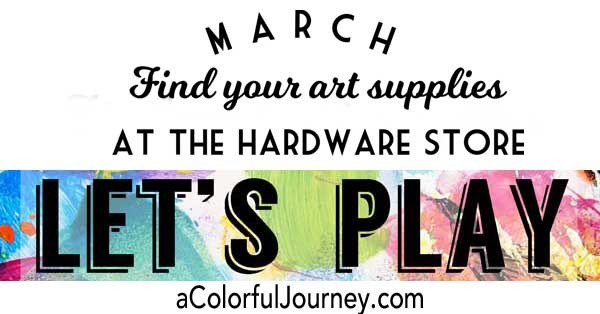 This month's giveaway is a $50 gift certificate to Walmart.com because you can find all sorts of non art supplies there that work wonderfully for art play!  Link up what you're creating (and you get a bonus entry into the giveaway for sharing your play) or leave a comment telling something that you liked about one of the photos shared. One comment per person.  Giveaway closes Monday, April 4th at 8am EST.
New to Let's Play?  You can find out all about it, what you can share (and it is almost anything- it doesn't have to follow the monthly theme), why your play (yes YOURs!) helps others to play, plus other info here.
[inlinkz_linkup id=610962 mode=1]
Link up etiquette  
If you see something you like, leave a comment on their photo or blog post and show some love – let them know they inspired you! 

Share your recent play (any form of creativity is welcome) that hasn't been linked up to a Let's Play before ( limit 3 per week please)

Add a link back to to this post so that others can find it, be sparked, and join the fun!

New link party begins each Tuesday..sometimes even late Monday night… 

Enter the giveaway for the $50 gift certificate by linking up (and you get a bonus chance for sharing your fun) or by leaving a comment telling something you liked about one of the photos shared in the link party. One comment per person on this week's blog post.  The winner will be announced on the first Tuesday of the following month. You can find all the details about Let's Play here.
You can upload a photo or use a URL or Instagram.  Not sure how to find a URL or link up? Check out this page of Let's Play FAQs.
Want to put the button your blog? Just copy all of the the code from under the button.