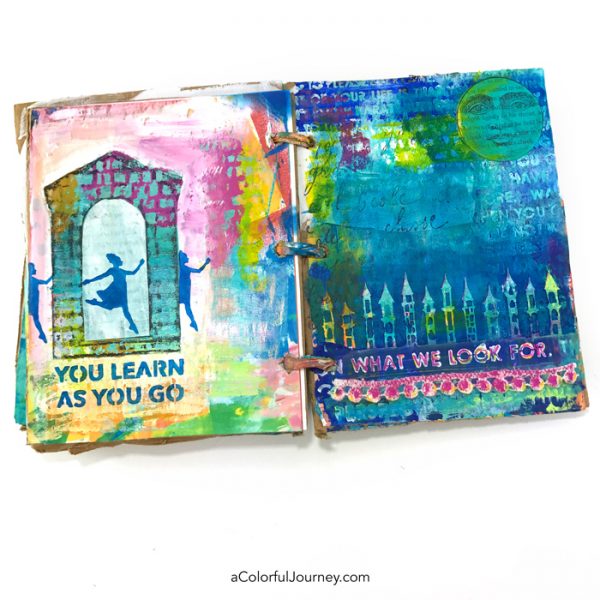 The play almost didn't happen today. That logical left brain of mine was having a control freak kind of a day and things were being taken way too seriously. What rescued me? What got me playing?  My Permission to Play art journal!
Watch Rescued from Overthinking By My Art Journal on YouTube.
Want to make a cardboard journal in my free workshop, Permission to Play? Get signed up here and join the fun.
I was overthinking it, so I turned to a page and just started. Logical lefty pestered me with questions like, "Do you really want cover that up?" "Do you want to put that there?" as I added a layer of paint with the Gel Press plate.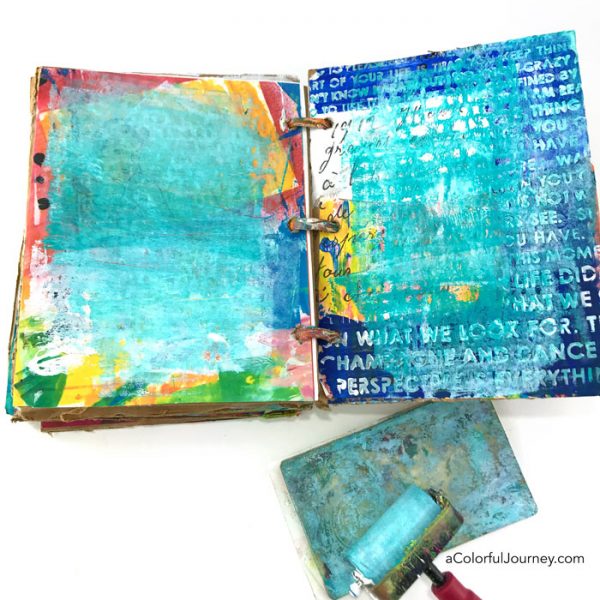 As I added color with the Gelatos that voice in my head was having a hissy fit because the page on the left was one I loved.  But it just hasn't gone anywhere. The page on the right, well, that one has been one giant O.O.P.S. after another.  But the opportunity in all those previous Outstanding Opportunities Presenting Suddenly finally became clear when I uncovered the words I needed today, What We Look For.
It was like a slap on the head from my muse. If you're looking for problems, that's what you'll see. If you're looking for places to play, that's what you'll see. So any time those serious, and play stifling thoughts returned, I just laughed at them with the reminder that this is a cardboard art journal and I have permission to play!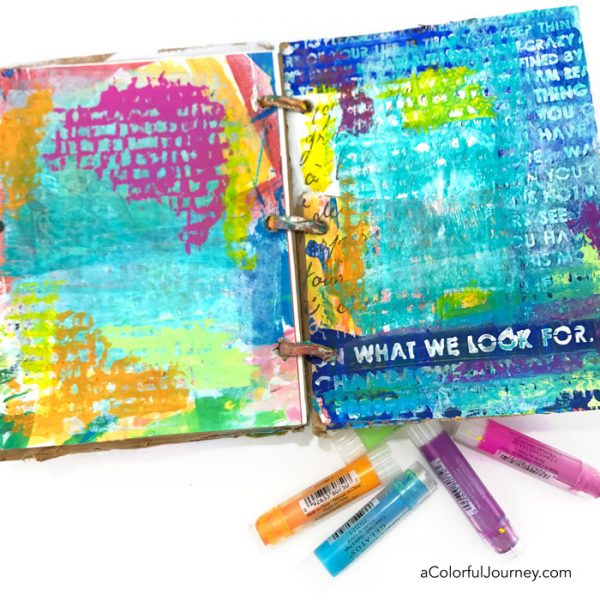 My logical left brain can be rather persistent, so it kept trying to "help" as I stenciled with the castle tower mask from the Once Upon a Time stencil set.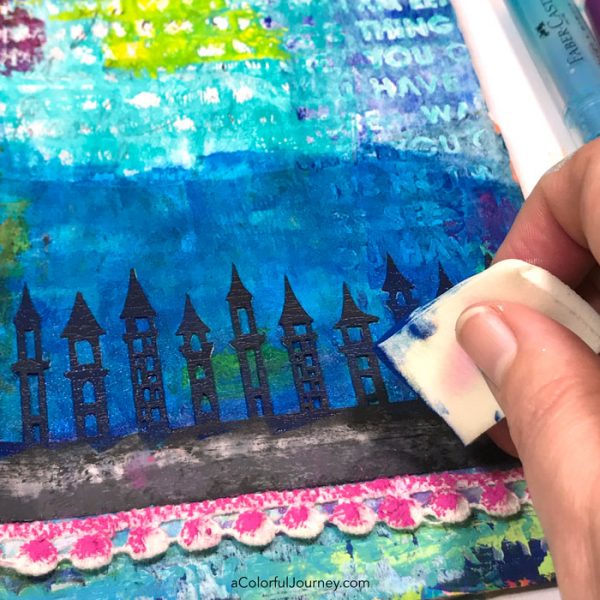 A touch of pink with a Pitt Pen was added on top of the words. It seems I must color any white space, and those words were white after all.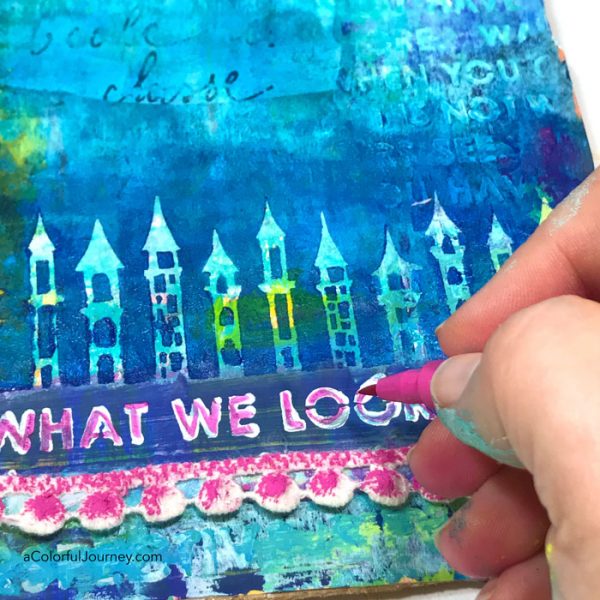 Stamping an a not-perfectly smooth surface like cardboard means stamped images won't be "perfect" and artsy stamps like this one from Darkroom Door are awesome for this.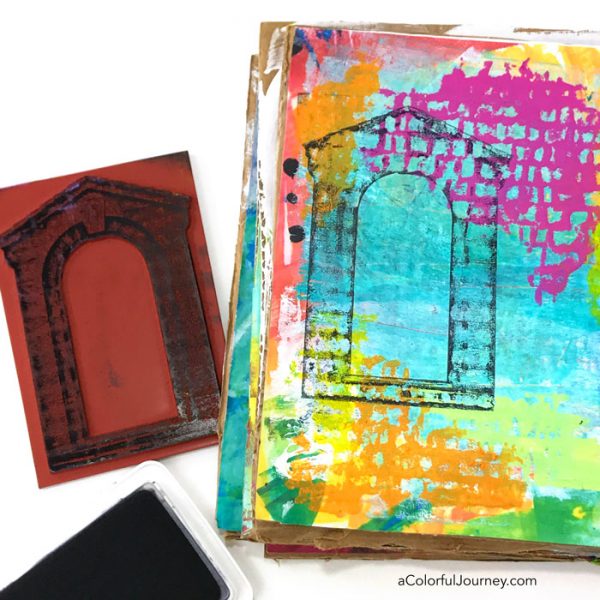 Adding the white paint around the arch was a great opportunity to mess with logical lefty because there is no going back from that white paint. There is no wipe it off and start again. It will never be the same.
Logical lefty was so freaked out by this you'd think I had just boarded the first spaceship to Mars and would never see the planet Earth again.  Really?  It is just a cardboard art journal.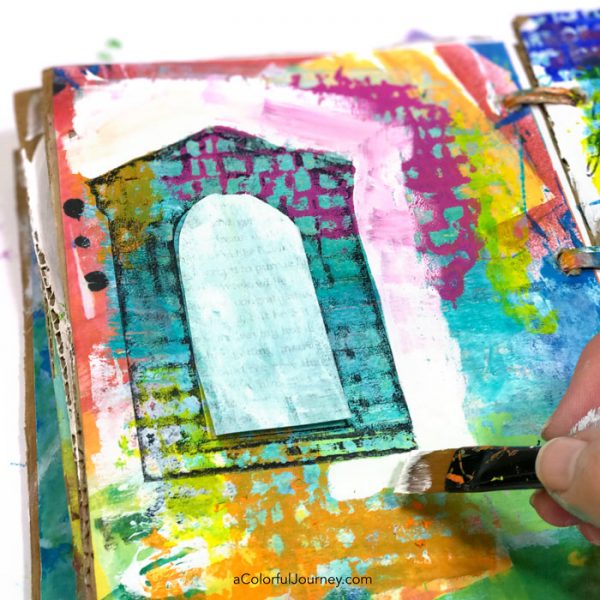 As I added the women to the archway using my Learning to Dance stencil, a Post-It note as a mask made it quick and easy to make it look like she was behind the stamped image.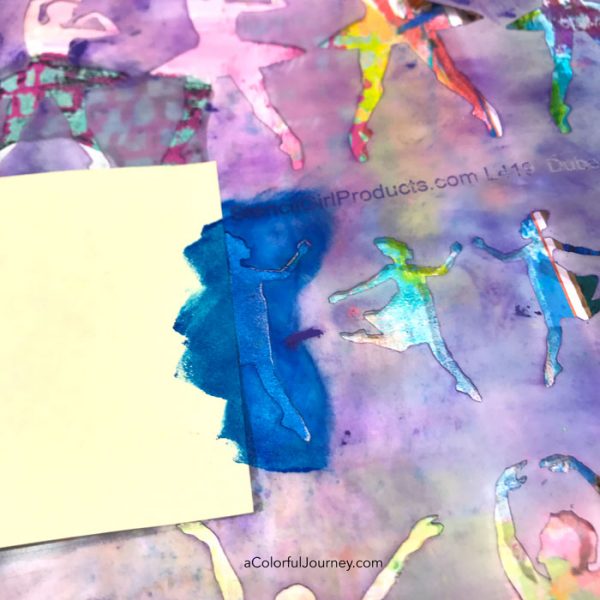 Before today's play, the page on the left was one I loved.  But it was stalled, it never went anywhere until now.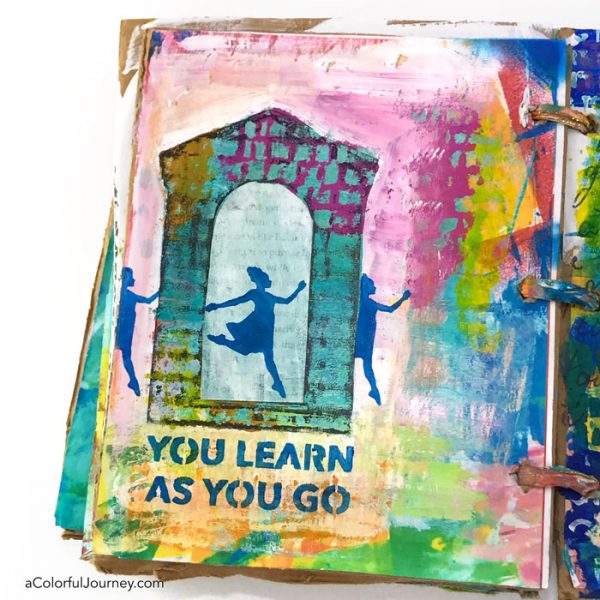 This page had been yuck to me through so many layers, O.O.P.S. after O.O.P.S. until now.  Now I love love love this page and that critical logical lefty voice in my head has quieted down.
You can see how I made this journal and 3 of ways I rediscovered how to play in the free workshop, Permission to Play.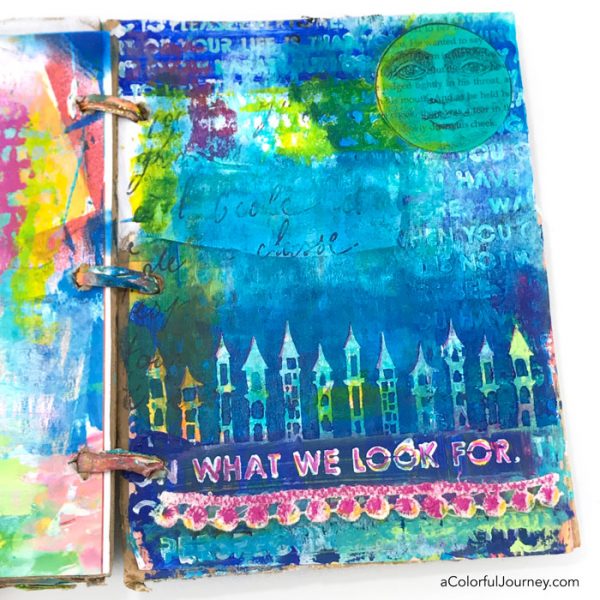 Here are the supplies I used. Some of these links are affiliate links which means I get a small percentage. It doesn't cost you anything extra and it helps keep the free tutorials coming!