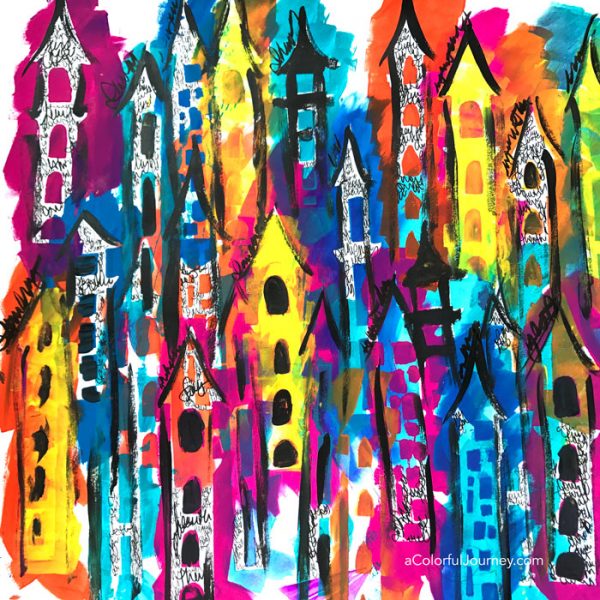 From the very start of this play, making decisions was a tough challenge. So tough I had to use the 3 second rule.  What is the 3 second rule?  It is when I give myself 3 seconds to make a decision and move on.
In the video, you'll see that I was stuck more than once and be sure to do as I say, not as I do, when it comes to the pen and the wet paint.
Watch Using the 3 Second Rule to get Unstuck on YouTube.
One of the decisions that required the 3 second rule was which mask to use.  I had been thinking of using just one but maybe two. Or what if three was better.
I was spending so much time trying to decide which one to use, that I was never going to actually start playing if I didn't make a decision soon!  3 second rule to the rescue!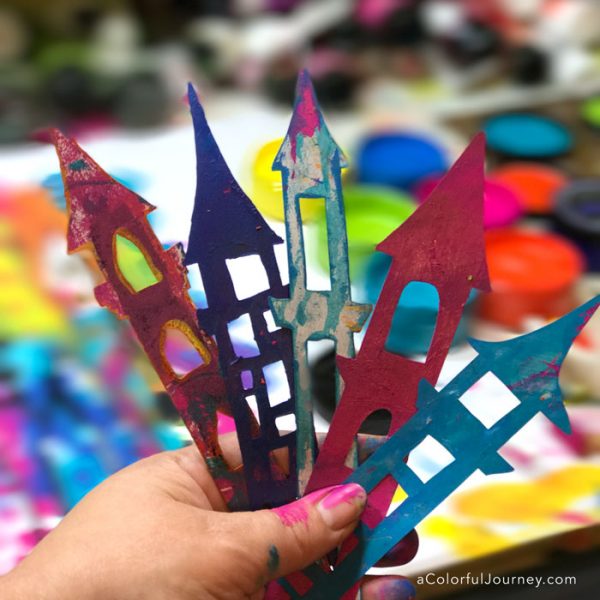 With Dylusions paints and cosmetic sponges, I randomly placed all 5 castle tower masks, which come as part of the Once Upon a Time stencil,  here and there filling in the paper.
But one color was left out for the most part, even though it was right there and begging to be used. I would never ever want yellow to feel neglected.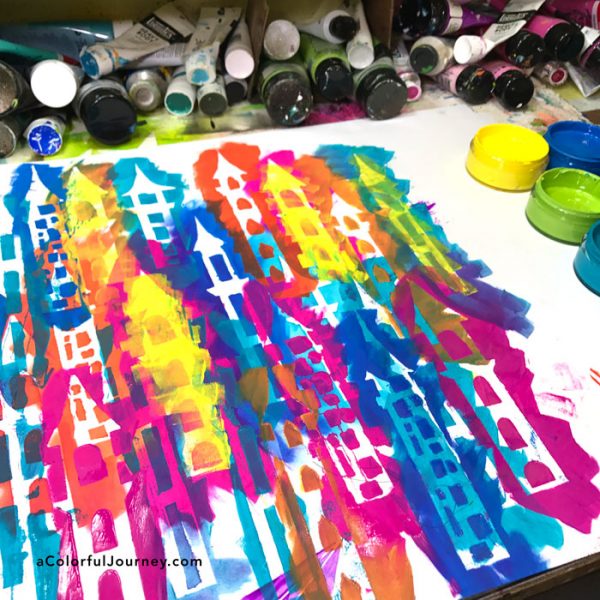 Then I started over thinking it.  I was stuck. Again.  The conundrum was I knew I wanted to add more details the towers but couldn't decide on which color to use.  Making a decision required the help of the 3 second rule. At the end of the not-very-long-at-all 3 seconds, I chose black to my surprise.
I had only been thinking about the colors that I had open next to me before that moment.  Not where I thought it was going but it was just where it needed to go.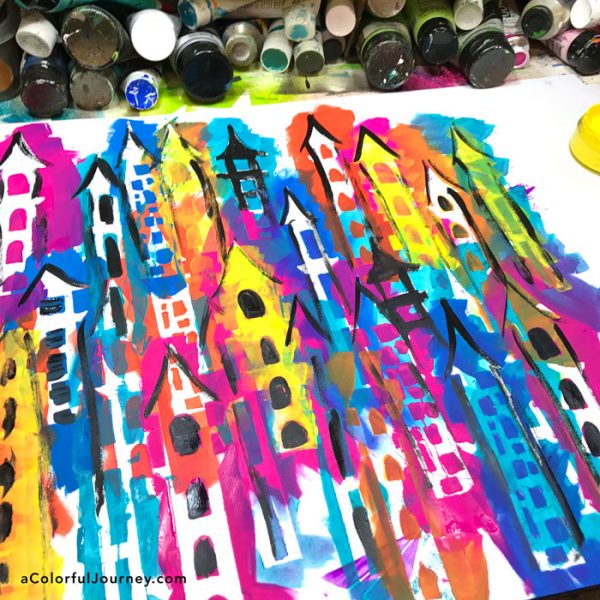 After the paint, it was time for scribble journaling.  This is where I recommend you do what I say and NOT what I do. Using a pen on wet paint is a quick way to ruin the pen.
To keep my pens safe, I checked to make sure the area where I wanted to write was dry.  But then I was so wrapped up in the journaling that I forgot to check the last time.
Yes, it was wet paint.  All was not lost, since this was a brush pen and they can take a little more abuse from me.  I immediately and thoroughly wiped the wet paint off and the brush pen was fine.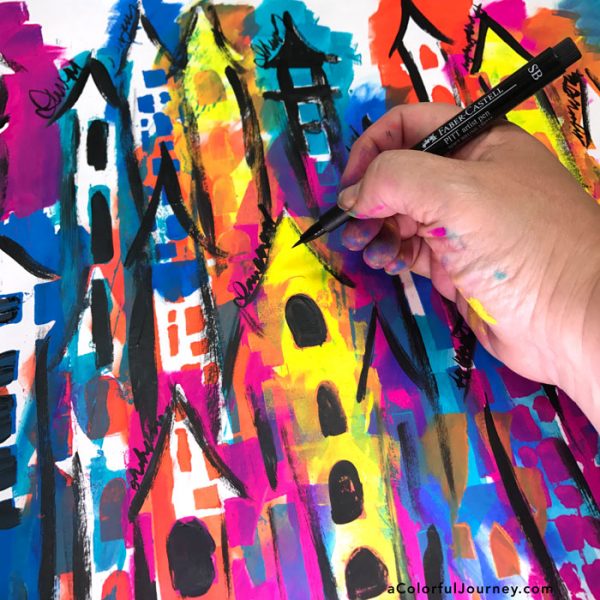 The harrowing brush with the paint (yes, pun intended) jolted me back to reality.  That sounds dramatic, doesn't it!  There were still areas of wet paint on the page, and I wasn't willing to wait for it to dry. Plus I have a talent for finding any wet paint on a page.
The solution was to stay on the white spaces, the safe paintless areas of paper.  I really wanted to keep the next pens I used out of the wet paint for several reasons.
I was using finer tipped pens.  The finer the tip, in any brand of felt tip or ball point pen, the more quickly it is destroyed by wet paint (even if you wipe it off immediately).  In general, in my experience, even completely dry paint can ruin a fine tipped pen because of the paint residue.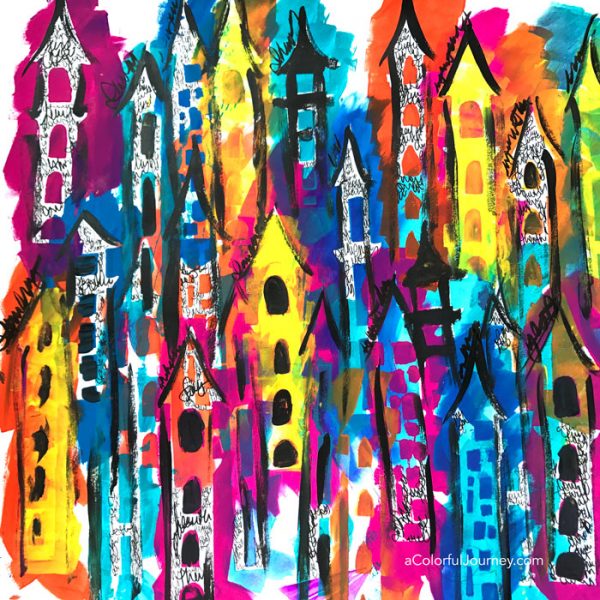 3 seconds isn't a long time, but it is just enough to get me unstuck.
Here are the supplies I used. Some of these links are affiliate links which means I get a small percentage. It doesn't cost you anything extra and it helps keep the free tutorials coming! All 3 of the Pitt Pens that I used are included in the set linked below (S, SB, 1.5)