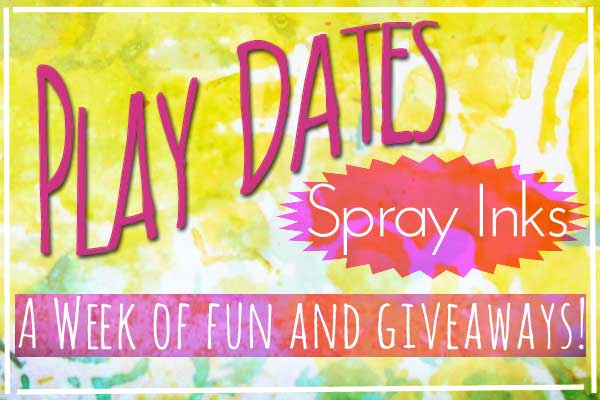 I love the conversations that happen when I am arting with friends.  Hearing why we each enjoy the supplies we do always sparks my creativity.  I find it amazing that even if we are all talking about the very same supply, we have totally different reasons why we love it.

Play Dates are my way of starting that conversation about supplies.  There aren't any right or wrong answers – it's about sharing the creative journey with each other.  If you're new to a supply this is a great way to learn more about and if you're a master of that supply you might see it in a new and different way!

So how can you join the conversation?  Leave a comment here telling us all what you enjoy about spray inks or what your favorite is or tip or trick!  Click on over to  A Colorful Playground over on Google+ and share your spray ink creations. It can be something new or a favorite spray ink project from whenever!  Join in however you are comfortable!
This edition of Play Dates is all about spray inks and why I use the spray inks that I do.   I couldn't get it all into one day, so it's a week long Monday – Friday!
Watch A Holographic Background with Spray Inks on YouTube.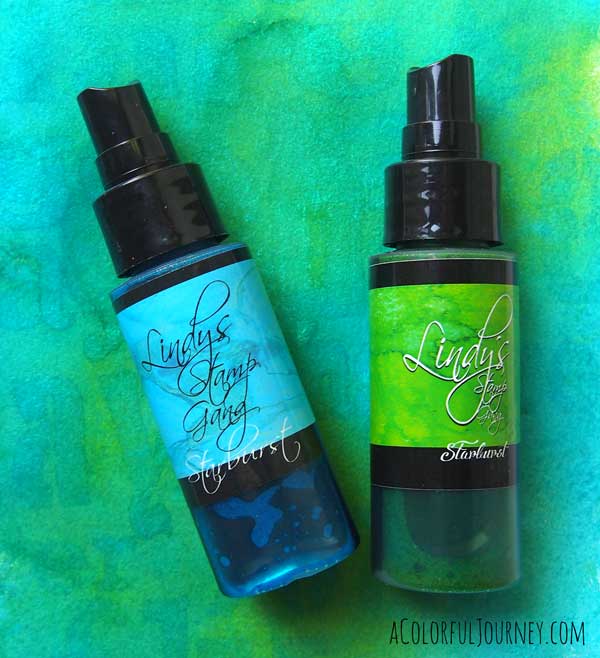 I have my go-to spray inks for different looks because of the way the inks behave.  Today, it's my favorite shimmer spray, Starbursts from Lindy's Stamp Gang.
Let's get to the play!  In the video I show you what I love about Lindy's Stamp Gang Starburst sprays and the "holographic" look I love to get with their spray ink as I create a background in my art journal!
Want to win some of Lindy's Stamp Gang spray inks?  They've generously given a $25 gift certificate that I will be giving to one commenter on this blog post chosen by Random.org!  Want more chances?  Share this on Facebook, Twitter, Pinterest, etc. and come back and tell me where you shared it for more chances to win!  Be entered by the end of the day on Oct. 2nd to win. I'll announce the winner on my blog on Oct. 3rd.
Supplies Used: