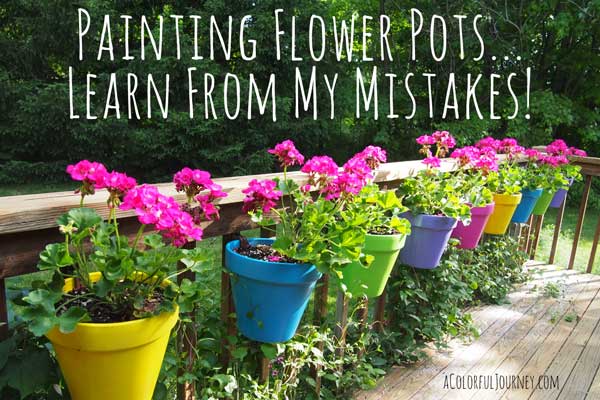 I wanted color, lots of color, all summer long.  The plants are pretty but there are times when they aren't in full bloom and I wanted color all the time.  So I used an afternoon painting flower pots.  Oops…

What you are seeing is the 2nd try with the paint….the first time I used exterior house paint in a sunshine yellow.  It was fine until I noticed my pots had bubbles on them.  Turns out I needed to seal the clay pot before I added the plants.  Clay pots absorb water.  I knew that but just didn't think about it until I saw the bubbles.
Oops.  This was just an Outstanding Opportunity the Presented Suddenly.

The following spring,  I scraped off the bubbles and any loose paint.  The pots were completely dry when I started with my 2nd try at painting.  Instead of buying more house paint, I decided to use the Liquitex Spray Paints I had on hand.  The can said they were lightfast so they wouldn't fade.  What did I have to lose?
I sprayed the oustides and the top of the insides of each flower pot with color.  Instead of having all the pots one color, I was able to quickly create a rainbow!  This was even better than my first try with just one color.  I am so glad I made that Oops or I never would have ended up with this rainbow outside my window.
I knew I had to seal them this time.  I learn from every Oops.  I used Rust-Oleum's Ultra Cover clear gloss from the hardware store to coat the insides and outsides to be sure the bubbles would not return.  This also added more UV protection so that being in the bright sun doesn't dull the colors.  It is asking a lot of a paint to stay vibrant after being in the sun all summer (and I have to say these are looking just as good today as the the day they were finished!)
One very serious word of caution about these spray paints.  They are vibrant.  They cover well.  They are addictive.   I am eyeing everything now as a potential spray paint target.  That mailbox is just so plain…and yes, I'll share what I make here!
Supplies Used
clay pots from the garden store
Rust-Oleum Gloss Clear
The Pot Latch – Pack of Three – Hang Your Planters Anywhere! (the hooks I use to hang the pots)
Sharing with my friends at  Inspire Me Monday and  Creative Every Day