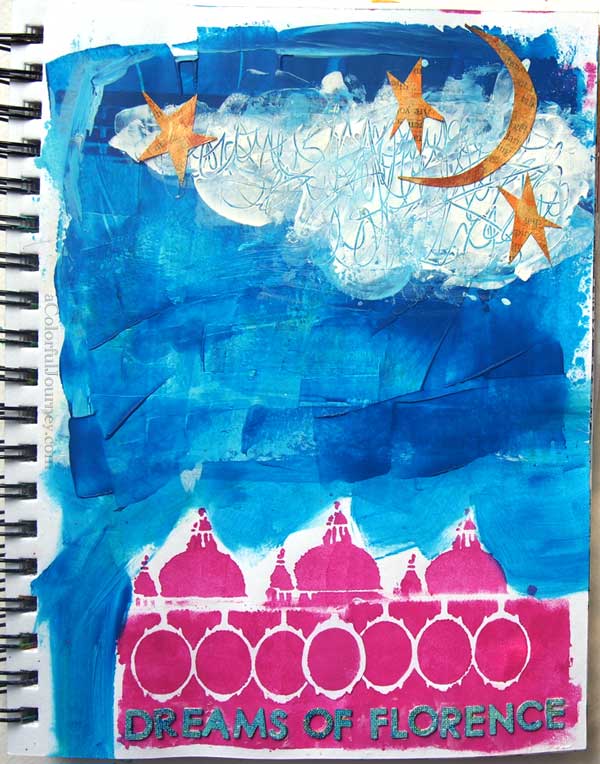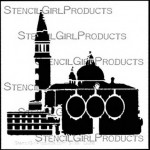 What do you do when you get a new stencil? I explore it.  Try it this way and that to get to know the stencil.
This art journal page came from some of my new stencil explorations.
The last step for an artist creating a stencil is trying out the sample, called a blue (because it is cut in blue mylar).  When I got my Venetian stencil in my mailbox many moons ago, I grabbed some paint to see how it stenciled on various art journal pages.  The laser cutting that StencilGirl does is always awesome so what I am looking for were any areas that the design needed tweaking.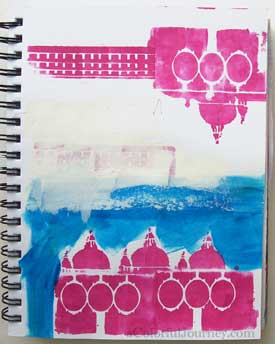 This means putting the stencil through its paces.  Rather than get another page, I just flipped the page over and now had some upside down and some right side up.
The goal here was for me to really get to know the stencil and decide if it was ready to join the StencilGirl family.
This stencil passed all my tests (which you probably guessed since it has been out a while…).
And here is where the page patiently waited for me, until today, to finish it.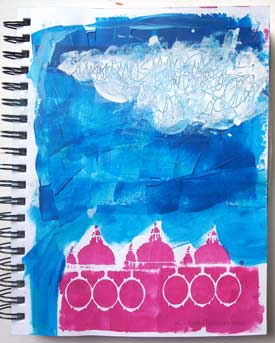 These clouds? They cover up the other building….so maybe this page won't be obviously upside down….but it is if you flip through my journal since every other page goes the other direction. Doesn't bother me a bit.  After all, it is an art journal where I play.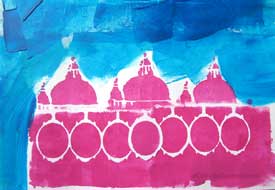 Since this is just paper,  I can be an instant architect and add a window – that gap between the ovals nagged at me.
Just stenciled on an index card, cut it out, and gel mediumed it down.  Renovation complete.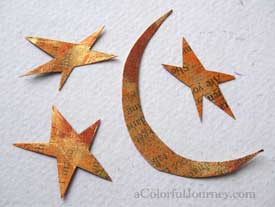 The moon and stars are book text sprayed & painted.  After they were the exact shapes I wanted, I realized they were upside down.  It seems that is the theme of this page…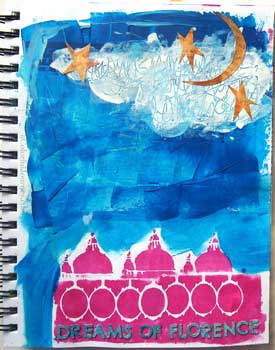 Every time I looked at this page in my studio, all I could think about was Florence, Italy.
So I used up some scrapbooking letters from my stash for a title.
This is one city I would love to go back to, spending weeks there just absorbing the art and architecture.  I may not have a plane ticket to there yet, but my muse can take me there any time she wants!
Sharing with my friends at  Paint Party Friday, Creative Every Day, and Art Journal Every Day.