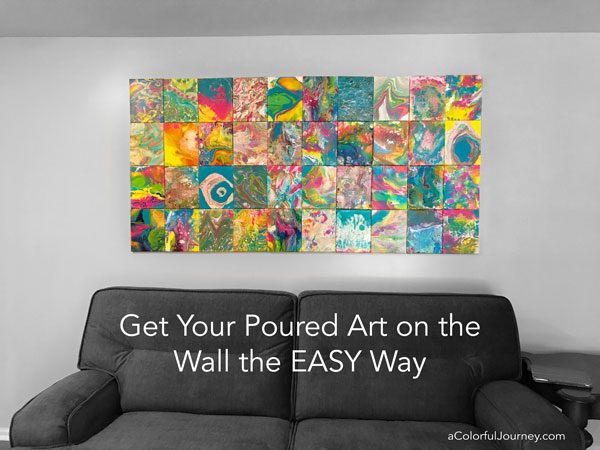 Ever want a big  statement piece of your art on your wall but a voice in your head says it's too expensive or the pressure to decide what to make is overwhelming?  That's how I was feeling when I looked at the open space above my sofa until I found an easy answer.
A single canvas 80 inches by 40 inches was anywhere from $200 to $500. Not only is that expensive to me, it was a huge amount of pressure to not mess it up.  But if I used a bunch of 8 x 10 sized canvases, I could cover that space for a fraction of the cost of one big canvas.
Using the smaller canvases also solved 2 other problems. First, what to do with all those poured canvases that were a blast to make. I used 40 of them to make this big statement piece of wall art.
How do you make poured paintings to hang on your wall?  I've broken down the entire process step-by-step in Paint Pouring FUNdamentals so that you fully  understand what's really important to know to get the looks you want.
Several of the canvases were flip pours, and guess what, the order that you add the paint to the cup isn't the most important thing. There are 2 other factors that are more important. You bet that's all in Paint Pouring FUNdamentals for you.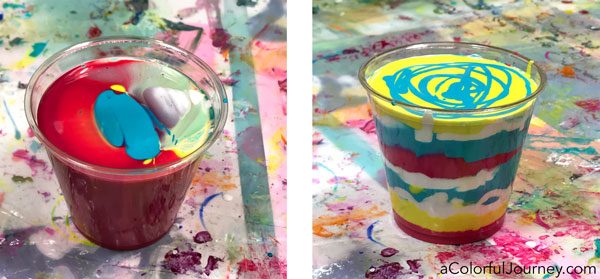 The next problem it solved is the pressure. Using smaller canvases that were already poured meant I just had to arrange them around.  That's a lot less pressure than trying to decide what to make on a big one.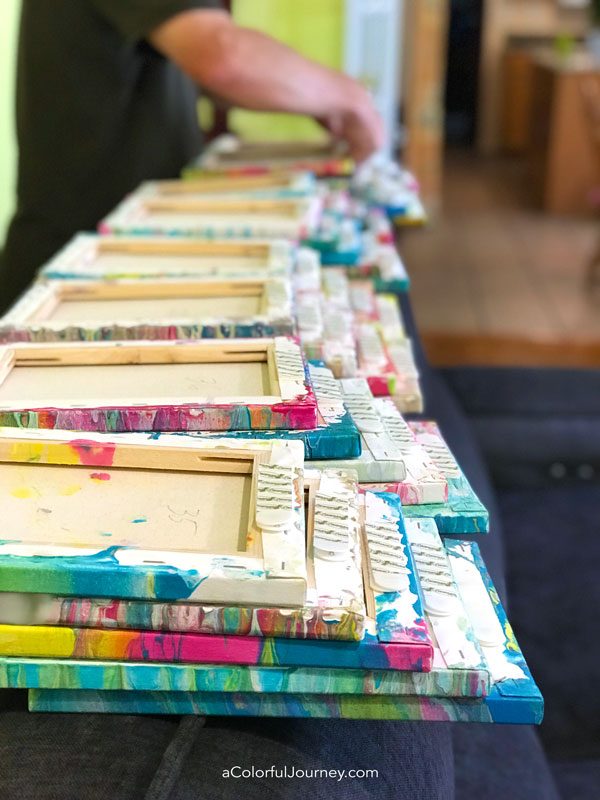 Once I knew what order they would go in, then it was time to attach the Command Adhesive picture hanging strips. Using these means no holes in the wall.
Since these are like using velcro, I can change my mind at any time and simply switch out a canvas or trade places.  No commitment means no pressure!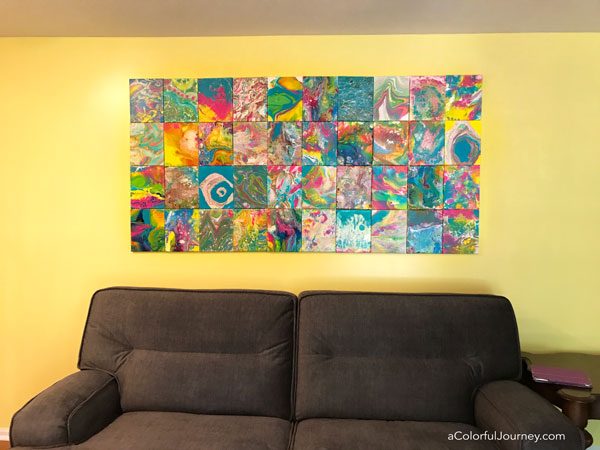 Can you use fewer canvases? Absolutely! You can use as many or as few of them as you want.  That's part of what makes this so customizable!  I am already thinking about adding another row on each end!