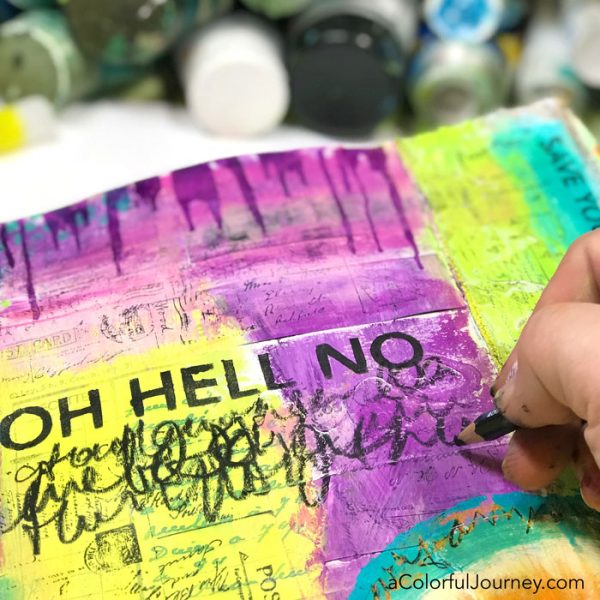 This was one of those days where I could feel perfectionism and critical thoughts getting louder and louder in my head.  Days like this used to squash my creativity and chase the muse away.
But they don't any more, in part because I call upon my inner teenager to handle it. I wish I could say that I will never hear that long gone relative or perfectionist in my head ever again.
That just isn't going to happen but what I can tell you is that I catch that voice quickly and know how to quiet it back down so that it doesn't get in my way.  As a bonus, it is incredibly fun to let that inner teenager out to mouth off back to those voices in my head.
Watch Putting My Perfectionism in its Place on YouTube.
***If you'd like to win these stencils (actually 10 of them) check out the giveaway***
I started a page I made forever ago that I didn't like much.  Why didn't I like it? It was all brown.  Naturally, the long gone relative was attempting to point out all of my mistakes.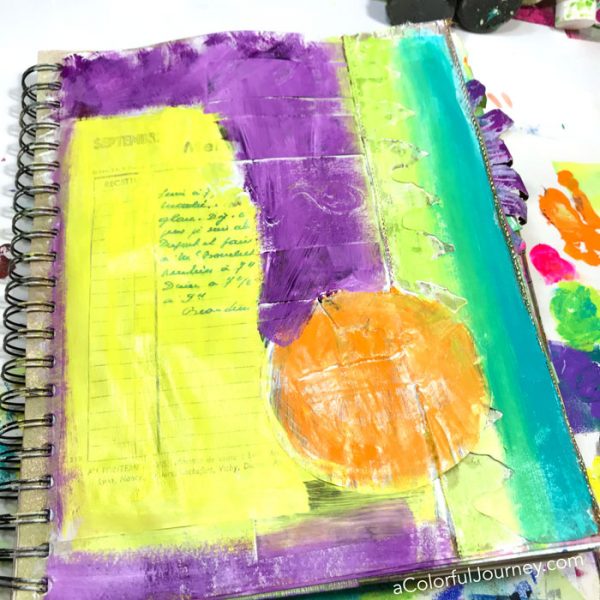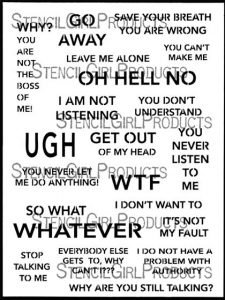 When those voices are flaring up in my head, my go to way to deal is my inner teenager.  The words on this stencil are from my youth, and even though I would get into big trouble saying them to adults, I managed to kept saying them.
This stencil can be used as one big stencil or cut apart.  I cut the phrases apart and you'll see why that was so handy in the next photo.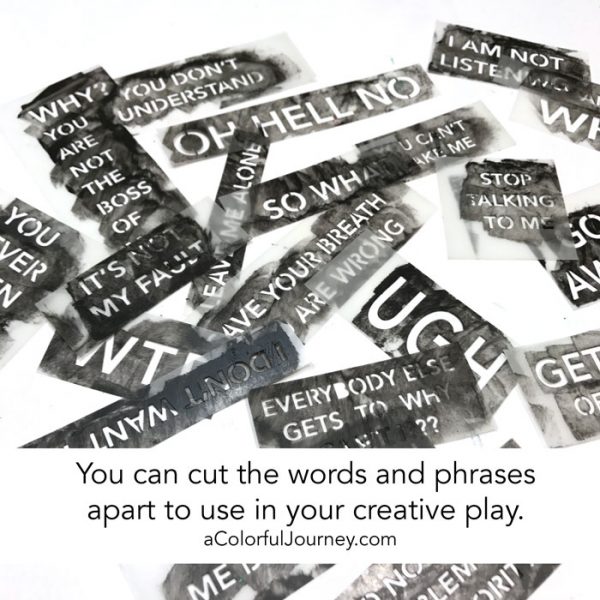 Having the phrases cut apart made it easy to rearrange them and lay them out on the page and get just the right amount of teenage attitude in there.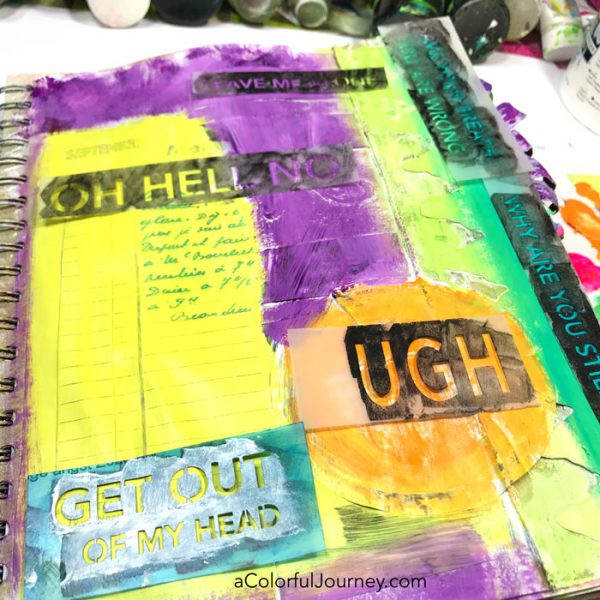 As I stenciled the words, I was saying them in my head (and maybe even one or two out loud).  Not in my nice adult voice, but my indignant teenage voice dripping with attitude.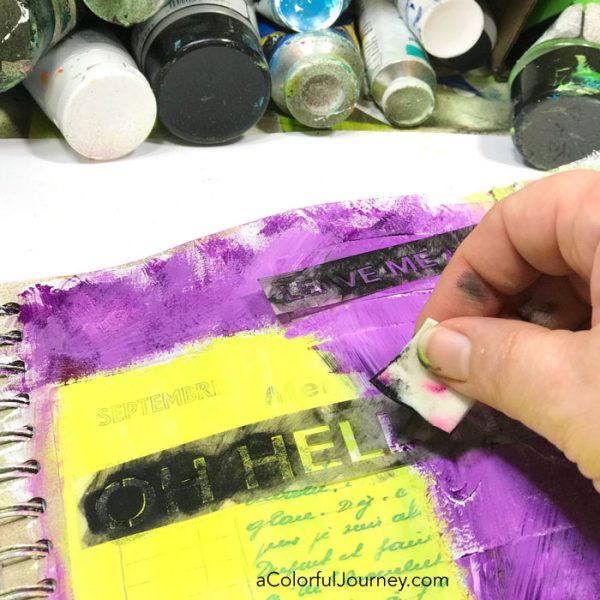 After doing the drips on the page, the arch of the rainbow from my Little Painted Rainbows called to me to around the UGH.  Rainbows symbolize surviving the storm and by this point in the play the storm of the voices had quieted down.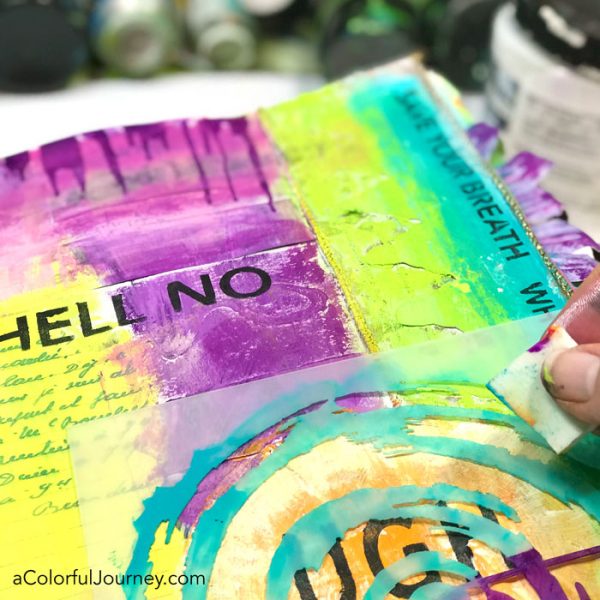 Attitude of gratitude or gratitude for my attitude, either way, I was grateful that the thoughts in my head had shifted and I was playing.  Using the Stabilo pencil, that was what I scribble journaled about.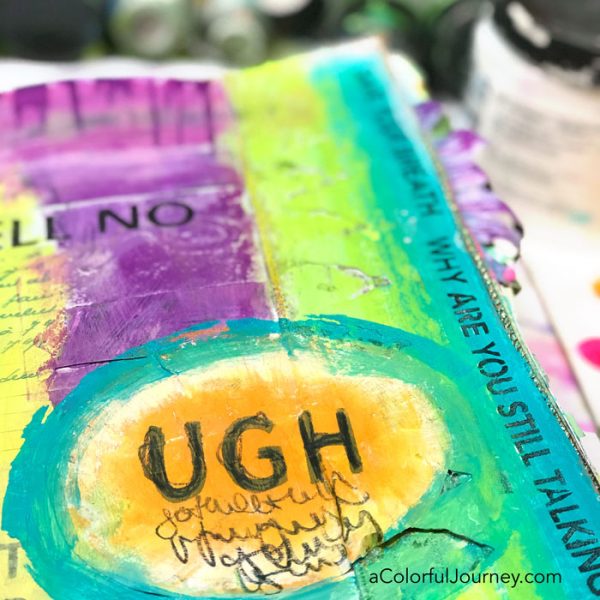 The last layer was a bit rubber stamping with a Darkroom Door stamp and this art journal page has done its job.  It brought my muse back and quieted those critical thoughts in my head.
Should you ever have the kinds of thoughts that chase the muse away, I recommend calling upon your inner teenager and see what happens.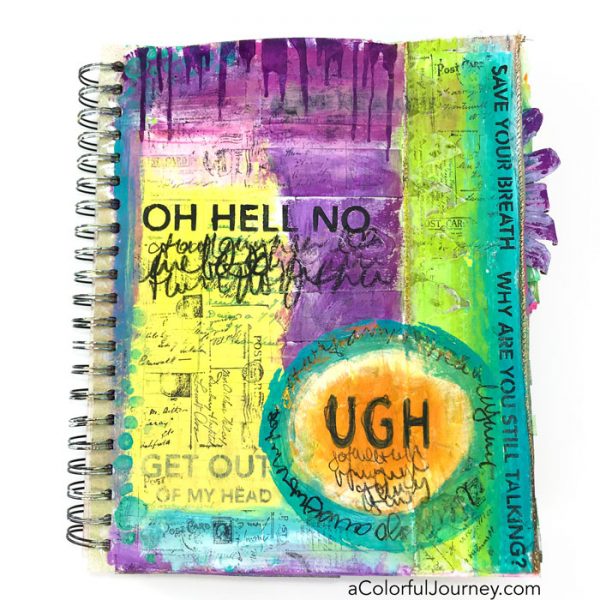 Here are the supplies I used. Some of these links are affiliate links which means I get a small percentage. It doesn't cost you anything extra and it helps keep the free tutorials coming!