Can creating complex layers on a gel plate be simple? Absolutely! Layering comes down to just 2 factors. Once you understand how to use these 2 factors on a gel plate, you can consistently create the kinds of prints you want. And more importantly, have even more fun printing!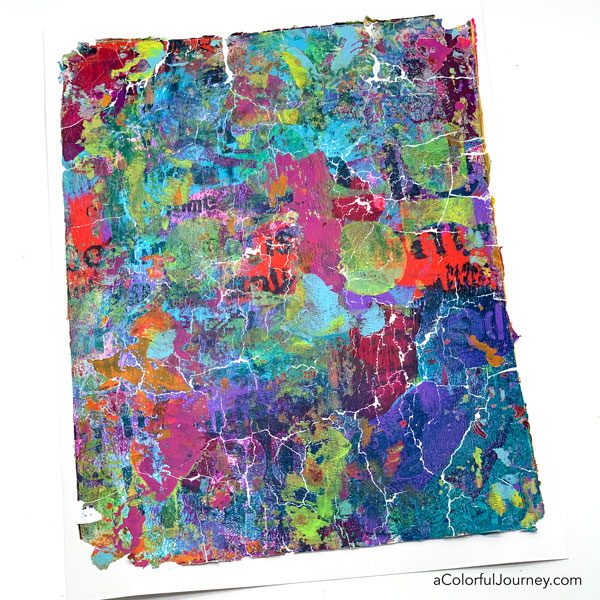 "You have saved us so much time, so now we can just play and play and have a bit of say over the final print!! Thank you!!"-Marrianne Pagnani.
In Mastering the Layers you'll:
Discover how to add layers and not mess up the bright, vibrant colors
Find out simple ways to achieve interest or depth in your prints
Be confident in your layering choices as you fully understand the 2 key factors that impact layering
And so much more!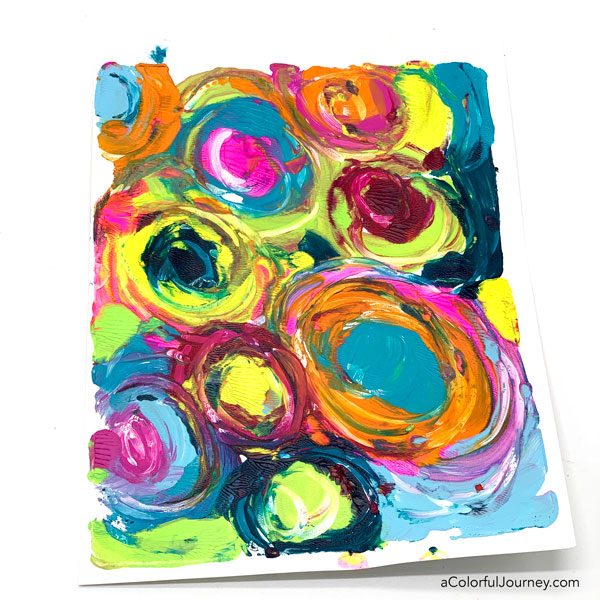 Want to feel confident with your color choices?
"I'm thrilled to get past all mud!" -Sue Johnson
Color plays a huge role in gel printing and it's covered in depth inside Mastering the Layers. This is practical color, explained in a way that can be easily applied when you're printing.
"Years ago I took a color course at the college and still came away confused about the colors and how to use them with each other. Thank you for simplifying this for me."-Deborah Reis
You can know color theory and still manage to fall into ugly color situations when gel printing. That's because color on the gel plate has a bit of a twist to it that can significantly impact your colors.
Once you know how to apply that twist then you can:
vary your color combinations so your prints don't all look the same at the end of a printing session
know just the right amount of paint you need to use
get colors to integrate and blend without a blocky look
"NOW I understand why so many of my prints are dark and gloomy! Thanks, Carolyn!" -Deanna Robbins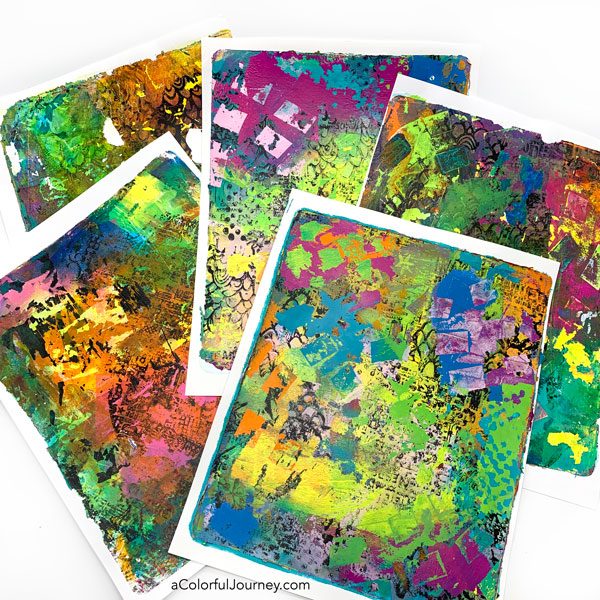 "This class brought me to art again. And I am so happy!" -Andrea Miller
Layered prints look thought out, yet so random at the same time. Is it serendipitous or is it planned?
There's always an element of serendipity to gel printing, but knowing how to layer means you can steer the serendipity in the direction you want to go.
"You make it very easy to understand what to do when…Thank you!" -Lisa Mendez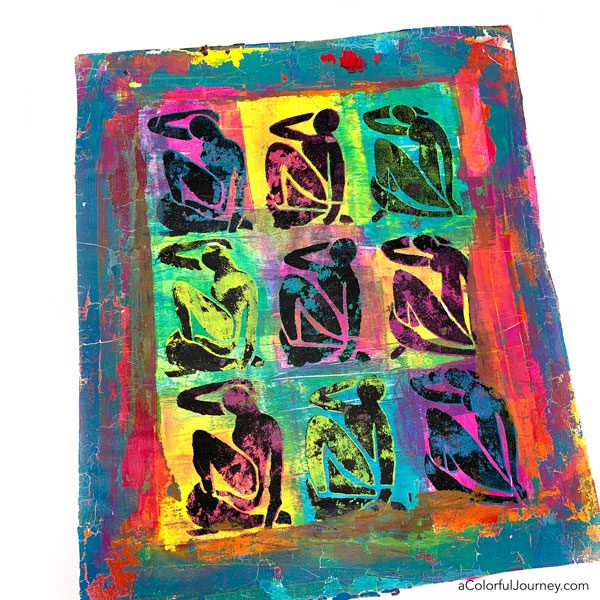 What about making a series of prints with more control?
When you possess an understanding of the layering process, you can create a repeatable series of prints.
This was really fun. Such an easy technique but such fantastic results. Love it!!! -Maggie Hanus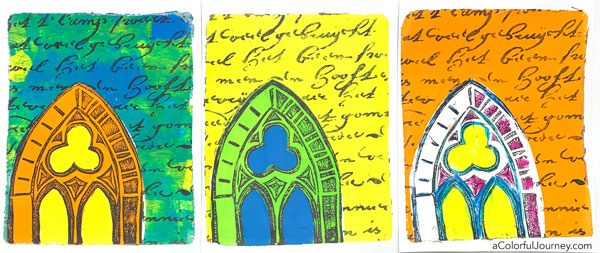 What about the ugly prints?
Ugly prints happen to us all, including me. But when you understand the layers, you can rescue it! Often the ugliest prints become my favorite by just adding a few more layers. I'm sharing how I do that in your first bonus:
What To Do with an Ugly Print. In this video, you'll be looking over my shoulder to see specific ways ugly prints can be rescued. It's not random how they're transformed into prints you love, it's a matter of understanding how to layer.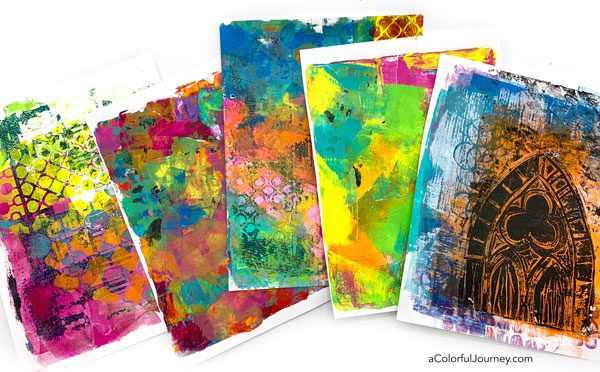 Bonus Videos 2 & 3
2nd Bonus: The Painterly Brayer that gives you the one simple thing to do to create loose brush stroke looking prints using a brayer.
3rd Bonus: The Crackle Effect where you see how to create the cracked and aged look on command.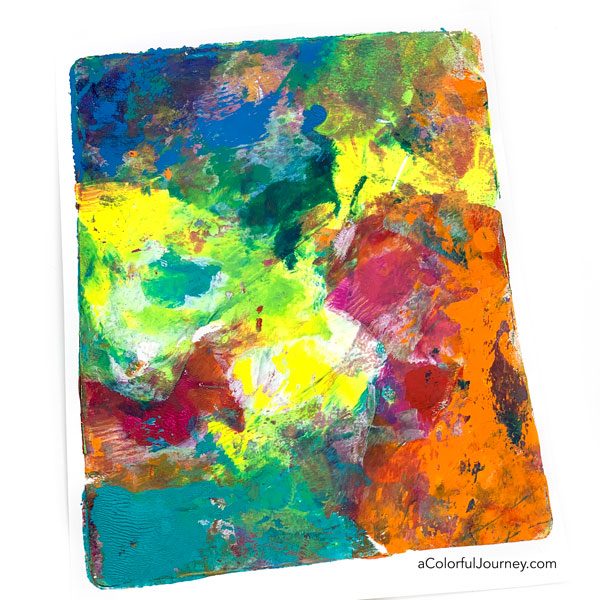 "This is the best online class I've ever enrolled in." -Amy Schneider
"Wow! I have learned so much in just a few lessons! As a former art teacher I appreciate that you are so prepared for your classes and there is no wasted time." -Sandra Pineault
What's included in Mastering the Layers:
15 lessons all with downloadable videos
3 bonus videos
over 4+ hours of carefully edited instruction! Each lesson thoughtfully chosen to build your understanding one step at a time so you can easily apply it while printing.
All videos are closed captioned
Lifetime access
14 day no hassle money back guarantee
Lessons in this workshop:
Is it a Window or a Door?
Building Grungy Layers
Wet & Wild
How to Use Color to Your Advantage
Playing Peek-A-Boo with Colors
Painterly Prints
Best Friends and the Brayer
A Sticky Situation
The First Pancake and a Gel Plate
The Ins & Outs of Brayer Blending
Invisible Gel Printing
Fused Layers
Intentional Compositions
Dragon Scales
Deconstructed Layers
Bonus Videos Included when you register:
Creating the Crackle Effect
What To Do With an Ugly Print
The Painterly Brayer Trick
$149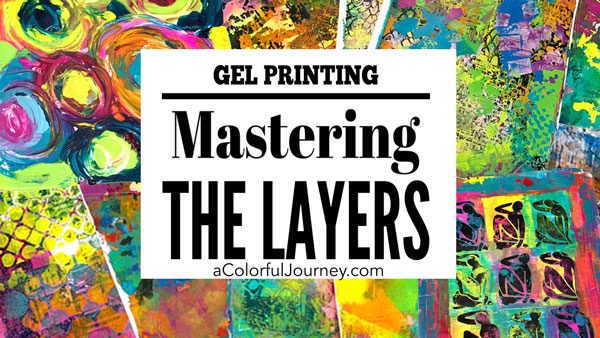 FAQ
This three week workshop begins the moment you register. Immediately upon registering, you'll get the entire first week (5 videos) and then for each of the two following weeks, you'll get 5 new lessons. That's a total of 15 videos with lifetime access. Actually, 18 because there are three bonus videos! On top of that, there are getting started videos for you if you're new to gel printing.
This is a three week workshop that begins the moment you register. Each week, you get 5 new lessons with lifetime access.
The lessons are about 15 minutes long, some a little longer, some a little shorter. They are all edited so that you can get the key information and get to playing.
Absolutely- everything you need to know is in this workshop. This is a great way to get started because this workshop includes techniques, but more importantly it breaks down the process so you can fully understand the hows and whys of gel printing.
Yes! Because this workshop is about more than just techniques, it's about understanding why the layers do what they do. As you know, once you understand how a tool works, then the sky's the limit.
Once you register, you'll log into the classroom to access the lessons and videos. You can do this on a computer, a tablet, or mobile device.

This is a three week online workshop that begins the moment you register. Each week, you get 5 new lessons, each with a video.

All the videos are downloadable and have closed captions. You have lifetime access once you're a member, so you can stream them online or watch them offline- whichever fits your schedule best.

I am here to help you throughout the workshop, so if you have any questions about the lessons or videos, simply ask them on the lesson page and I'll get you an answer.

Have a question right now about the workshop? You can email me at https://acolorfuljourney.com/contact/
The basic supplies you'll need are a gel plate, any size, a soft rubber brayer, paper, acrylic paints, and texture/pattern making tools such as stencils and found objects like bubble wrap.
The important thing about your gel plate is that it has squish. Not a technical term, but when you push on it is should have some bounce to it and why I love using Gel Press plates. As for size, that is personal preference. If you like to work big, get a bigger plate, if you like to work small, get a smaller plate. If you're not sure, then go for the middle with an 8 x 10 size.
You need acrylic paint, it can be any brand, any color. Acrylic paints are the ones that clean up with water.
You have as long as you need. You have lifetime access to the workshop.
Yes, every video has captions.
Yes, you can watch any of the videos on any device. The videos are hosted at Vimeo and they have a mobile app so you can even download them onto your mobile device.
There is no longer a Facebook group for this workshop. Now we can share photos directly inside the classroom.
Absolutely. It's important to me that you have the workshop that is right for you. That's why I offer a 14 day no hassle money back guarantee. How does it work? Just email me within 14 days from when you join and let me know in a one line email that the workshop isn't right for you. I'll get you a prompt and full refund.
What's included in Mastering the Layers:
15 lessons all with downloadable videos
3 bonus videos
over 4+ hours of carefully edited instruction! Each lesson thoughtfully chosen to build your understanding one step at a time so you can easily apply it while printing.
All videos are closed captioned
Lifetime access
14 day no hassle money back guarantee
$149