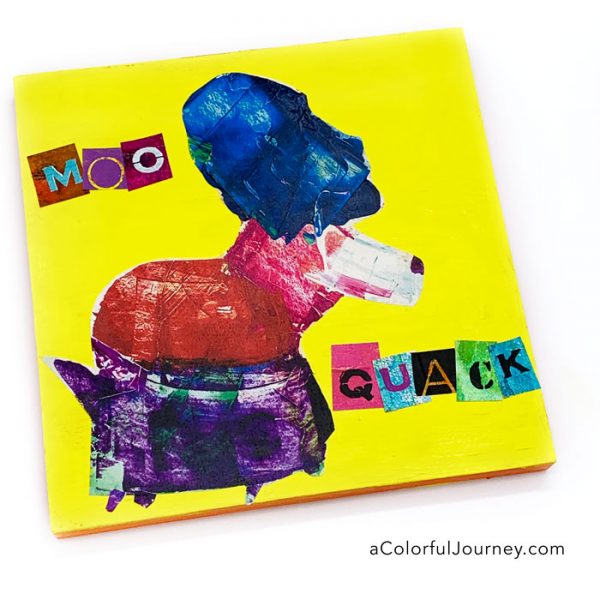 It's a silly day of play using a Spark of Art-Spiration. It all starts with finding this very unusual creature in the free download. Of course there's an O.O.P.S. or two, but the underwear malfunction was a first. It was with the creature, not me but still, the poor dear might have been a bit flustered by it all!
Get this exact Spark of Art-spiration sent to your inbox here. This will also get you signed up for the newsletter so each week you'll get a new Spark for you to download and use in your play.
The play started with an O.O.P.S., an Outstanding Opportunity Presenting Suddenly. I was sure I wanted orange paint as the base color. Nope, but as long as the paint was already out, I might as well use it up.
Then when I painted the sides, I realized I couldn't pick it up to keep it from sticking to the paper. But there was a great opportunity in that to show you how to make sure that it won't stick by raising it up. Use whatever is on hand just like I did in the video.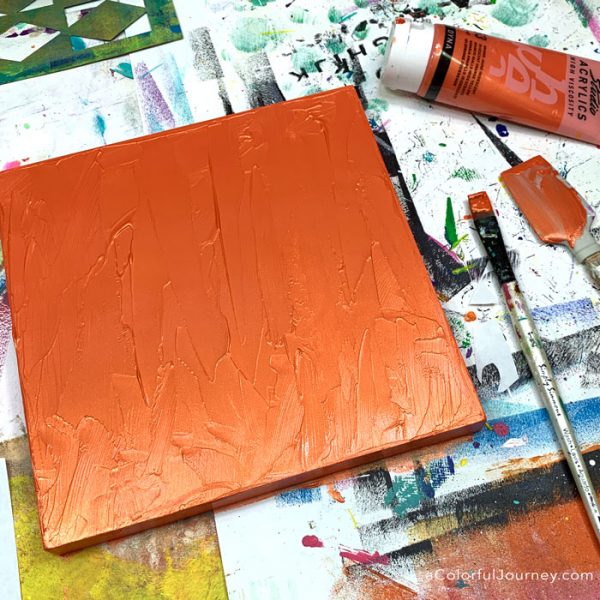 The orange was an OOPS and the opportunity there was to now have the top and sides be 2 different colors.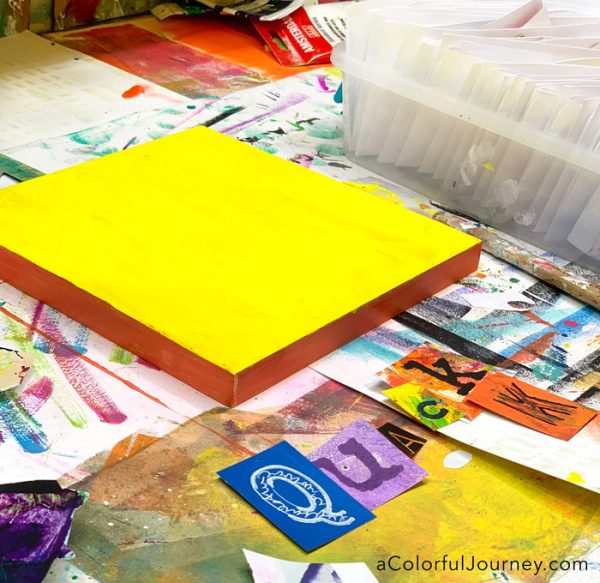 Having a stash of premade letters makes it easy to put together a word for a title.  How did I quickly make all those letters?  I've got a video showing how I use alphabet stencils from StencilGirl with gel prints to create them. This is a great way to use gel prints by the way!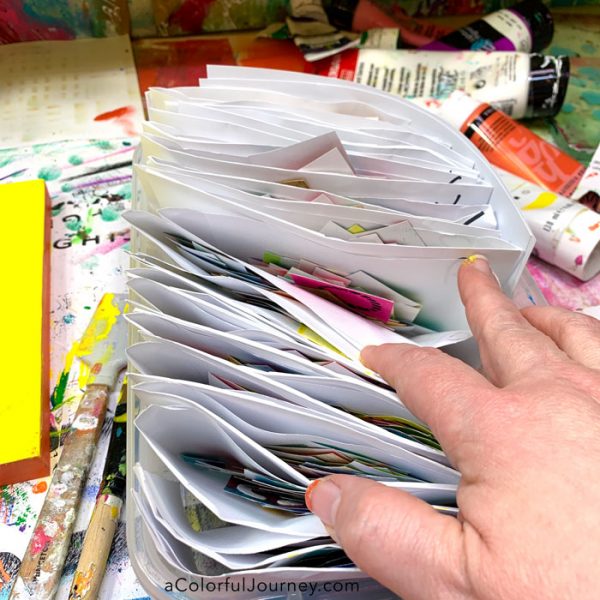 There was a bit of an underwear malfunction for this creature. It's all covered up in this photo thanks to using a scrap of the Spark!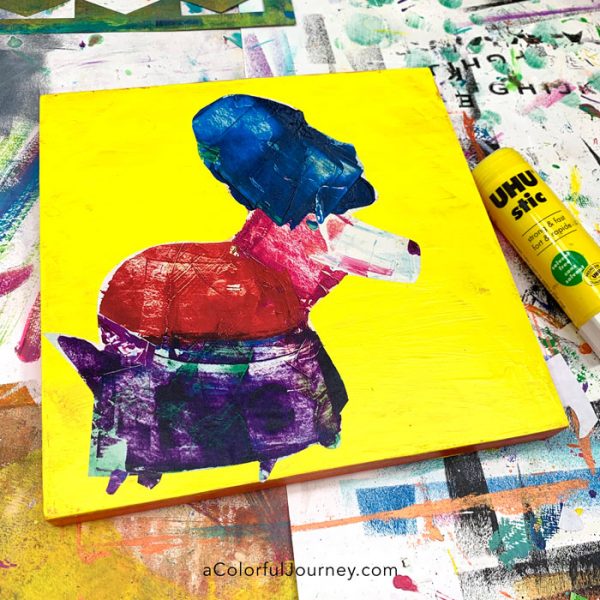 I never get the glue all the way to edges, but I did this time.  O.O.P.S. again. So instead of tucking the extra feet under the purple body, I had to improvise.  Yup, that was some serious thinking on my feet happening there 🙂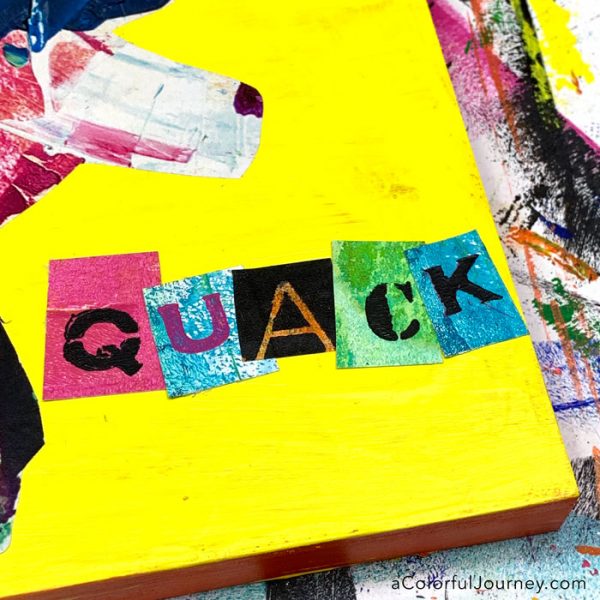 The words you choose to incorporate into your art are significant. They impact the meaning of your piece. So what word belonged with quack? Moo of course!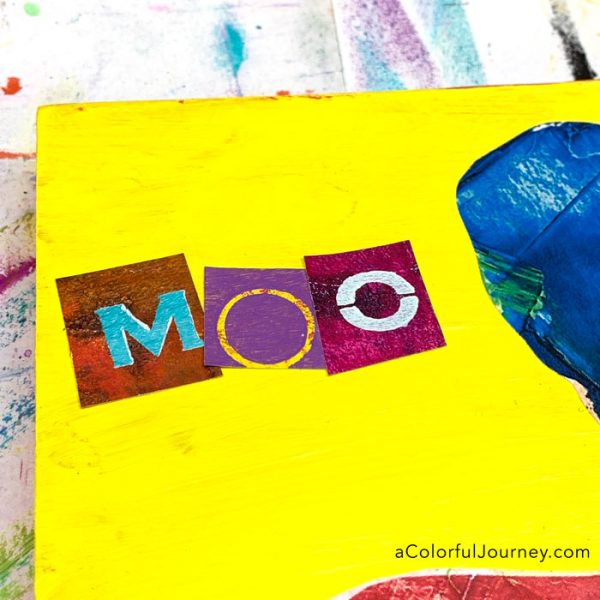 Why Moo? What deep philosophical reason did I have for that word? The book, Click Clack Moo, Cows that Type – a favorite with my kids, was going through my head.  Quack and Clack were close so of course, Moo had to go with it.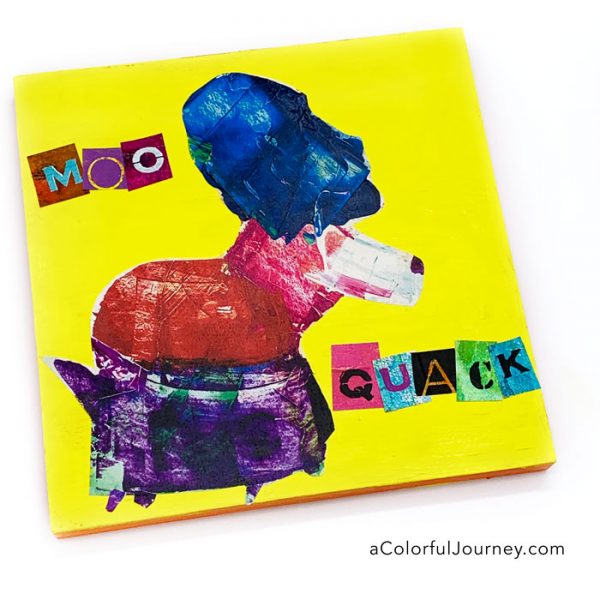 One the many reasons I love sharing a weekly Spark of Art-spiration is that we can all see different things in it. I saw this crazy thing in the Spark of Art-spiration, what do you see in it?