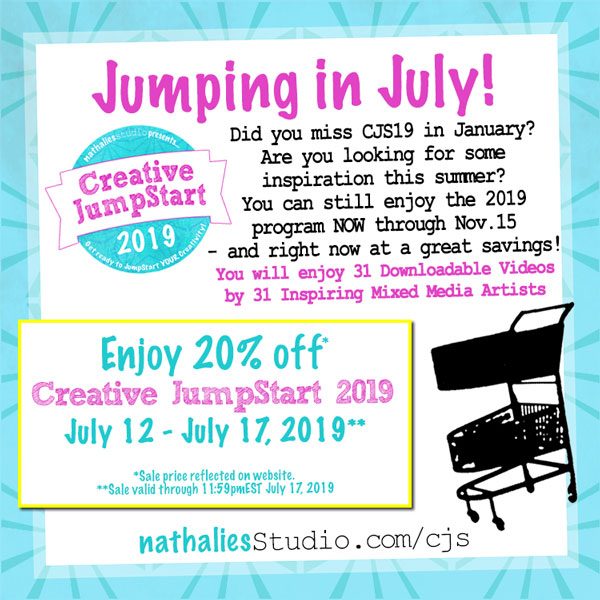 Creative JumpStart is like going to a creative buffet of 31 different styles and approaches.  So if you're looking for inspiration to start your play- this workshop is loaded with it!
One of the many things I adore about Creative JumpStart is that each video is only 10 minutes long so that means it can fit into even busy schedules.
It's all downloadable and you have full access right away to all 31 videos- each from a different artist. Artists such as Mary Beth Shaw , Mystele Kirkeeng, Julie Fei-Fan Balzer, Rae Missigman, Rachel Greig, Gwen Lafleur, Tina Walker , Dina Wakley and many more including Nathalie Kalbach, the founder of Creative JumpStart!
In my video for Creative JumpStart, I'm sharing how to customize the average popsicle stick to use it for making something very textural in paint.
Creative JumpStart was released in January and if you missed it, you can now join the fun for 20% off- that's about $1.50 a video and it's all downloadable!
But the sale ends on July 17th, so if you're looking for inspiration to start your play, join me and be a part of Creative JumpStart!