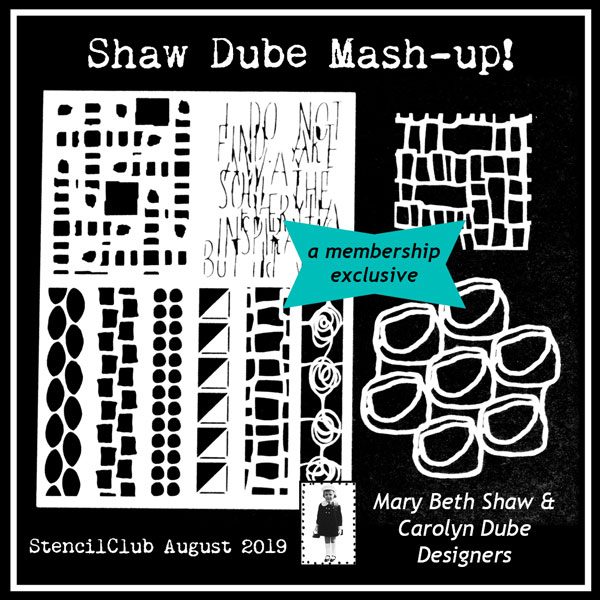 Excited to share a Mash up collaboration with the ever fun Mary Beth Shaw with you for this month's StencilClub release! It's a mash up and what that means is we picked our faves from each other's stencils and then riffed on them isolating part of the design and shifting the size up or down.
In the video, you'll see how to use them with a gel plate for speedy stenciling and you'll see how I handle an OOPS or two!
What's StencilClub? It's exclusive stencils that aren't sold anywhere else, delivered to your door each month. It includes a 9x 12, a 6×6, and a 4×4 stencil plus there's a members only video and downloadable PDF each month from the artist(s) who created that month's stencils.
That means this month, you'll get to see both our takes on playing with stencils- we're sharing transparent parts and gelli sandwiches with club members. StencilClub is only $25 a month (yup, that includes shipping in the US)! You can find all the club details here.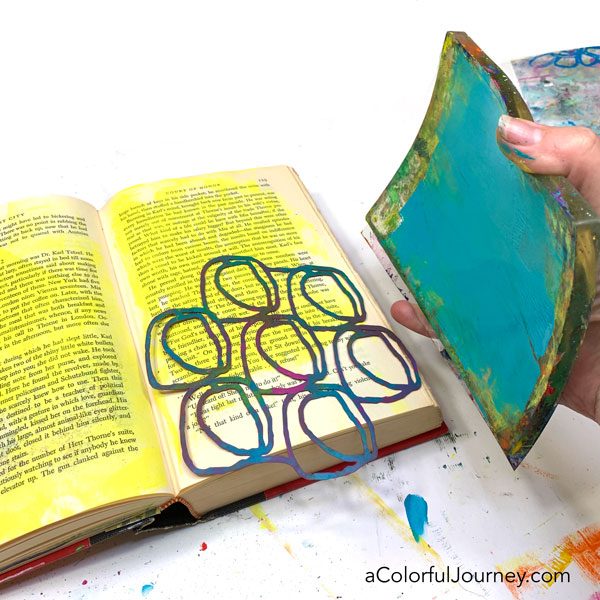 The fastest way to stencil is with a gel plate. The first way I shared in the video gives you loose, mixed media type of stenciling.
But what about if you want crisp details? The fine lines of the squiggly circles were captured by putting the stencil on the plate first and then adding paint.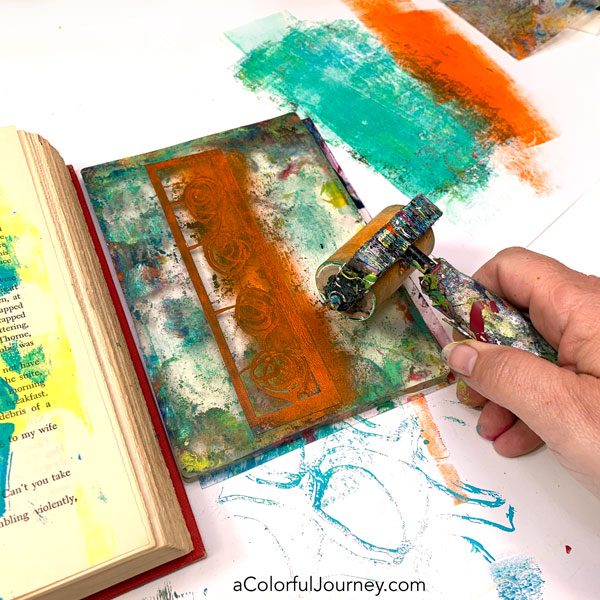 One of the reasons I love this mash up is the choices. After having 2 loose circle patterns, I love that there were contrasting patterns to pick from!
One of the challenges of using an altered book for a journal is that there is the middle issue. It can be tough to stencil there but if you hold the book as flat you can as you're stenciling then the pattern will go across it.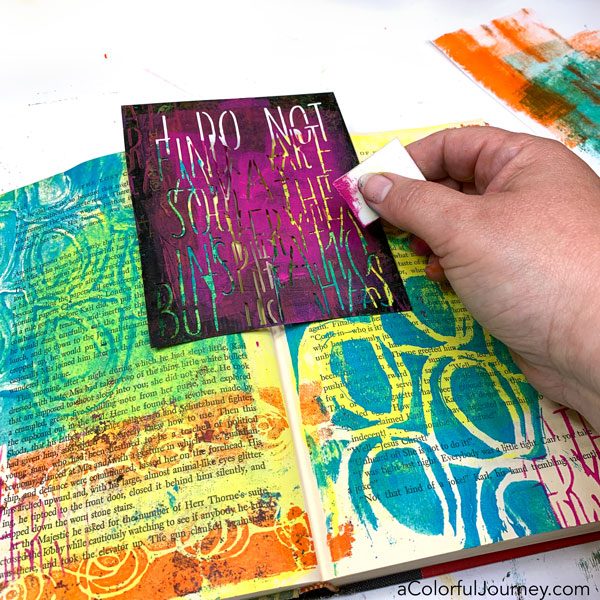 To fill in the areas of the center that didn't have color on them, I used an Art Crayon by Marabu.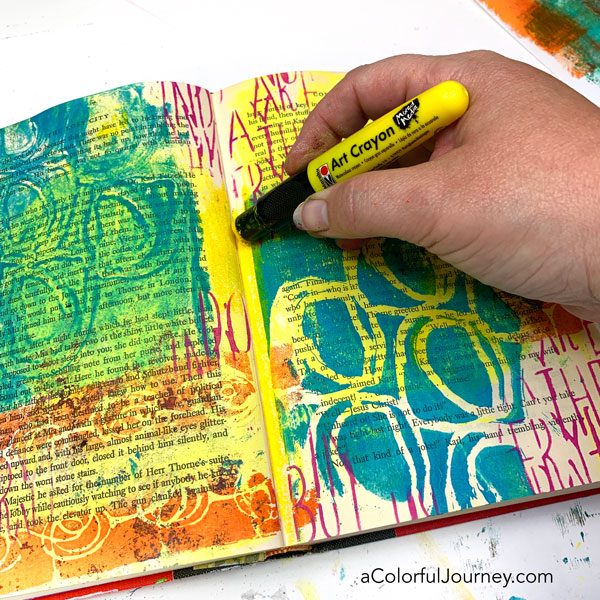 OOPS! As soon as that white paint hit the page, I knew it was an O.O.P.S., an Outstanding Opportunity Presenting Suddenly. Never would have had that pastel touch of orange here if it wasn't for that white paint OOPS.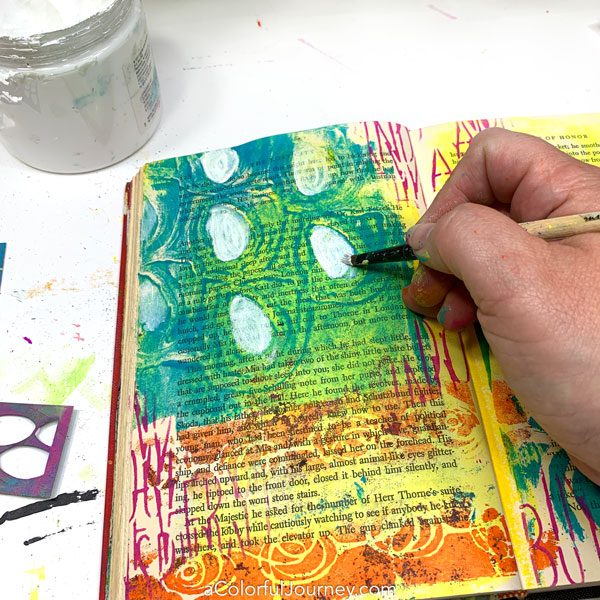 When adding writing on top of paint, a patient person would wait for the paint to completely and totally dry. I'm not that patient so I use a fountain pen to scribble journal.
Fountain pens have very few parts, unlike a ballpoint pen. The tip can be wiped off if paint builds up on it, unlike felt tip pens, which struggle even on dry paint.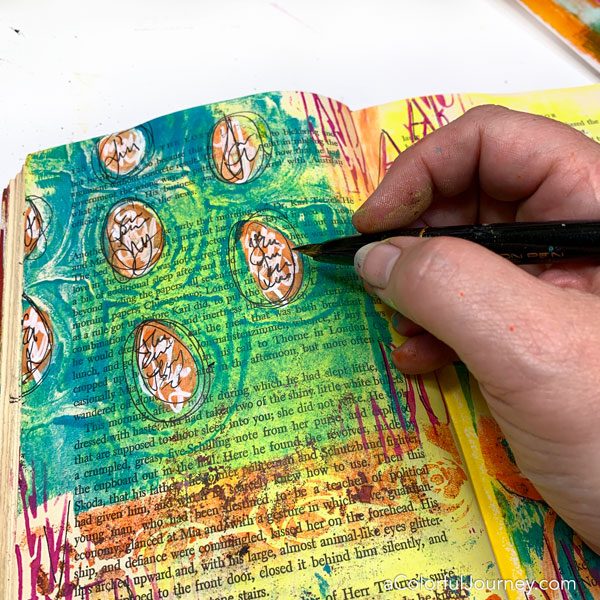 Gel printing directly into an art journal is one way to use these stencils, keep scrolling to see more gel printing with these!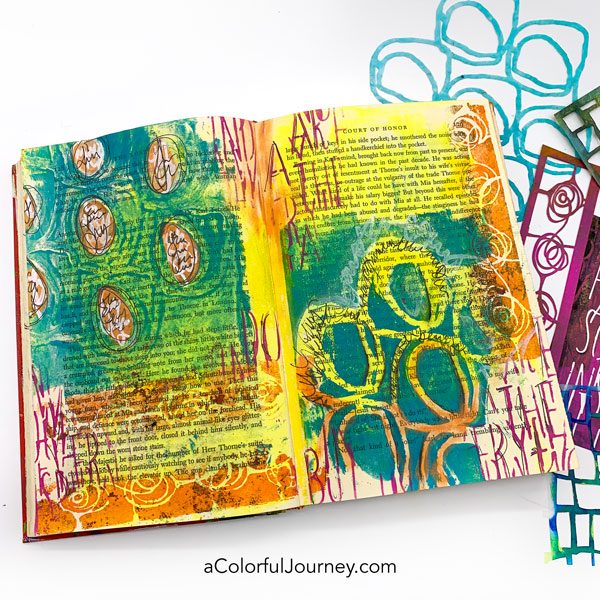 Below are prints I made just horsing around with a gel plate and all the mash up stencils.
When you're not gel printing directly in your art journal,what can you do with the prints? Backgrounds for art journal pages, collage, anything mixed media, and when you need a really quick card, these are so handy!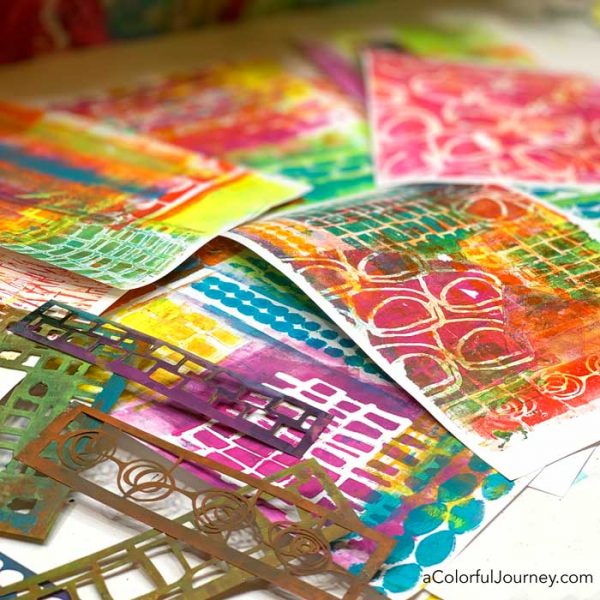 Thanks Mary Beth for being so much fun to collaborate with! This month's StencilClub stencils ship out to you on August 15th, so get signed up before that!
Here are the supplies used. Some of these links are affiliate links which means I get a small percentage. It doesn't cost you anything extra and it helps keep the free tutorials coming!
You can find the StencilClub stencils here.