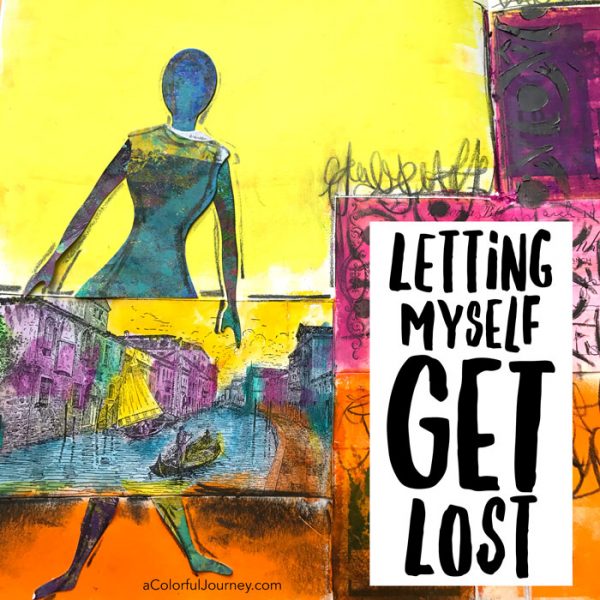 Knowing where you are going can be overrated.  Granted, if you are an airplane pilot, it is critical you know where you are going.   But I'm not flying a plane, I am playing in an art journal wandering around without any clear plan.
It all began by gluing down some pieces and parts.  One is stamped, one is a sticker, one is a vintage check, one is a Spark, and one is a clip art of a perfume bottle label.  Without a theme or a plan, it means I go here and there trusting that in the end, it will be where it is meant to be.  I let myself get lost.
Getting lost can really freak out the left side of my brain and that makes it all the more fun to me.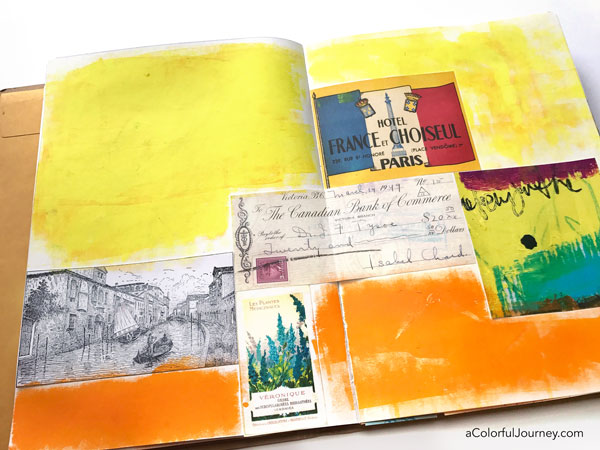 When I use a die, like this doll by Donna Salazar, I tend to cut more than one at a time.  After all, getting the supplies out it is the hard part, so I might as well cut a bunch so they are on hand when I play.
Also, a stack of papers made during a gel printing session with Gel Press plates are a quick way to make a colorful stack of die cuts.  New to gel printing?  Have a getting started video here.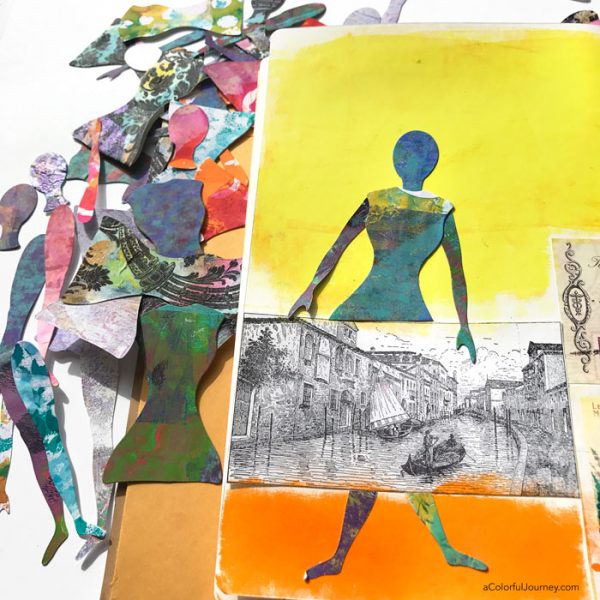 The stamped Venice scene called for some color.  I could have spent hours meticulously coloring in each little area of the very detailed stamp but I'm more of an immediate gratification kind of a person so I grabbed the Gelatos.  Loose scribbles and then a water brush to spread the color around.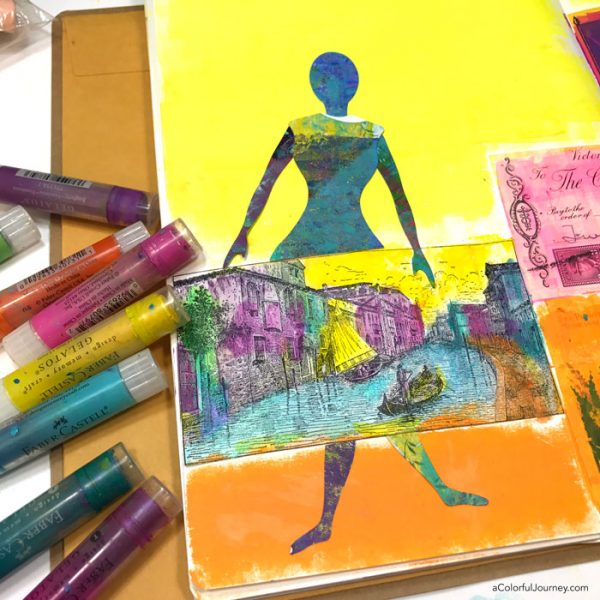 Suddenly, I noticed travel and adventure has been a part of this page from step 1.  The Paris hotel sticker, the Venice scene, and now stenciled castle towers.  The Once Upon a Time stencil comes with both the masks and the stencil and masks let me cheat a bit.  One way the masks can be used to audition placement, so before I ever got the paint to the page, I knew how the towers would look.  You can see more of how this stencil is used in this video.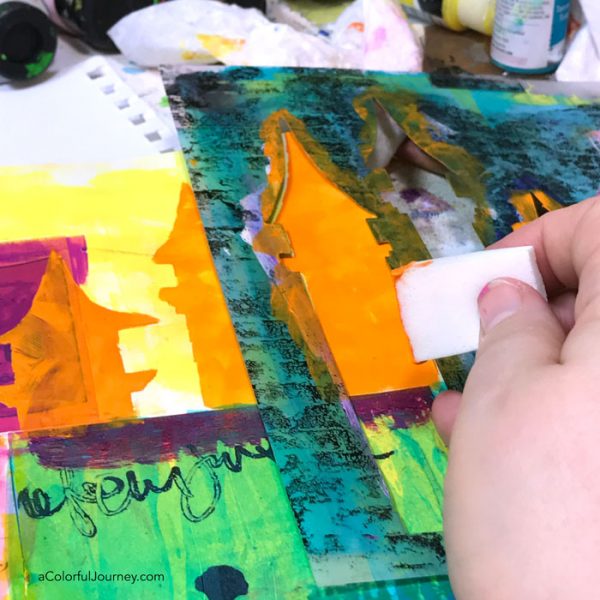 To scribble or not to scribble, that was my question.  On the right side were all sorts of graphite marks and scribbles but non on her.  It seemed a bit odd, as if she was afraid the graphite had cooties or something.  But I wasn't sure how it would look on her.  And then the great debate began in my head looking at the pros and cons of doing it.  Yes, logical left brain was back.
Making a list and analyzing it wasn't as much fun as just playing and seeing what happened so I threw caution to the wind and lived on the edge.  I scribbled on her.  It was exhilarating to take the risk.  The way it felt, you'd think I was bungee jumping.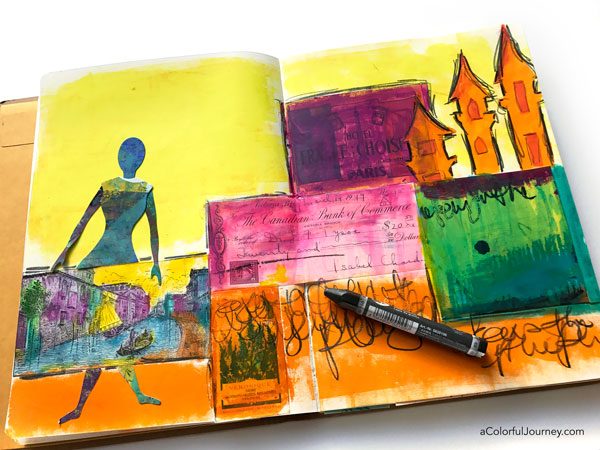 Did it need more layers or did I just not want the play to end?  No idea which it was, but the bottom line is I wanted to play some more so I followed the urge.  Using my Trio of Thorns and Triangular Pathways stencils, patterns were added to the page.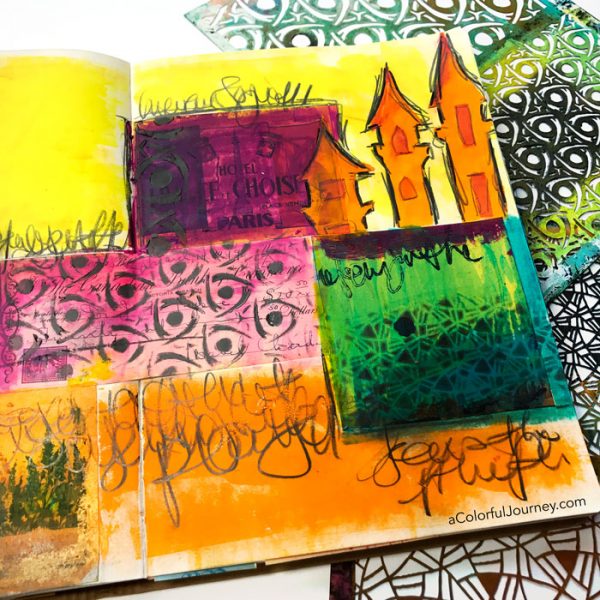 That dark pink area called for words.  Which words summed up what this play was all about? Get lost. Not the snarky, teenage quip, or the kind that needs a GPS, but the wonderful way time can stand still when playing and creating. Mary C. Nasser has all sorts of words on her Let's Go stencil.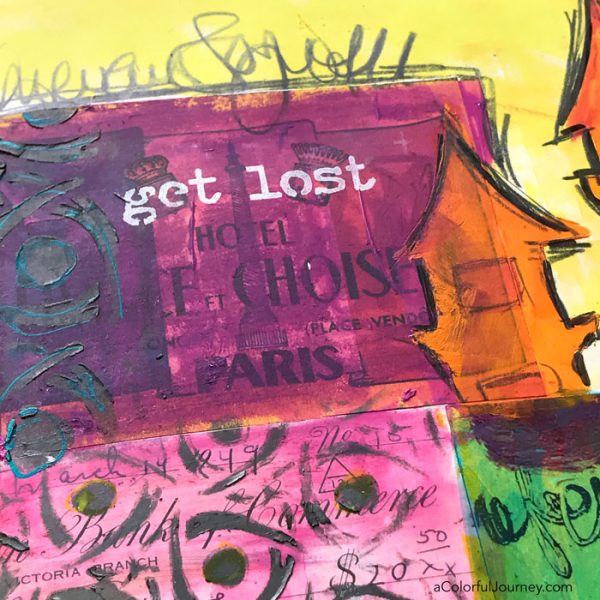 While wandering around, letting myself get lost in the moment, I ran across a piece of play from who knows when.  This piece of mixed media text was made using my Wall of Words stencil and Now is the Time stencil.  Apparently, I was saving it for just this page.
Letting myself get lost manages to help me find myself.   That sentence makes zero sense to that logical left brain of mine, but Lefty has faced the reality that these things are going to happen around here.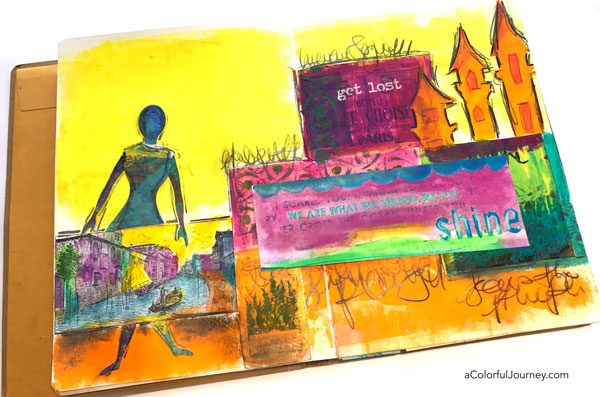 Here are the supplies I used. Some of these links are affiliate links which means I get a small percentage. It doesn't cost you anything extra and it helps keep the free tutorials coming!