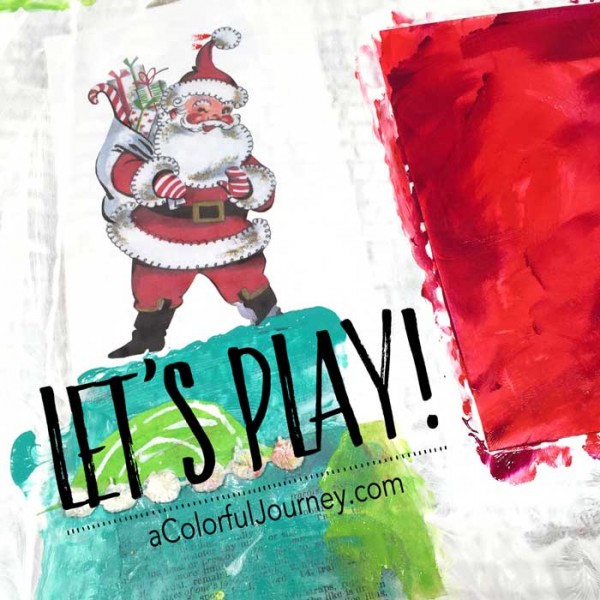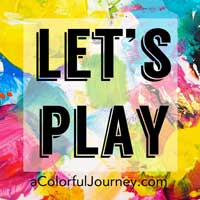 Amazon boxes mean cardboard is everywhere thanks to some last minute shopping…which means I have a cheap and plentiful place to paint and play.   A little Santa on my counter that was left over from another day's play (you can see it here) sparked the silly story to come.  I never know where my mind will wander and I was quite surprised where it all ended up!
Santa started out so neat and tidy with all that crisp white space. He didn't stay that way long. Santa's an easy going guy so I didn't think he would mind the mixed media bits of color here and there. I brought in some oil pastels to write on the wet paint.  In case you're wondering…no oil pastels don't write so well on wet paint. And that made it extra fun!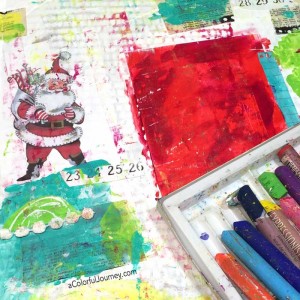 But I wondered what he would be thinking about…I was sure it was eggs.  That is what must be on his mind this time of year.  You're wondering why I thought eggs? Me too!  I don't eat eggs so not sure why I think Santa does…but if that is what popped into my head I was going to go with it.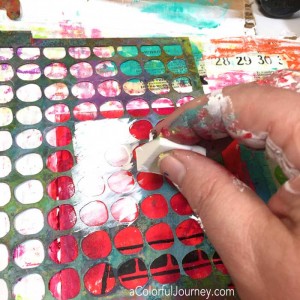 I started with the larger circles on my Circles Layer Me stencil, then loosely lined the stencil back on top of the white circles and used yellow for the little stencils.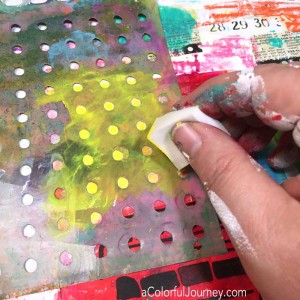 And here is my messy Santa with a great big breakfast of eggs…transported it seems by double decker bus.  This was absolutely non-sensical play today and guess what- play doesn't have to make sense, it has to be fun!
No matter what you celebrate this season, my wish for you is that you have as joyous, as merry, and as happy a holiday as possible!
Now you've seen my play, let's see yours for this week's Let's Play link party below.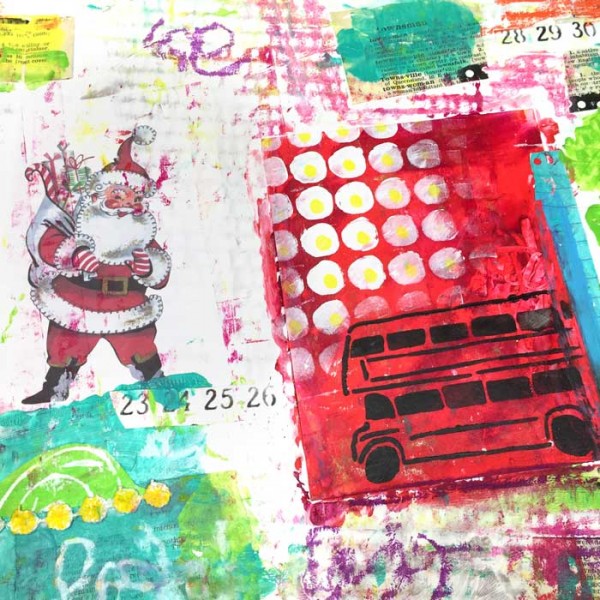 Let's Play…a weekly place to share your creative play, to enjoy what others are playing with, and most of all to honor the creative part in us all!
Link up etiquette  
If you see something you like, leave a comment on their photo or blog post and show some love – let them know they inspired you! 

Share your recent play (any form of creativity is welcome) that hasn't been linked up to a Let's Play before

Add a link back to to this post so that others can find it, be sparked, and join the fun!

Opens each Tuesday at 6am EST
You can upload a photo or use a URL or Instagram.  Not sure how to find a URL or link up? Check out this page of Let's Play FAQs.
Want to put the button your blog? Just copy all of the the code from under the button.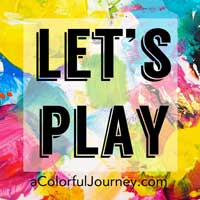 [inlinkz_linkup id=592628 mode=1]