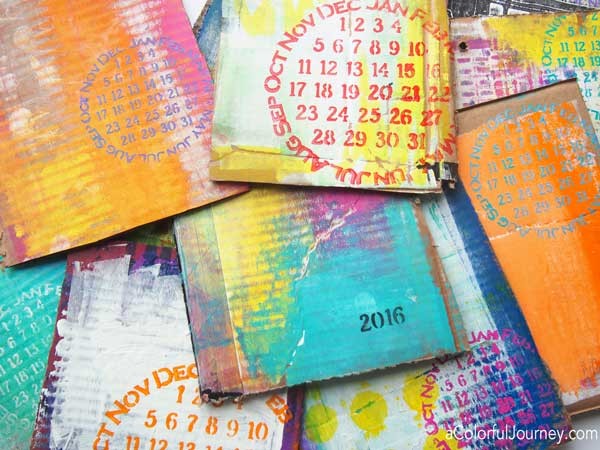 I want to be the type of person who chronicles every day in a scrapbook or planner or journal.  Reality check…I'm not.  I might do it a few days, then miss a bunch, then do it again, but by March, I am usually so far behind that I never pick it up again.  But what I can do is once a month.  That is a commitment I can make.
Will I do it little by little throughout the month or do the entire month in one sitting? No idea but no matter which way I choose, I have the flexibility with a journal like this to do it however I want.
While filming the video, I didn't bind it and the more I think about it the happier I am with that because it allows me even more freedom to let this journal develop the way my muse guides me throughout the year. You can see how I build journals like this in my free workshop, Permission to Play.
And of course…you know nothing goes perfectly or as planned for me…and it's all on the video…
Watch Cardboard Journal Ready for a Whole Year on YouTube.
The pages, recycled cardboard, were done randomly.  I truly didn't know where they were going so the pages didn't match perfectly.  They weren't all in the same color palette.  With a cardboard journal like this, having things not match actually works!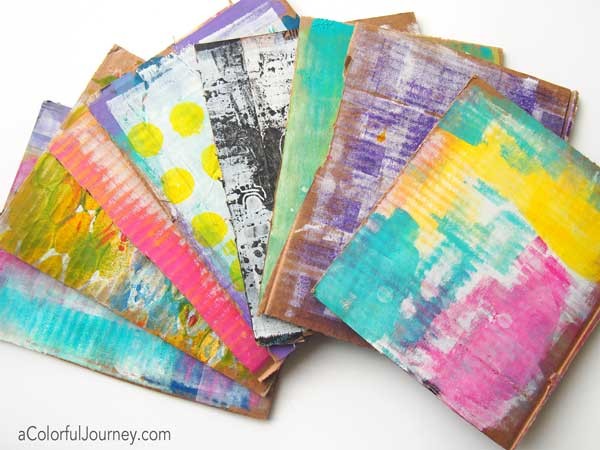 If you'd like to know more about building cardboard journal pages and how to bind them, I have a free workshop called Permission to Play.  It is a 5 video lesson workshop that begins whenever you sign up.  Get signed up here.
So now my journal is started and ready for me to add to each month.  I'll be sharing what I do with it throughout the year here on the blog.
Here are the supplies I used. Some of these links are affiliate links which means I get a small percentage. It doesn't cost you anything extra and you are helping me keep this blog and my videos ad free! Thank you- I don't like ads any more than you do!