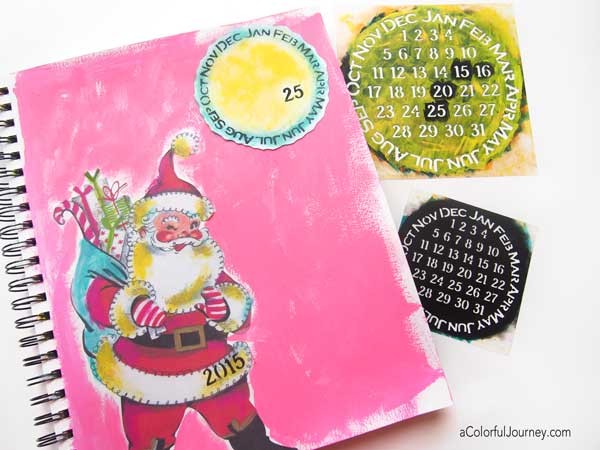 Art journaling is all about capturing moments for me.  And sometimes, I want to get the date in there.  But there is a catch.   I generally dislike my handwriting so I've created a stencil that solves this issue for me, the Never Ending Calendar stencil in 4×4 and 6×6 sizes for StencilGirl. Plus, I have the flexibility to use all the techniques I can use with a stencil any time I want to embed a date in my play.
I like for my tools and supplies to do more than one thing for me and these stencils are no exception.  In the video below, you'll see how to create all 4 of these looks.
Stenciling the whole thing gives me one look, stenciling just the months another, stenciling only one of the numbers inside the circle creates another look.  But I didn't stop there…by combining the months of the 4×4 stencil with the number from the 6×6 stencil yet another look. And this is just the beginning- there are so many many possibilities with these for art journaling and memory keeping (boy, I wish I had these when I was scrapbooking all the time)!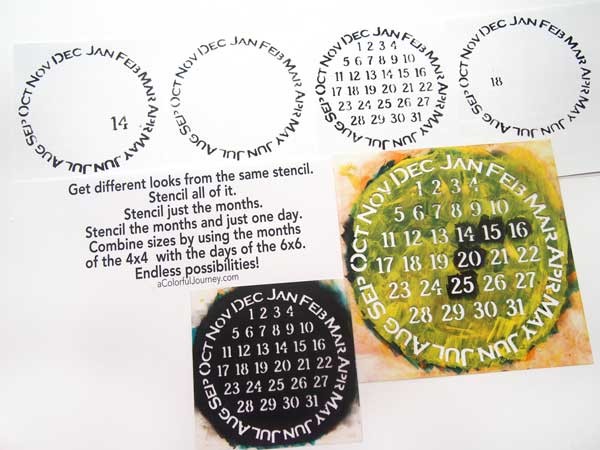 Watch A never ending calendar stencil in an art journal with Santa on YouTube.
This art journal page has room for me to add some photos of the holiday and I probably will be journaling in the yellow on the calendar.  I have a huge holiday to do list…and farther behind than any other year before but seeing as how this is one thing I can check off the list you can see where my priorities are…art and play come before cleaning and organizing!
Here are the supplies I used. Some of these links are affiliate links which means I get a small percentage. It doesn't cost you anything extra and you are helping me keep this blog and my videos ad free! Thank you- I don't like ads any more than you do! The vintage Santa is from a digital kit by Sherri Drummond.  Not sure where it is available at this time but as soon as I find out, I'll post it here.