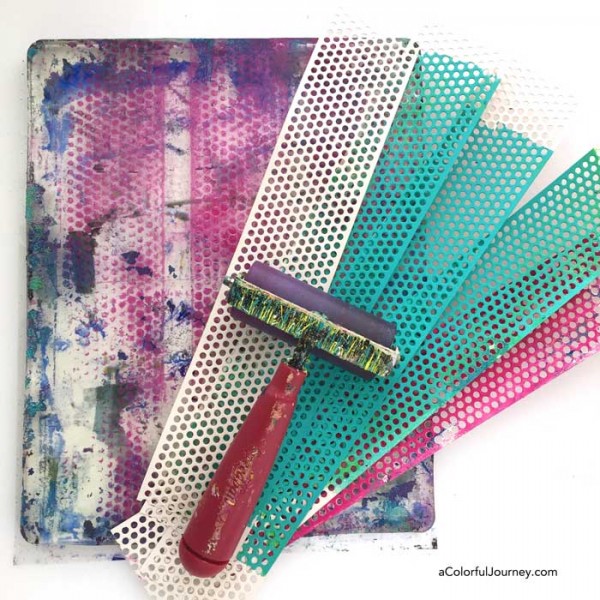 The punchinella that I found at the hardware store for this week's Let's Play video and link party isn't officially punchinella but it sure works like it.  Punchinella is the leftover part when sequins are manufactured.  Usually mylar and shiny.  But I actually prefer this drywall tape to official punchinella.
Why do I like it better?  It comes in giant rolls for almost nothing and it takes paint beautifully.  Most importantly, it encourages me to play because there is no wrong way to use it since I am already not using it for home construction as the manufacturer expected.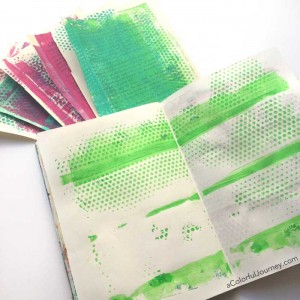 I took a short cut in coloring the drywall tape.  I could have used a brush to put the paint on but instead, I used a Gelli Plate®.  So not only did I get the tape painted quickly but I also captured patterns and started building up a background in an art journal and on book text for future play.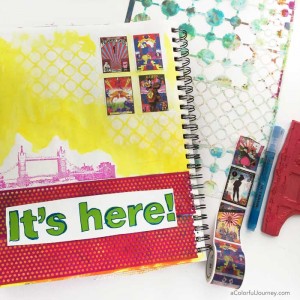 This art journal page had a few Oopsies in it and I just have to laugh at myself about one of them- okay all of them!  And if you're wondering if this page is finished…be sure to check out the very end of the video.
Watch Using an art supply from the hardware store in an art journal on YouTube.
Curious about how to give yourself permission to play?  I've got a free workshop all about that here.
Here are the supplies I used. Some of these links are affiliate links which means I get a small percentage. It doesn't cost you anything extra and you are helping me keep this blog and my videos ad free! Thank you- I don't like ads any more than you do!

A great big thank you to Adrienne Wimbush for sharing a link to this stuff which is called joint tape – she got it at Lowe's!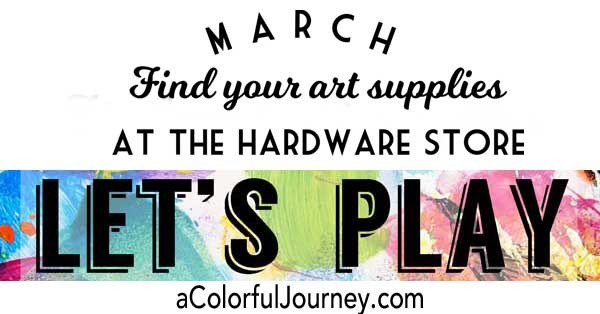 This month's giveaway is a $50 gift certificate to Walmart.com because you can find all sorts of non art supplies there that work wonderfully for art play!  Link up what you're creating (and you get a bonus entry into the giveaway for sharing your play) or leave a comment telling something that you liked about one of the photos shared. One comment per person but you can link up to 3 images of your play each week!  Giveaway closes Monday, April 4th at 8am EST.
New to Let's Play?  You can find out all about it, what and how you can share (and it is almost anything- it doesn't have to follow the monthly theme and you do not need a blog!), how to grab the blog button, plus other info here in the Let's Play FAQs.
[inlinkz_linkup id=610965 mode=1]
Want to put the button your blog? Just copy all of the the code from under the button.